If you are looking to hire talented women developers for your next project, please visit our developer directory where you can easily discover and quickly hire expert WordPress talent that is right for you.
Did you know that according to a recent survey hosted by UXtweak.com, women represent almost 25% of all WordPress users? It's true. Additionally, according to a survey hosted by the United States Department of Commerce in 2021, women-owned firms make up almost 20% of all firms in the US?
Here at Codeable we are not strangers to the economic power that women hold. In fact, we frequently receive requests from clients who want to work with other talented women – whether they are programmers, designers, or agency owners.
Can We Recommend Specific Women Developers According to Your Needs?
Here at Codeable we are more than happy to help recruit women developers for your next technical project.
Please send our support department a message using the chat icon at the bottom, right-hand side of your screen and mention that you are being referred by this blog article.
One of our support agents (who will typically respond within the hour) will assess your project needs and recommend several great women candidates for your project.
Serving Diversity through Community
Did you know that Codeable supports a community of over 700 senior WordPress developers who are ready to help your business succeed?
We understand that as our talent base grows, we will be continuously presented with opportunities to support various demographics and their communities. One of the ways we are approaching community with our women developers is through our Women of Codeable program.
What is Women of Codeable?
Women of Codeable is a program for our talented female experts. We offer private groups, chatrooms, as well as weekly hangout sessions for team bonding that builds long-lasting friendships.
If you are a woman in the WordPress space and you believe your skillset and client management experience places you into the top-tier of WordPress developers, then we invite you to apply to become a WordPress expert here at Codeable.
All of our women here have earned their position through their exceptional talent. They join the ranks of the top 3% of applicants who make it onto the Codeable platform.
The Women of Codeable
Take a look at a few of our outstanding and successful Codeable experts below.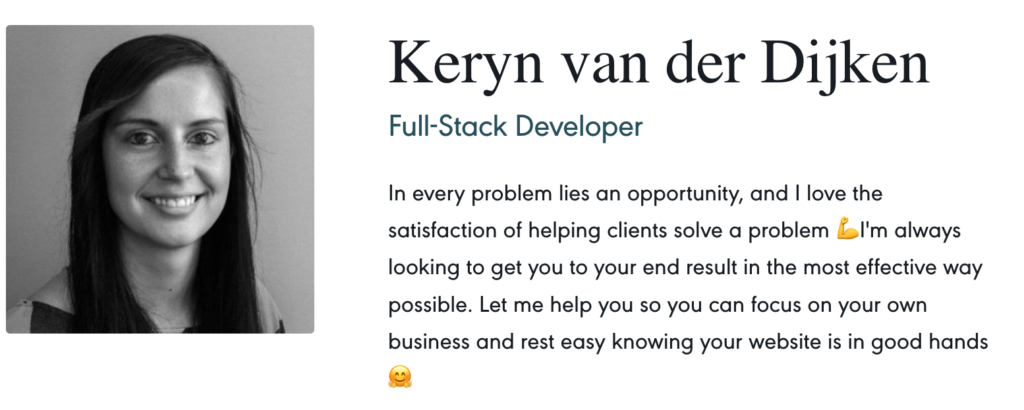 If you think one might be right for your project, click their hire button and you will be on your way to receiving a risk-free estimation to complete your WordPress project.