Personalization is the process of tailoring an interaction with an individual or audience to make them feel positive toward the business. This can be done by customizing certain aspects such as the service, products, website, promotional items, etc.
In this article, we'll delve into how personalization can help small businesses and how you can automate personalization so that it can be sustainable and manageable.
How Personalization is Used in Business Today
Businesses worldwide are beginning to offer more and more personalization for their customers. Personalization can come in many forms and flavors, including optimized advertising to display catered ads, more innovative algorithms for better product recommendations, as well as the increasingly popular end-of-year summaries that give users a sense of individuality.
According to online research studies, 49% of consumers will likely become repeat customers after a personalized shopping experience. Nearly half of consumers prefer to see personalization in their day-to-day interactions with businesses yet as a small business owner, sometimes this level of personalization may feel out of reach. At the end of the day, though, the local freelancer doesn't have the big-time budget that Spotify or Amazon has.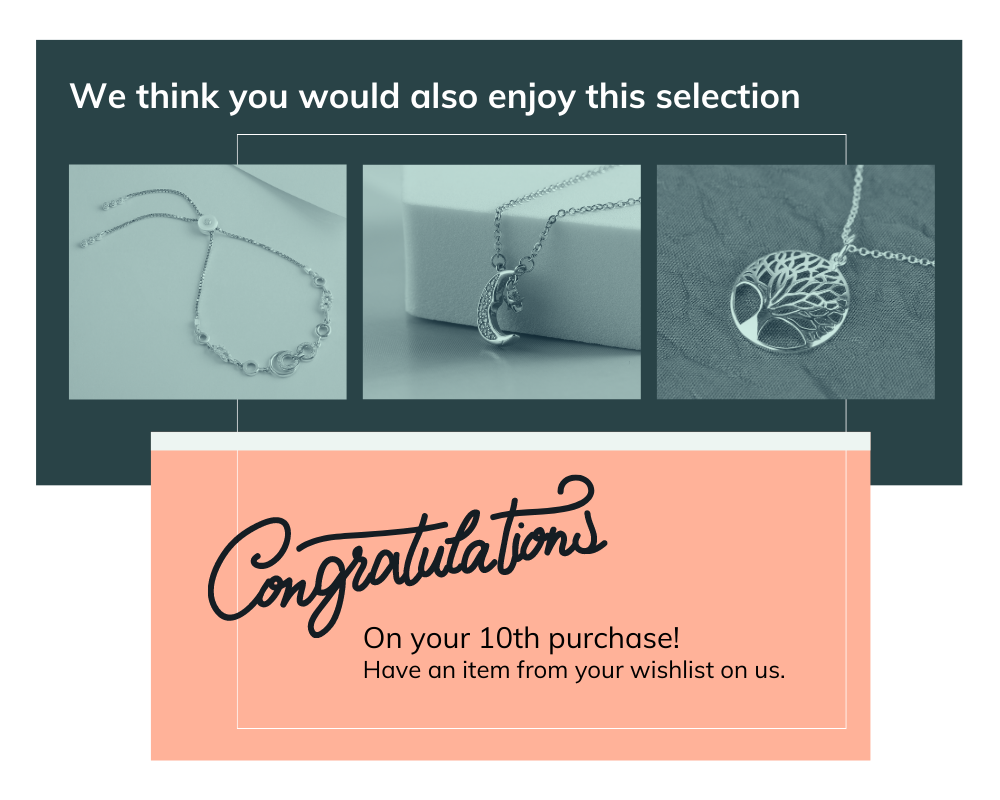 Importance of a Personalized Customer Experience
Humans are emotional creatures and as a part of the human race, it doesn't feel quite right to be addressed with "Hey there" – if you know my name, I want to hear it! Instead, we're drawn to content that speaks to us, which is why marketers always talk about catering to your niches. It's essential to help make your clientele feel unique yet understood.
We like to think we make complicated decisions based on rational analysis, but most of the time, we actually make an emotional decision and then invent a rational analysis to justify it.

– Seth Godin
Just as you would foster a friendly relationship with a neighbor, the same principles still apply to creating positive feelings with customers. People like it when you ask questions and focus the conversation on themselves; bonus if you can remember these in your following conversation. Humans feel good when they can sense someone taking an interest – which is why we love when businesses go the extra mile to come up with delightful little details to improve our interactions with them.
Personalization is a subtle way to let your customers know you care about their experience and care to understand them better.
Improving Online Customer Experience with Automated Personalization
Most small business owners know this fact and consider it a staple in their success. When a business is small, it's easy to noticeably see the difference a hand-written Thank You card can make for repeat business, but the problem is that most personalizations small business owners are familiar with are manual and time-consuming. For example, as your customer base grows, you may need help to keep up with everyone's birthdays.
And, when it comes to the online world, not all small businesses can keep up with all of the emerging trends and technologies. The learning curve is steep with monstrous platforms like Google Analytics, WooCommerce, or WordPress. Or we don't have the time to set up certain features that will make the customer feel appreciated, even if it's as simple as automatically adding their name to an email.
Personalization Examples for Small Businesses
Of course most people at this point are used to the basic levels of personalization, including just using their name in the proper context. The problem becomes clear though, when we don't use any level of personalization and don't take advantage of the automation potential we have at hand.
Here are some personalization examples that you can automate:
Thank you emails sent after reaching a milestone (for example, if a client has made their 3rd purchase)
Send an automatic birthday card or coupon with a customized message
Compile user data into a fun end-of-year summary (for example, "you contributed $139 to the save-a-cat fund with your purchases this year!")
Gamify your site and award customers for interactions
Email newsletters containing automated suggestions based on previous purchases
Change the homepage of your site depending on the viewer's device, geographic location, or UTM parameters
Personalization & Automation Tools
So what do you need to get started? There are various tools on the market to help you begin personalizing and automating your customer experience. Let's highlight some of the top automation and research tools.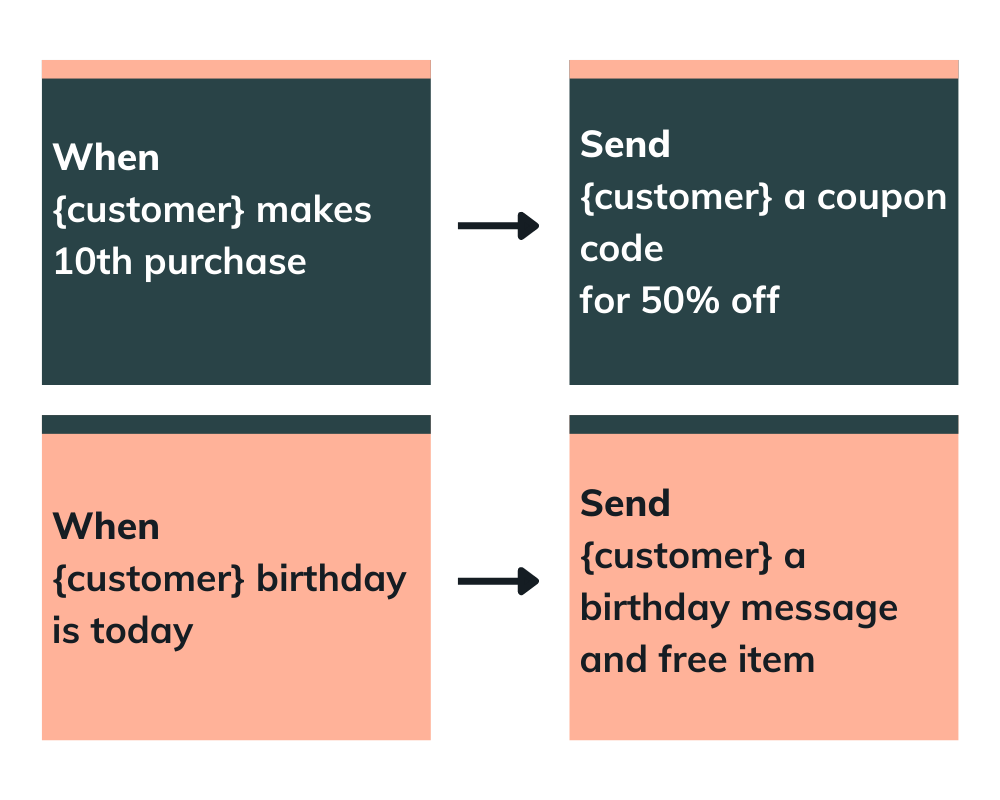 VWO
VWO is a personalization-focused tool that allows you to research your website and use data to understand your visitors and customers better. They make it easy to swap page content such as headers, images, and call-to-actions based on targeted audiences.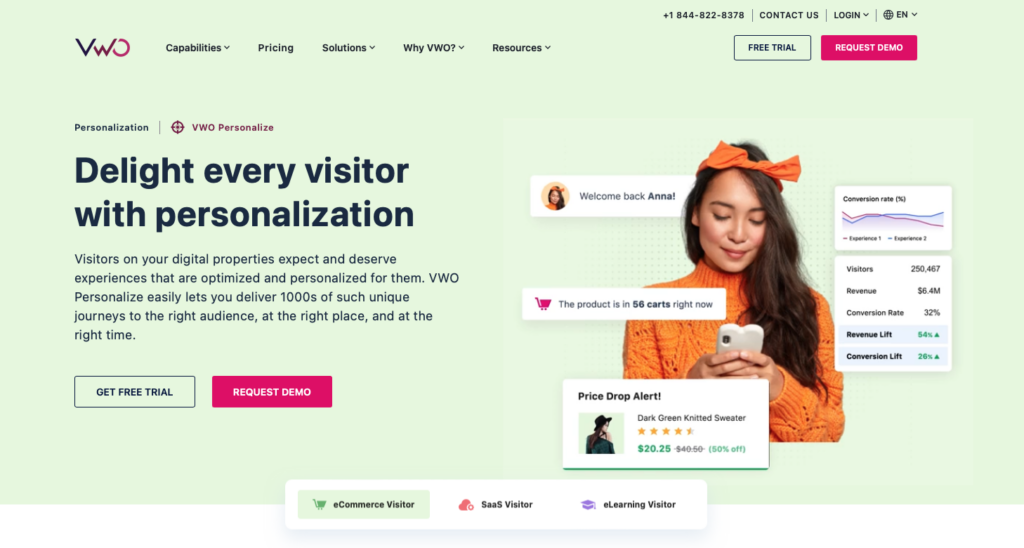 Zapier
Zapier is likely the most popular tool on the market for no-code automation. They offer thousands of integrations with well-loved apps such as Dropbox, Google Sheets, Docusign, WordPress, and Office 365; in addition to more under categories such as Project Management, Email, CRMs, and Marketing tools.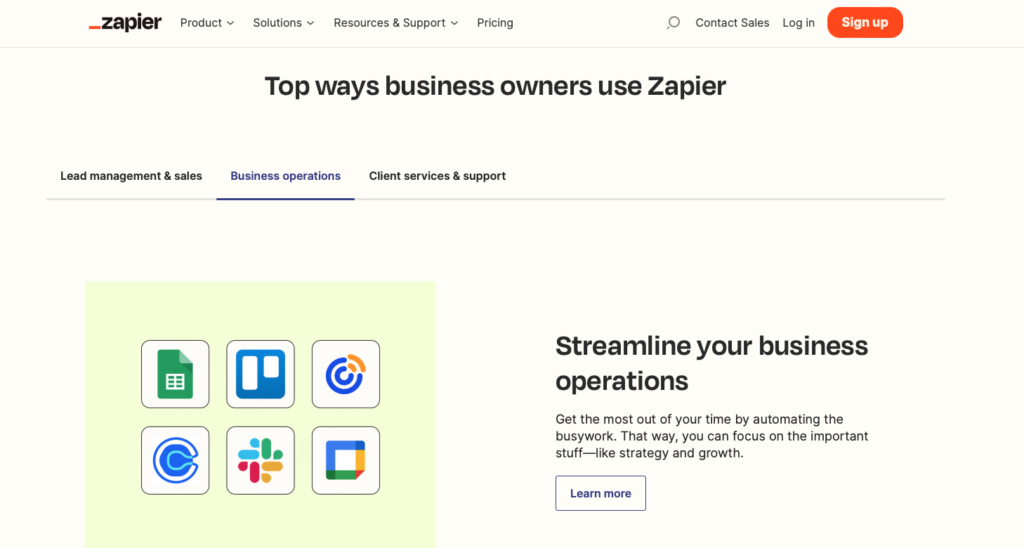 Make
Formerly known as Integromat, Make is the newly revamped marketing automation tool on the market. They offer a similar integration list to Zapier at a lower cost with a more visual interface to build and automate workflows.

Three Strategies to Begin Using Automated Personalization In Your Business Website
Let's go over some quick and simple ways to personalize your user experience, starting from your website. These will combine everything we covered above and give you some actionable steps to start.
Automate Product Recommendations in Your WooCommerce Shop
WooCommerce is an online platform that allows businesses to create and manage their online store. Personalizing and automating product recommendations in your WooCommerce shop can significantly increase customer engagement and sales. By tailoring product recommendations to each customer, you can provide a more personalized, customized shopping experience that encourages customers to return and make repeat purchases. With the help of WordPress plugins or a custom developer, you can easily set up automated rules for recommending products that are tailored to each individual customer's needs.
Recommendation Engine – Best WooCommerce Recommendation add-on
With the help of the WooCommerce Recommendation Engine add-on, businesses can increase their sales by suggesting relevant products to customers. In addition, this add-on allows businesses to take advantage of the data they have collected from customers and use it to make more informed decisions about what products they should promote.
This add-on includes two widgets: One to show related products by views or purchase history and one to offer recommendations based on the products other users buy together. This is a great way to help customers discover new products and services that they may be interested in. It also enhances the customer experience by providing personalized recommendations based on past purchases, searches, and browsing history.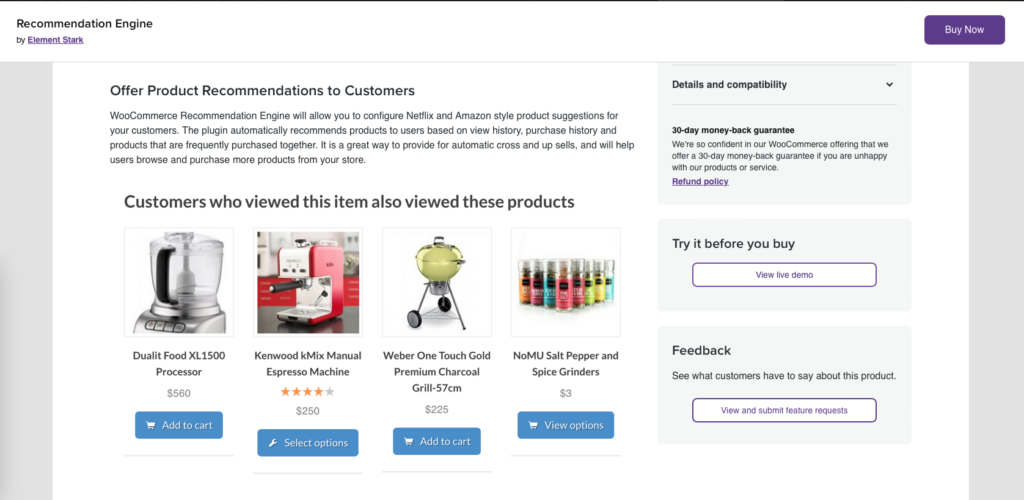 Self-Service Online Appointment Booking
If you're running a business that requires appointment booking and you're currently managing this manually – the first big step you could take is to set up an automatic booking system. If you're scared of letting automation handle your schedule though, I'm here to assure you that this will make your job easier and has many personalization benefits.
For one, it's exhausting to go back and forth with a client to find a suitable meeting time. Whether you're doing this through email or phone, managing and coordinating meetings takes a lot of precious time from your day. Statistics show that around 67% of consumers prefer to personally find their appointment time and not have to contact anyone to schedule a service or meeting with a business.
Calendly – Best Quick Start Scheduling
To get started with appointment scheduling right away, Calendly is your best bet. They're hands-down the biggest scheduling tool on the market, rightfully so, and they offer excellent, easy-to-use booking features as well as personalization tools such as customized emails. Their platform is intuitive and free to get started.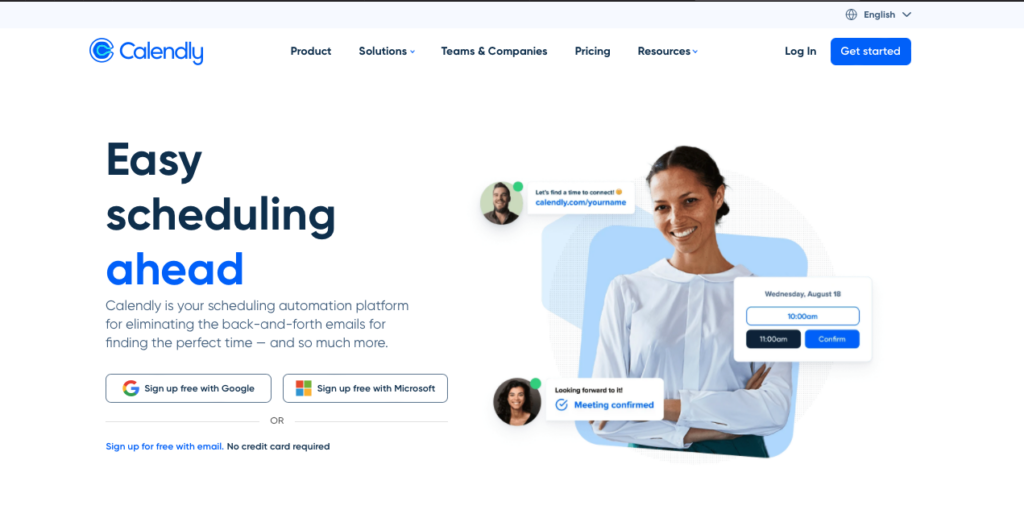 Simply Schedule Appointments – Best WordPress Scheduling
If you're currently using a WordPress website, though, we highly recommend Simply Schedule Appointments instead. They offer all of the same features and qualities of Calendly with the added benefit of fitting perfectly into any page and layout on your website. In addition, they can perfectly match your brand's style and color scheme, personalize your emails and SMS with information drawn directly from the customer's information, and even integrate it with your logged-in user profiles to show them a personalized view of their upcoming appointments.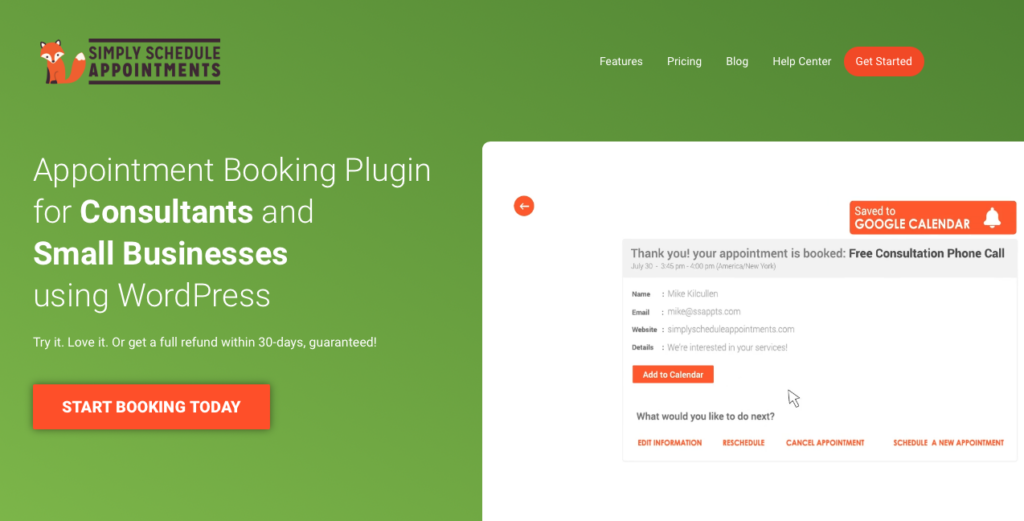 Do I Choose Simply Schedule Appointments or Calendly?
For WordPress sites, Simply Schedule Appointments is the clear winner as it even integrates with WordPress page builders like Elementor and popular plugins like Gravity Forms.
Newsletter Signups and Automated Drip Sequences
Newsletter drip sequences allow you to send personalized messages at specific intervals that are tailored to each user's needs. By leveraging the power of automation, businesses can send customized messages to their customers at the right time and place. This helps them to build relationships with their customers and increase conversions.
Automated drip sequences also help businesses to track customer engagement, allowing them to optimize their campaigns for better results. Additionally, newsletter signups allow businesses to collect valuable data about their customers that can be used for segmentation and targeting purposes. You could even have a WordPress email form popup when a visitor tries to exit the site. This helps build relationships with customers over time, resulting in increased customer loyalty and engagement.
Personalization is Within Reach
Automating your business website can be daunting, but it doesn't have to be. With the right strategies and tools, you can begin automating your website and make it easier to manage. In this article, we've discussed three methods that you can use to start automating your business website: Automating Product Recommendations in Your WooCommerce Store, Self-Service Online Appointment Booking, and lastly Newsletter Signups and Automated Drip Sequences. With these strategies in place, you can begin taking advantage of the many benefits of automation and personalization.