How To Choose A WordPress Membership Plugin (And 3 Rookie Mistakes You Don't Want To Fall Into)
Have you grown substantially in recent times? Or just starting out with a model that allows secure access to your clients and suppliers? Membership areas provide a lot more than just a separate account on your WordPress website for a limited amount of people. It can be used a number of other services except buying and selling.
Adding a membership area on a WordPress website can depend on a variety of factors.
But how can you choose the right membership plugin? What common errors do you need to avoid?
Let's see!
How to pick the right membership plugin for your WordPress website
WordPress comes with extensive membership plugins availability you can choose from. These plugins, whether free or premium (paid) products, can usually be configured without much hassle. That doesn't mean it's going to be an easy call to determine which one is the best fit for your website and business strategy.
So, the very first thing you need to do is evaluating possibilities. And to do that, you might find helpful asking yourself (or your business partners) these questions:
How will content be available and delivered? (all at once, dripped, etc.)
Will you need to charge users?
How deep will your membership go?
Do you need to integrate your membership area with WooCommerce?
These 5 questions will support your evaluation process by highlighting core aspects that will work as discriminating factors. If you feel lost, Chris Lema created a really helpful Q&A infographic that hand-holds you through the process: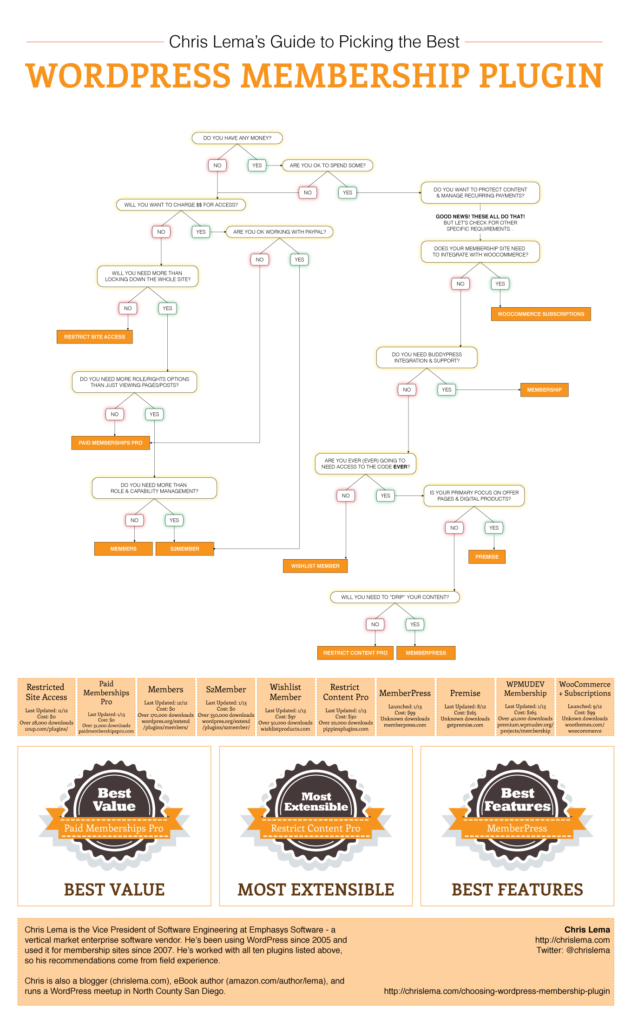 Recommended WordPress membership plugins
As you might have already anticipated, the hardest part in picking the right membership plugin isn't finding one. There are several plugins that enable membership access and features quite well. The difficult part is choosing the right one for your business and website. For example, they might be different for if you intend to sell something or simply provide access to different stakeholders for accessing certain information.
Nevertheless, there are some membership plugins which are worth mentioning because they not only are well-known but also they've been around for years and have good documentation to support them:
For websites that don't intend to sell anything and only gather and disperse information, MemberPress is the weapon of choice. WordPress developer and Codeable expert Josh Morley says:
MemberPress & WooCommerce-based plugins are a great starting point, both smooth and streamline. They offer systems where people can log in, they can add content, and there are a lot of extensions for MemberPress & WooCommerce Memberships that will increase the functionality. Starting here would really set you off in the right direction.
3 top mistakes people make with membership plugins
When adding membership areas, there have been a number of mistakes that people make due. These mistakes mean that your website will suffer a lot in terms of performance and, when a new update for WordPress comes along, maintenance will require more time and resources than it should.
Mistake #1: Over-customization
There are times when a certain membership plugin doesn't offer all the features that are required and, as a result, you might end up adding extra features over the plugins primary functions. This simply complicates things even more. As Josh points out:
A membership plugin can be quite rigid at times so some clients try to overly customize them to get the functionality they want. That isn't a solid solution as, most of the times, it just ends up causing so many problems when updates roll around and something changes or a hook is no longer used. A potentially catastrophic result could be a crash of the entire website. If you really need something unique then its better to build something from scratch.
Yep, customizations are part of WordPress and what a good developer can provide you with. But that doesn't mean they're always your best option, nor your cost-effective solution. That's why it is important to go through a set of questions (those listed above) to understand what available solutions are the closest one to your needs.
Mistake #2: Using multiple plugins
The sister issue of over-customization is trying to do that with the help of several membership plugins. Yes, another mistake that people make is that, instead of having features custom built with the help of a developer on top of your plugin, they just pile up multiple membership plugins at the same time. Josh explains with an example:
They'll use a membership plugin, right? But it doesn't fully do what they need, they install another one that gives them that extra functionality. Problem is, more often than not, they would just end up clashing with each other. This never works out well. So, unless you have a good budget and you know exactly what you want to build now and how it's going to expand, I would suggest working within the framework of MemberPress, WooCommerce membership, and so on, to lower the chances of experiencing issues.
Mistake #3: Not using WooCommerce Membership (if you run a WooCommerce store)
If you have a proper WooCommerce store that is fully functional, and up-to-date, there isn't much required to add a membership area to it other than using the official extension WooCommerce Membership. In fact, WooCommerce Membership is an extensive plugin extension that caters to almost all needs for adding membership areas to a store with little left to be desired in terms of functions. As Josh further explains:
For the same reason I build stores with WooCommerce, I build a membership website using WooCommerce: it's always up-to-date, it's always on the cutting edge for security and WordPress Updates. There are lots of extra plugins you can buy to add functionality and, if you have a WooCommerce store and you add in the WooCommerce Memberships, you already have all your customers data right there.
If you run a WooCommerce site, sticking with WooCommerce Membership might be the most effective solution. Even if you need some custom functionality being added to it.
Wrapping up
Adding a membership area on a website or WooCommerce store could enhance your offer and your UX. And the large number of membership solutions available for WordPress might trick you into thinking that's an easy choice. Unfortunately, it's not. As, with crafting a project brief, or thinking about a new feature, your job shouldn't be pondering about technical solutions (which plugin is better than others). Rather, you should be focusing on what you want to achieve by clearly defying how a membership area will enrich your website or store.
If you have that done properly as your first step, then all technicalities involved will be a piece of cake for an experienced WordPress developer.
---
This blog post features Josh Morley who is the founder of MarketingTheChange, a small digital agency that use its profits to support charities, non-profits and unfunded startups. He's been designing & marketing websites for the past 4 years, with a focus on WordPress webdesign, online marketing and SEO, PPC, keyword research, link-building and lead acquisition for local business.