In the ever-evolving digital landscape, having a robust online presence is essential for businesses of all sizes. WordPress, the widely acclaimed content management system (CMS), powering 43.2% of all websites, continues to be a go-to platform for website development. Its flexibility and scalability have not only sustained its popularity but also elevated it to the status of a digital powerhouse.
However, the world of WordPress is not without its complexities and challenges. To navigate it successfully, businesses require the assistance of top-notch WordPress development companies that can offer a blend of technical prowess, creative vision, and a deep understanding of the ever-evolving digital landscape.
This article seeks to guide you through the dynamic world of WordPress development. We've meticulously curated a list of 14 top WordPress development companies that have consistently delivered outstanding services. Whether you're a startup looking to establish your online presence or an established enterprise seeking to revamp your digital footprint, these companies possess the expertise and track record to bring your vision to life.
What's the difference between a WordPress development agency and a WordPress development company?
Before proceeding any further, let's clear up any confusion surrounding this terminology.
A WordPress development agency usually focuses on specific areas of expertise. For example:
WordPress web design services
User experience (UX)
UI
Web development
WordPress website support and maintenance services
SEO (search engine optimization)
Digital marketing and social media strategies
WordPress migration
They might even combine a few of these topics.
WordPress web development companies, on the other hand, focus on the technical aspects of WordPress website creation. They provide front-end and back-end development to build a completely customized site to suit your specific business needs and objectives. Put simply, code is their expertise, so their expertise tends to focus on the technical side.
On occasion, WordPress web development companies may offer additional services like creative insights, marketing guidance, and project management. WordPress development companies are usually larger than smaller WordPress agencies and typically provide their WordPress web development services for a monthly retainer.
The best 12 WordPress development companies
Codeable is a well-known and reputable online platform that specializes in connecting businesses and website owners with highly skilled WordPress experts and developers. It acts as a marketplace where clients can find over 700 experienced WordPress professionals to help them with various WordPress-related tasks and projects.
Here's a closer look at what Codeable offers:
Access to a network of WordPress experts: Codeable has a rigorous vetting process to ensure that only the best WordPress developers and experts are part of their network. These experts have a deep understanding of WordPress and can assist with tasks ranging from theme customization and plugin development to website maintenance and troubleshooting.
Custom WordPress solutions: Businesses and individuals can hire Codeable experts to work on custom WordPress projects tailored to their specific needs. Whether it's building a new website, enhancing the functionality of an existing one, or solving complex technical issues, Codeable's experts have the skills to deliver.
Transparency and accountability: Clients can post their WordPress projects, receive quotes from available experts, and choose the professional who best fits their requirements and budget. Codeable also ensures that payments are held in escrow until the project is completed to the client's satisfaction.
Project management: Codeable offers a platform for efficient project management and communication between clients and experts. Clients can track the progress of their projects, provide feedback, and maintain open lines of communication with the experts they hire.
A diverse range of services: Codeable's experts can assist with various WordPress-related tasks, including website design and development, plugin customization, performance optimization, security enhancements, and more.
Quality assurance: Codeable places a strong emphasis on delivering high-quality work. Experts are reviewed and rated by clients, which helps maintain a high level of quality and accountability within the platform.
Codeable simplifies the process of finding and hiring experienced WordPress experts, ensuring that clients can get their WordPress projects completed efficiently and effectively.
WebDevStudios is known for its deep knowledge of WordPress and its ability to deliver high-quality, scalable websites. With a diverse portfolio spanning various industries, they have a proven track record of crafting websites that not only look great but also function seamlessly.
Their expertise in custom WordPress themes and plugins makes them a trusted choice for businesses seeking reliable WordPress development services. Their services include responsive design, scalable solutions, and ongoing maintenance and support.
WebDevStudios is actively engaged in the WordPress community and is committed to delivering high-quality work, making them a trusted partner for businesses seeking tailored WordPress solutions.
Saucal is dedicated to creating user-friendly and effective websites. Their team combines technical expertise with a deep understanding of user experience to build WordPress solutions that resonate with their clients' audiences.
Saucal offers services that include building, enhancing, and maintaining online stores and extensions. They offer support and maintenance plans to keep websites operational 24/7 and have received positive testimonials from clients. Additionally, they collaborate with various technology partners and have a diverse virtual team of developers, strategists, and WooCommerce experts, making them a reliable choice for eCommerce web development and support.
Librafire is an agency that thrives on innovation and creativity in WordPress development. They are adept at marrying technical expertise with cutting-edge design to produce visually stunning websites. Librafire's unique approach to web development ensures that clients receive WordPress solutions that not only meet their functional requirements but also make a strong visual impact.
Multidots is renowned for its expertise in WordPress development and maintenance services. Their global client base speaks to their reputation as a trusted partner for businesses worldwide. Multidots offers comprehensive WordPress solutions, ensuring that websites are not only well-built but also maintained to meet the evolving demands of the digital landscape.
Modern Tribe places a strong emphasis on user experience in their WordPress development projects. They are dedicated to creating interactive and visually appealing websites that engage and convert visitors. Modern Tribe's expertise in WordPress, combined with their focus on user-centric design, ensures that their clients receive websites that are both functional and delightful to use.
FixRunner specializes in WordPress support and maintenance services. Their team provides reliable solutions to ensure that WordPress websites run smoothly and remain secure. FixRunner's commitment to keeping WordPress sites up and running optimally makes them a go-to choice for businesses looking to maintain the health of their online presence.
Human Made is a WordPress development agency known for its commitment to open source and its contributions to the WordPress community. They have a strong track record of delivering high-quality websites. Human Made's expertise in WordPress development and their dedication to open source principles make them a respected name in the industry.
DevriX is a WordPress development agency that caters to businesses of all sizes. They offer a comprehensive range of services, from website design to custom plugin development. DevriX's commitment to delivering comprehensive WordPress solutions ensures that clients receive websites that are not only visually appealing but also highly functional.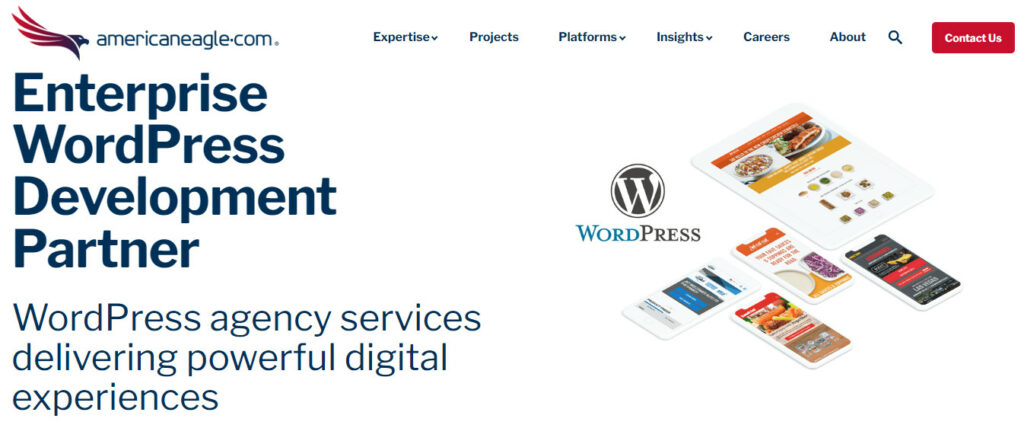 Americaneagle has a vast portfolio with a focus on creating websites that drive results. Their extensive experience in various industries and their ability to tailor WordPress solutions to meet specific business goals make them a go-to choice for businesses seeking an impactful online presence.
Alley is a WordPress agency known for its innovative approach to web development. They specialize in creating unique, custom solutions that push the boundaries of WordPress capabilities. Alley's commitment to pushing the envelope in WordPress development ensures that clients receive websites that are both technically advanced and creatively inspiring.
WPRiders offers a range of services, including theme and plugin development. Their focus on crafting solutions that enhance website functionality and user experience makes them a trusted choice for businesses seeking WordPress development expertise. WPRiders' commitment to delivering value to clients ensures that their WordPress solutions align with their clients' goals and objectives.
When should you hire a WordPress development company?
Chances are, if you're looking to develop a visual identity or you're focusing on the creative aspects of your business, a small WordPress development agency can be of assistance to you. The same goes for if you want to:
Create a custom WordPress theme for your business or eCommerce website.
Develop and implement a custom WordPress plugin.
Overhaul the accessibility of your site.
Optimize your site for SEO.
In contrast, there are other scenarios where hiring a WordPress web development company is the right step for you.
For instance, if:
You need to build a WordPress website from scratch.
You require a complete overhaul of your existing site.
You have a complex project with unique requirements that necessitate 100% customization to meet your specifications.
In all the above situations, a WordPress web development company can step in. This is an especially suitable arrangement if you don't have an in-house development team and only require assistance for a specific project.
Preparing to work with a WordPress development company
Before kickstarting your search for the right WordPress web development company, carefully consider your project to familiarize yourself with your exact needs and requirements. As you go about doing this, outline the project's goals and objectives. For instance, what you want to achieve and how it will impact business growth.
On top of that, it's worth listing any other project details, including your budget, the skills required to complete it, and the project's location. Are you hoping to work face-to-face with your chosen WordPress web development company? Alternatively, can the project be undertaken remotely? Both arrangements have their benefits.
Working remotely unlocks a much larger pool of potential companies. As such, you're far more likely to find a firm you feel confident in. That said, if your chosen company operates in a different time zone and language, say in India or the Philippines, you may face practical challenges.
How to choose the best WordPress development company
Once you know the specifications of your project, it's time to look for the right match. This is an important step that should be undertaken with the greatest of care.
If you end up working with a company that doesn't do the following, you might end up with subpar results:
Communicate well.
Understand your objectives.
Bring the right level of technical expertise to the job.
A careful screening process can significantly reduce that risk and help you find a high-quality partner you can turn to again and again.
Below are a few factors to examine closely when looking for a WordPress web development company:
Technical competence
Your chosen development company should be comfortable working with and even boast years of experience with:
HTML
CSS
WordPress API
The Gutenberg Editor
WordPress plugin development
Bootstrap
MySQL (Database)
Mobile app development
Of course, if you've identified the technical skills most relevant to your project, looking for evidence of these skills is a priority. Typically, these kinds of companies are web development-focused, so they should have no difficulty providing experts and WordPress developers with a wide range of technical skills.
Project planning and strategy
It shouldn't be your job to dictate and manage the project at every stage. You're not a project manager, after all. A reliable WordPress development company should explain the development process, including when and how you'll receive the deliverables. They should also provide a solid work schedule and plan with well-defined deadlines.
You can quickly test a prospective candidate early on by requesting a detailed proposal.
Remember: A careful and cautious approach from a development partner is usually much more beneficial than anyone over-promising and skimming the details.
Financial details
The best WordPress development agencies provide detailed quotations indicating the cost of development, hosting expenses, customization, and other options and add-ons like theme development, plugin development, etc.
Here it pays to be a little educated yourself so that you have a vague idea of what you might expect cost-wise. The last thing you want is to shell out on the company only to find you'll still need to allocate funding to unexpected expenses.
Credentials that indicate experience
Your chosen WordPress development company should have a reliable reputation in the WordPress community. A large number of positive reviews that demonstrate good customer relationships is a good sign.
Check they're friendly, courteous, trustworthy and that customer satisfaction is important to them. You can often get an impression of this from your own email communications with them. If your gut feeling indicates a red flag, it might not be worth taking the risk.
Other project-specific details
If your project has specific requirements, you should, of course, consider them as a priority.
For example, say that your project needs a partner who's available 24/7 in case of emergencies and complications. In that case, you'll need to ensure they're 100% responsive and can deliver on that promise – do they offer that kind of customer support? Do they have customers that can confirm that they follow through on this promise? Etc.
How to negotiate with a WordPress development company
If you're working on a budget, you'll want to get the best deal for your money. That said, here are a few tips on how to negotiate a fair rate.
Understand the rates for each task: Development, for example, is often more expensive than running WordPress website maintenance. Namely, because it requires more hands-on time, planning, and expertise.
Make sure you know what you want: If you come up with a new request halfway through development, this will cost you extra and might slow down the whole project. Be well-prepared beforehand, so there are no surprises for the development company and no unpleasant additions to the invoice you'll receive.
Compare the rates of a few WordPress development companies: As always, different providers will charge different rates, and you could save a lot of money by shopping around. We would recommend, however, not choosing a company just because they provide the cheapest quote. Instead, ensure they score highly on the factors discussed above so that the quality of your project doesn't suffer. This goes a long way to limiting the likelihood of spending extra on repairs and revisions later down the line.
Understand the other side: Suppose you can't be flexible about negotiating around what the development company is asking of you. In that case, you can't expect lower pricing. Many companies are willing to negotiate around flexible schedules, but your demands should match your budget if that's not possible. Needless to say, your collaboration will be more fruitful if you respectfully keep the needs of your development partners in mind.
Your alternative WordPress development company
Suppose you have a massive project ahead of you and need to build a site entirely from scratch, complete with custom specifications. In that case, a WordPress development company could be the right choice for you.
Codeable is the leading option.
Codeable takes care of the screening process for you. It offers a choice of different profiles, including freelancers and small agencies, making it easy to find a good match for your project. They can also handle on-demand team creation. The Codeable team conscientiously brings together individual WordPress developers with different skills to form a highly specialized team for your project.
All of Codeable's WordPress professionals are carefully vetted beforehand. When you upload your project, you're introduced to a few individuals who match your requirements and provide the expertise you're looking for. Then, you'll get a no-obligation, free estimate so you can start comparing prices.
Working with Codeable experts could be the better choice for you if you're:
Working on a tighter budget.
Need a range of different skills.
Have a smaller project to complete that doesn't warrant working with a full-stack development company or hiring an in-house employee.
Are you ready to start working with a WordPress development company?
With so many WordPress web development services available globally, it can be challenging to find the right web solutions for your business. Even a full-service WordPress development company won't necessarily guarantee a better outcome than an individual expert or small team. It depends entirely on their expertise, professionalism, and how suitable they are to your project.
Keep an open mind and research carefully before outsourcing a large project to any development company. By asking the right questions and knowing exactly what you want, you should avoid spending more than necessary.
What are you waiting for? Submit your project on Codeable today and get a free quote from several vetted WordPress experts to start the process!