WordPress dominates the CMS sector, boasting a massive chunk of the market share – 61.8% to be exact. So, it's no wonder that WordPress fuels over 39% of the internet. Used by amateur bloggers and Fortune 500 companies alike, WordPress provides users with a robust, scalable, and secure environment to create, launch, and manage websites.
That said, lots of time, effort, and expertise go into building and maintaining a professional WordPress website. This is where hiring a reputable WordPress agency is worth its weight in gold. Whether you're looking for WordPress development services, custom website designs, marketing services, plugin creation, etc., a high-quality WordPress agency could be the answer to your WordPress woes.
Of course, if you're on a tight budget or enjoy the satisfaction of handling things yourself, you could always learn WordPress and tackle the project on your own. However, if you would prefer to save time and enjoy the peace of mind that comes with knowing you'll get professional results, hiring an expert is the best way to go.
Nevertheless, it's worth bearing in mind that the WordPress economy is still growing. It's a complex ecosystem of online businesses, eCommerce stores, digital agencies, huge companies, and freelance experts. Consequently, finding the right WordPress agency to suit your needs can be a challenge – the options are vast!
In this post, we're shedding light on the different WordPress agencies out there and providing guidance on choosing the best one for you.
A Small WordPress Agency
Unsurprisingly, smaller WordPress agencies typically work on more modest websites. Generally speaking, they use a preferred site builder, like Elementor or Beaver Builder, to build upon your selected WordPress template and offer monthly maintenance and support.
However, they don't (usually) employ in-house WordPress developers and designers.
Consider approaching a smaller WordPress agency if:
You're a startup working with a tight budget
You're happy to use a ready-made WordPress theme
You don't need a customized design created from scratch
How to choose the right small WordPress agency for your website:
Look at their portfolio and ask yourself the following questions: Have they handled projects similar to yours? Are you happy with the quality of their previous work? Have they demonstrated an understanding of your industry?
Ask the prospective WordPress agency what their preferred tools are. They should use this as an opportunity to explain the beneficial impact those tools will have on your projects when adequately utilized.
Consider the services offered – do they undertake your kind of project? Is your brief something they're familiar with? You don't want to be a guinea pig for them to embark into new territory with.
Confirm their turnaround times. You need to ensure they're able to meet your deadlines before you agree to work alongside them.
A Custom Development WordPress Agency
Custom web development companies are larger than small WordPress agencies. Typically, they're more development-focused, and as such, they don't always focus on design services as much. Generally, this type of WordPress agency provides its services for a monthly retainer.
Consider approaching a custom development agency if:
You already have a visual brand and website, and you just need a custom design and/or functionality implemented by a professional.
You have a digital marketing, sales, or HR plan that will ensure the custom development you're commissioning is good value for money.
How to choose the right custom WordPress development agency for your website:
Consider their development practices. Typically, they'll adopt either an Agile, Waterfall or a hybrid approach to web development. Do some research to see which best suits your needs and ensure your potential digital agency offers them.
Confirm the agency follows WordPress coding standards and best practices – and can evidence that.
See whether their staff are WordPress contributors. Top-notch custom development agencies often have senior developers who are prominent figures within the WordPress community. Generally, this helps to confirm that the agency you're considering is a reputable and reliable choice.
Digital Marketing Agencies
As their name so aptly suggests, marketing agencies focus on providing content and marketing services. Typically, they offer monthly retainers for content creation, SEO optimization, and social media marketing and management.
Consider approaching a marketing agency if:
Your site is up and running, but you need help SEO optimizing it and making other improvements to boost its performance
You don't have the necessary marketing expertise (or the time) to create, run, and optimize your own marketing campaigns.
How to pick the right marketing agency for your website:
Look at their blog to get a feel for the type (and quality) of the content they publish.
See whether they're credited by other reputable organizations on social media and blogs.
Enquire as to their SEO strategies – do they focus on both on-page and off-page SEO? If the agency offers both, then outsourcing SEO efforts to experts creates room for effective implementation and management of your SEO strategies.
Find out what, if anything, the marketing agency specializes in. Is there a particular strand of marketing the agency excels in? How does this complement your overarching aims?
Marketing campaigns vary massively for B2B and B2C markets. So check whether the prospective WordPress agency has the necessary experience and expertise to market to the audience you're looking to attract.
Consider the cultural fit. A marketing agency that focuses on design might offer extraordinary creative and visual outputs. In contrast, a results-focused agency will boast impressive and measurable results—for instance, a boost in lead generation, increased website traffic, enhanced conversion rates, etc. Ideally, you want to hire a marketing agency that shines in both departments. To help evaluate this, ask to see some of their previous marketing campaigns and their results.
If possible, see whether the agency will refer you to some of their previous clients. This should give you a more accurate feel for what it's like to work with the agency.
Double-check the contract's pricing terms to see whether this works with your budget and meets your expectations. Typically, marketing agencies charge a:

Monthly retainer (this is most common): Here, you pay a monthly fee for the agency to undertake an agreed-upon workload.
Per hour: The agency will carry out projects for an agreed-upon hourly rate.
Per project: The agency agrees to complete a specific task for a fixed fee.
Design / Creative Agencies
A design agency typically has an in-house (or a team of) professional graphic designers to create logos, establish color palettes, build visual brands, etc. This kind of agency can handle your WordPress site's creative and visual aspects.
Consider approaching a design agency if:
You need help creating and executing an online brand and web design strategy.
You want your branding to be more consistent across the web.
You require a branding audit. This is where a pro will examine your online brand to see what it's achieving and who it's appealing to. For example, a brand audit will assess whether you're using the right colors to exude your brand's ethos and whether your logo's effective. These are just two examples, but you get the idea.
Your focus is on branding, design, and creatives so you don't need a WordPress expert per se.
How to choose the right WordPress design agency for your website:
Take a look at their previous work. Scour the prospect agency's website, and see whether they have a portfolio showcasing the previous projects they've worked on. This should give you a clue as to whether the agency offers a wide range of design styles. Pay careful attention to whether they've handled projects within your industry or of a similar nature to the brief you'll give them.
Reach out to your professional network to see whether anyone can point you in the direction of a reputable agency. Why not ask for recommendations on LinkedIn to get the ball rolling?
See whether the agency is updating its website regularly. But, bear in mind, it's unlikely you'll see a frequently updated portfolio as some projects last months or even years. However, it's essential their site shows some signs of life – an updated blog, an active social media presence, customer testimonials, etc.
A Full-Stack WordPress Agency
Full-stack agencies offer a vast array of services, including branding, digital strategy, WordPress development customization, etc. As such, they can be very pricey.
Consider approaching a full-stack WordPress agency if:
You need help with both front-end and back-end WordPress development.
You're designing and launching a brand new website, and you want an expert to get everything right the first time around (and have the budget to employ this kind of service).
You're looking for someone with expertise in the following areas: web servers and networks, database-related queries, plugin creation, API integration, UI/user experience, etc.
How to choose the right full-stack agency for your website:
Make sure the agency can demonstrate its experience in full-stack programming. They should have an impressive portfolio of the projects they've worked on.
Ensure the agency has experience in web app development and is proficient in several programming languages and technologies. Pro tip: familiarize yourself with the programming languages and platforms you'll need your agency to work with. That way, you can ensure they possess the necessary expertise before you agree to partner with them.
The agency should be able to handle full life-cycle project development and be able to jump into projects at any stage of the development process. However, you'll want to double-check with the agency to see whether they have a specific way of working. Their workflows must complement your needs.
You need to ensure the agency is proficient in data analysis. This involves evaluating the development process to ensure your goals are met throughout the project.
Experienced agencies should identify hiccups in the initial development plan. In the unfortunate event something goes wrong, they should be able to offer alternative solutions. Be sure to ask whether the prospective agency has experienced this kind of situation and, if they have, how they handled it.
The Codeable Way
Above, we've listed the majority of WordPress agencies out there. At Codeable we've got different types of agencies, individuals, and on-demand teams coming together to provide the best of all worlds on one centralized platform.
Just describe your, and Codeable will find you WordPress expert) that meet your requirements (don't worry about the project's size and scope, both general WordPress and WooCommerce specific briefs can be handled).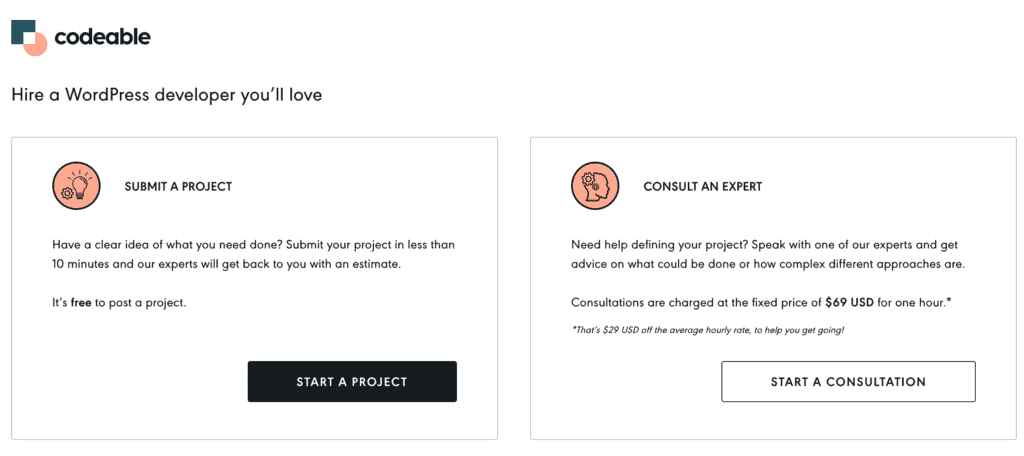 Based on your needs, flexibility, budget, and project deadline, Codeable will connect you with between one and five recommended experts.
Depending on the client's constraints and preferences, they can also tailor their services to suit a variety of very specific requirements.
Codeable can provide :
Individual freelancers
Small agencies
Enterprise-level agencies
On-demand team creation (this is where Codeable brings together individual experts with different skills, who will work on your project as a team)
This means that, if you have a large new project, Codeable can put together a team of people with different skills, so you don't have to worry about sourcing and hiring the right people for the job.
Or, if your best developer is on parental leave for three months, Codable can provide an individual freelancer with a similar background to cover for them.
Or, let's say, you need specific talent for a standard one-off custom design project, Codebale can pair you with an agency that worked on dozens of similar projects and will deliver exactly what you need.
These are just a few examples, but you get the idea.