With an estimated 12 to 24 million online stores, it's no wonder that more and more entrepreneurs are looking to offer customers the ability to purchase one-of-a-kind customizable products. After all, with so much competition, the need to stand out from the crowd has never been greater. However, if you're new to WooCommerce, you might be unsure how to add a product designer function to your site. This is where a WooCommerce product designer plugin comes in handy.
In light of that, we're sharing how to choose the best product designer plugin for your WooCommerce store and ten such plugins worth checking out.
There's lots to cover, so let's jump straight in.
How to Choose the Best WooCommerce Product Designer Plugin for Your Website
When picking the right WooCommerce product designer for your site, it's worth considering the following factors:
Range of features
Ease of use
Pricing
Support
We'll analyze each of the below ten product designer plugins with these considerations in mind.
Product Designer by WooCommerce (by FantasticPlugins)
Product Designer by WooCommerce lets users design their own products according to their exact needs. In addition, 16 ready-to-use product bases are available, and users can customize the edit zone of each product base. This plugin also facilitates multiple product attributes and individual component pricing.
Not to mention, customers with an account on your website can also save the designs they like the look of and purchase them later.
Pros:
Users benefit from a live preview of designs.
Your customers enjoy an intuitive user experience.
Access to a robust drag and drop product designer where users can resize images, add text, colors, etc.
The editor has a layering system that comes in handy for more elaborate designs.
Pre-designed templates are available
First-time users get a tour around the plugin
Cons:
At $99 a license, it's more expensive than competing plugins that offer similar features
Reportedly, customer support is often found lacking
It doesn't offer some of the functionality that other plugins provide, like gradients and free drawing tools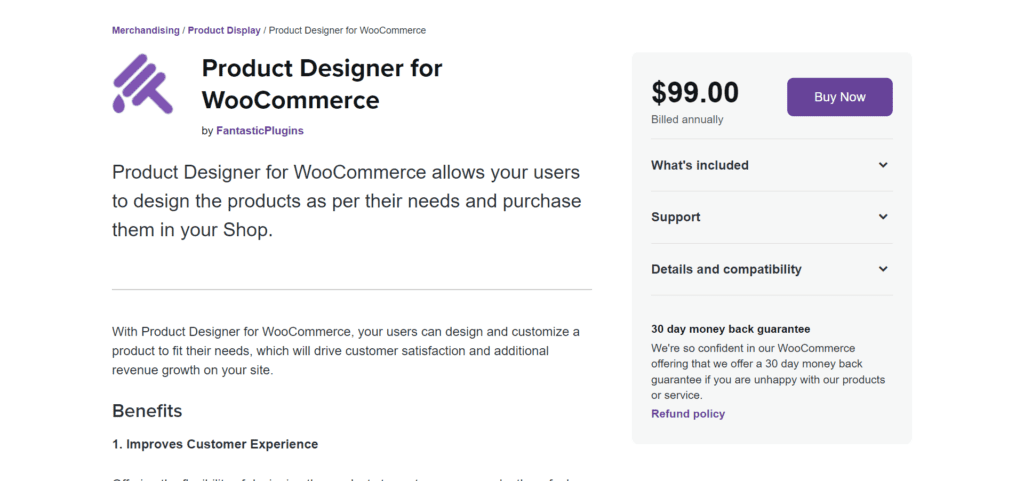 Product Designer for WooCommerce WordPress (by Lumise)
This plugin enables users to design products using a drag and drop interface. It comes with 300 DPI print-ready files and offers over 300 clipart resources, 30 templates, and access to over 800 Google fonts. The plugin works on both mobile and desktop devices to attract a broader range of users. Lumise also works alongside all standard printing methods and comes with six months' worth of customer support which can be extended for an extra fee.
Pros:
It's easy to use on both desktop and mobile.
Users benefit from sharp and intuitive UI
Over 300 pre-built templates are available.
This software supports multiple languages, including Japanese, Vietnamese and Arabic
You can easily switch products to see the same design on other objects from the preview mode.
There's a free drawing option.
Cons:
Lumise's interface isn't customizable, so it might not complement your website's design. In turn, this can lead to a clunkier shopping experience.
At $91.13, the lifetime license is one of the pricier options.
Its language focus isn't the western market, which could be a downside depending on who your target demographic is.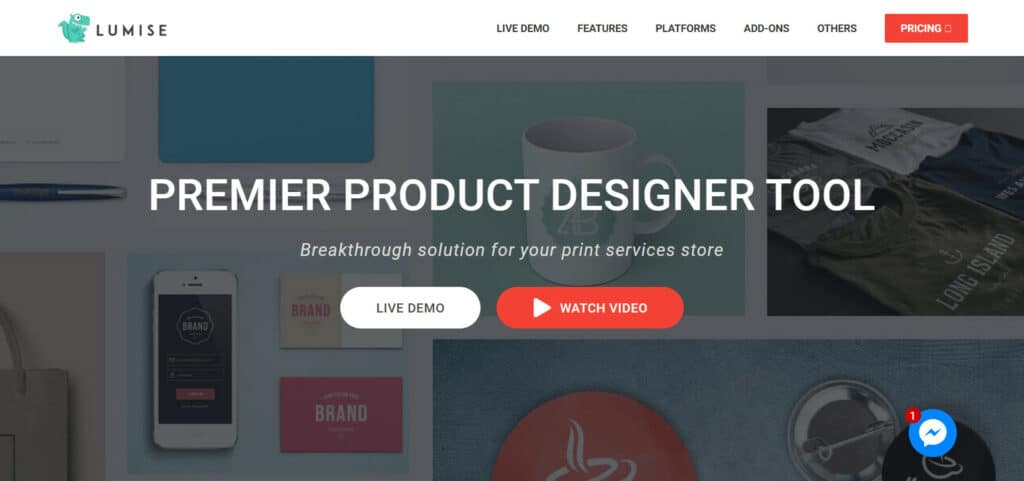 Fancy Product Designer
Fancy Product Designer permits users to customize any product type and decide which part to customize. For example, users can add new designs to both the front and back of a t-shirt or even the sleeve. It also comes with a helpful layering system so you can keep better track of the text and graphics added to the item.
Fancy also includes something similar to global colors across its layering system. This means that if you link layers and change the color of the artwork on one layer, it automatically updates on another. That way, users can quickly view different color schemes for their designs.
Pros:
To better suit your page's design, you can customize Fancy's product designer layout with different sizes, colors, and positions.
This t-shirt designer comes with an advanced image editor with custom mask shapes, cropping, filters, and color channels. Here, users can even remove the white from a simple bitmap image.
You can define bounding boxes or give users complete control over the location of their design(s).
You can decide which modules are available. For example, you can remove it if you don't want customers to use a particular tool, like image upload.
The plugin is responsive to all devices.
You can set custom product prices for materials, colors, text, images, and graphics. Even by layer type and product view (front and back of a t-shirt, for example)
The license costs a fair $69, and you can access more pro features by upgrading for another $20.
Cons:
There is no free version available.
No support for multiple languages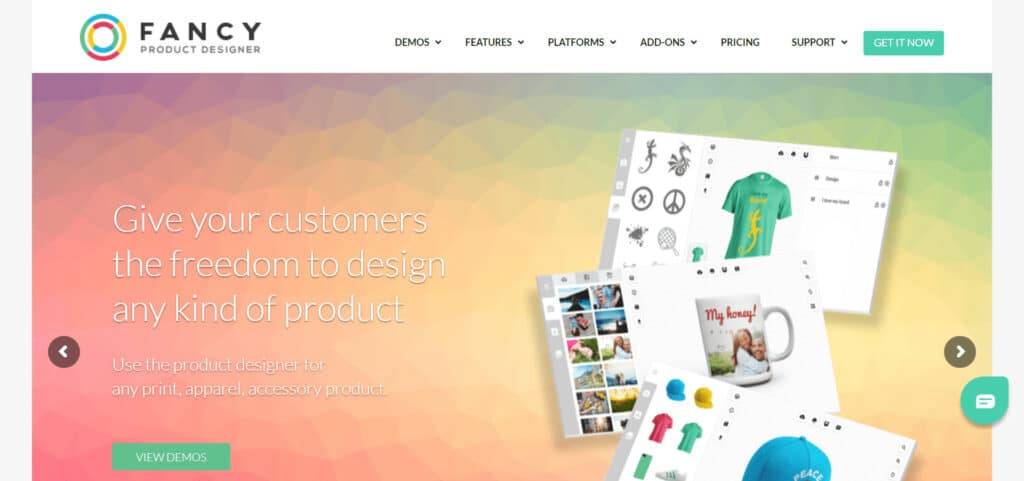 WooCommerce Custom Product Designer
The WooCommerce Custom Product Designer plugin is another solution that allows your website visitors to design any product without coding knowledge. It supports all devices and printing methods and comes with a professional design library. The product design tool comes with layers, printable area shapes, the ability to change the background's color, clipart, and more. Users can even save and share their designs on social media. However, this plugin is one of the older ones on this list and lacks some of the more sophisticated features that some of, the newer plugins offer.
Pros:
It's responsive on all devices.
The pricing is reasonable at $50.
You can translate the plugin's language in the admin panel.
It's suitable for DTG printing, screen, embroidery, and more.
It works with SVG file vector output.
Cons:
Some users have criticized the quality of customer support.
The last update was in 2019, so you may encounter several bugs.
It's not as intuitive as other product designers.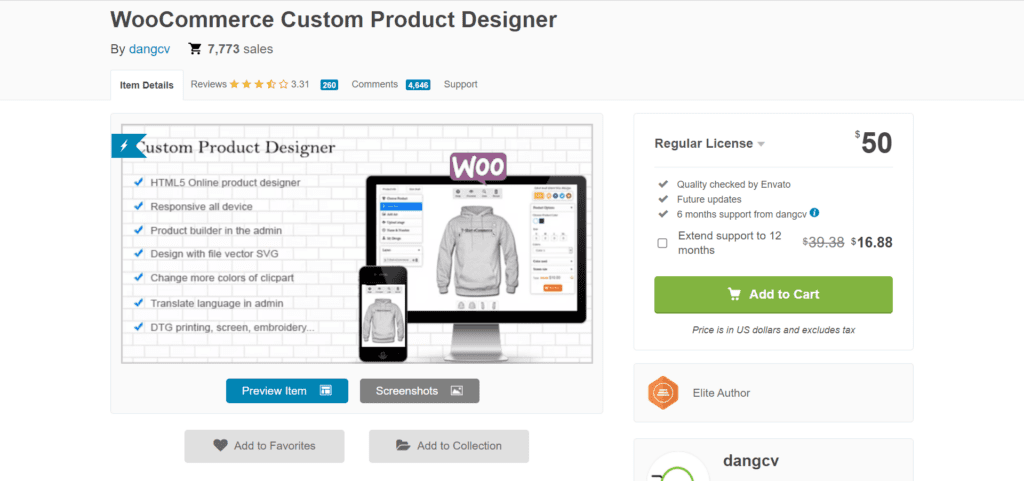 Product Designer (by PickPlugins)
PickPlugins's product designer comes with user-friendly design tools that make it easy for users to add clipart, images, and text to products. Users also have the option of designing particular parts of the product. In addition, it comes with over 50 google fonts and custom shapes.
Pro features include unlimited pre-saved templates, the ability to display quotes, access to stock images, and you can permit customers to upload their own clipart. The pro license also allows for curved text.
Pros:
At $19, a single license is cheap to purchase.
The plugin comes with a free version.
Users reportedly enjoy excellent customer service.
Access to high-quality stock images and google fonts.
Access to a good-looking, modern interface.
Cons:
The free version is severely limited, with few customization options.
Some users have complained about various bugs.
Some users found the plugin difficult to configure.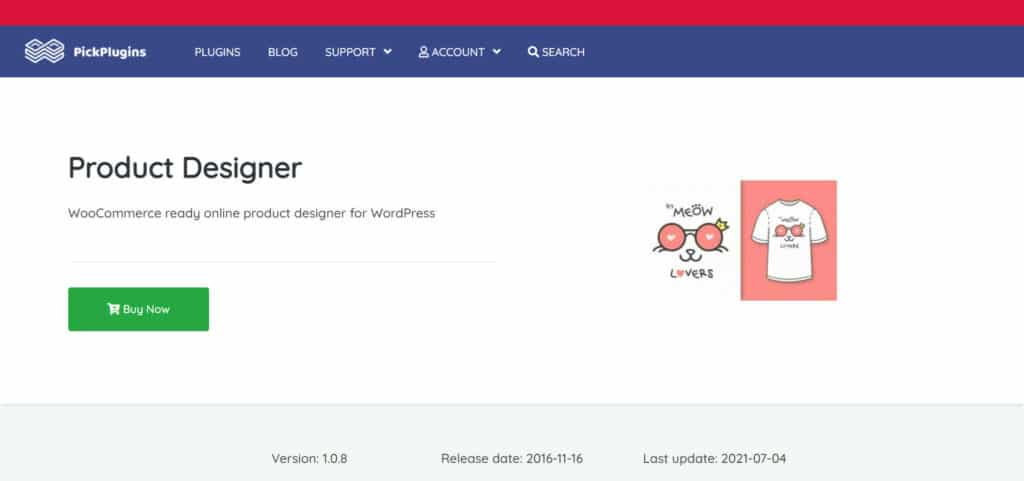 NBdesigner
NBdesigner is another product design solution for printing companies looking to provide the best possible customer experience. Shoppers can upload images, choose from sample images, and even source pictures from Facebook to add to their designs. Users can also create more elaborate designs, including clipart and text, with NBdesigner's powerful layering system. What's more, the plugin comes with a freehand drawing function so users can create their own signature images directly within the plugin.
Pros:
Access to a neat freehand drawing feature.
You can add QR codes to your designs.
The plugin is responsive to mobile, tablet, and desktop devices.
The plugin can be translated into a range of languages.
You can streamline the design approval workflow so that admins can review and reject designs.
Access to a template library of over 200 templates.
Access to over 1,500,000 stock photos.
You can convert images to CMYK for print.
It provides 3D product design previews.
Cons:
NBdesigner is much more expensive than other plugins. Its cheapest license costs $179.69, and optional support and maintenance start at $39.99 every six months.
NBdesigner's website is a little clunky and is sometimes written in awkward English.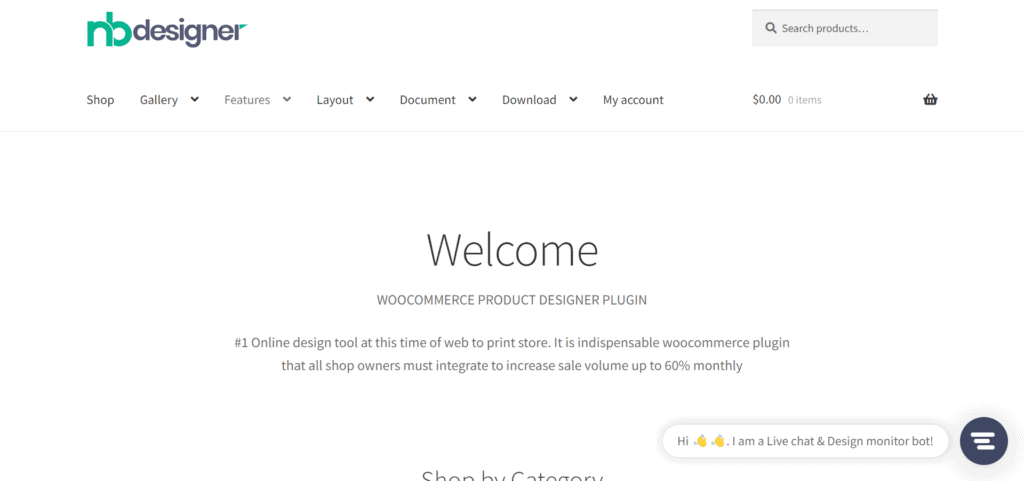 Ouidah
Ouidah's WooCommerce product designer brings compatibility with all types of web to print products. You can add your own fonts or use Google fonts, which are available to your customers. The same goes for clipart, which you can even categorize. Ouidah also offers advanced image editing features, including photo effects like grayscale, sepia, invert, blur, sharpen, and embossing.
You can also add watermarks if you're selling custom designs and control customer uploads by defining minimum and maximum file dimensions and extensions. Customers can also send files to you directly so you can handle the templating for them.
Pros:
You can limit colors to specific color palettes.
Works with SVG vectors.
The plugin can be translated into other languages.
The plugin is fully responsive.
A free version is available.
It integrates with social networks.
Cons:
This plugin isn't as feature-rich as other WooCommerce product designers, which makes the price of the pro version ($61) a little steep by comparison.
Some customers had a hard time getting this plugin to work, but every license comes with free support.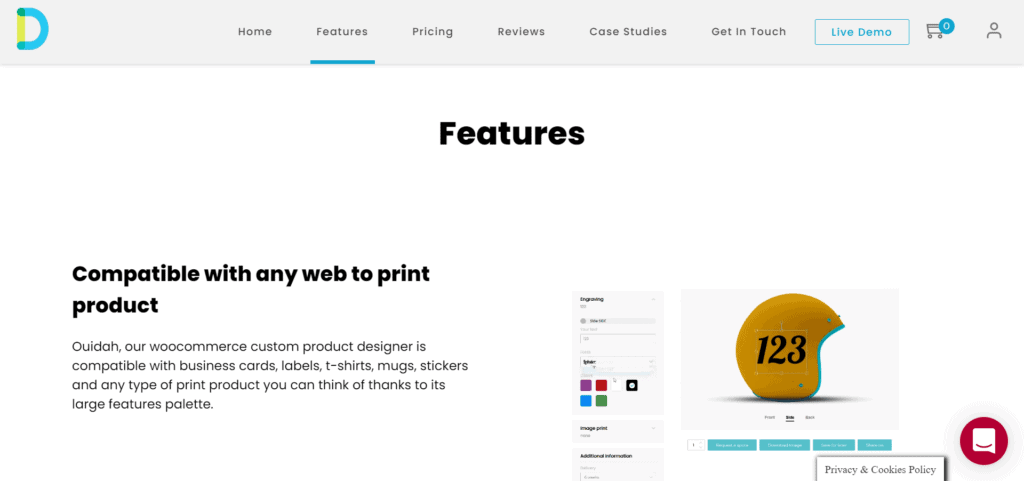 Zakeke Product Customizer
Zakeke goes a step further than some of the other WooCommerce product designers on this list, and with over 15k customers under its belt, it's also one of the most popular and credible plugins on the market.
It offers options for 2D, 3D, and even AR files. Customers can create their own templates and choose from multiple colors, sizes, and styles. The plugin supports engraving on glass, wood, or steel products. It also enables users to customize all types of products with all the variations you can offer. For example, users can define the colors of a hat's ribbons, linings, and feathers. Finally, users can also visualize products in 3D with zoom and turn functions for a more immersive shopping experience.
Pros:
It integrates with all major eCommerce platforms
You can create your own catalog of products and design templates
It integrates with popular print-on-demand services
You can automate workflows
Access to unique 3D and AR features
Users can even engrave items
Customers can save their designs
Cons:
The price varies depending on your chosen eCommerce solution.
Instead of a single lifetime license, you have to subscribe to a monthly fee.
The cheaper plans are pretty limited. You only get unlimited products and storage when you pay nearly $25 per month.
Image editing where 2D is the focus isn't more extensive than other, cheaper product designers.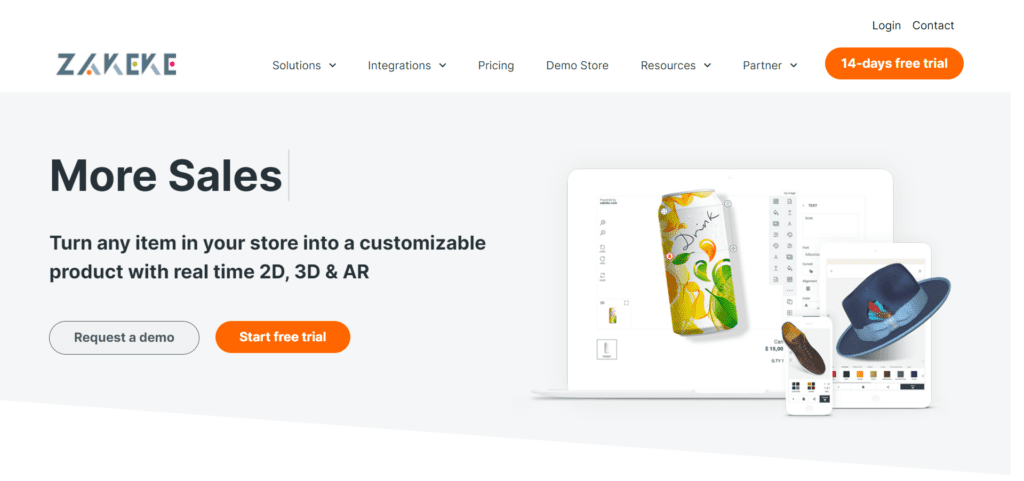 WooCommerce Multistep Form & Product Designer
This WooCommerce product designer supports a multi-step process involving multiple items, designers, and price calculator tools. In addition, this WordPress plugin provides access to a powerful conditional system to help you manage the various product customizations needed by the end-user. Once the form is completed, the plugin calculates the requested product or service cost.
Then, the product designer enables customers to design their item with multiple text and art layers via a drag-and-drop user interface.
Pros:
Affordable license at $21
The multi-step form approach helps create product customizations rather than a 2D design process.
You can set custom pricing for certain elements.
The plugin is fully responsive.
The plugin was updated recently.
Cons:
Not all customers consider this the most user-friendly plugin.
Sellers have little control over which customization features are available to customers. For example, they can't turn off the ability for customers to upload custom images.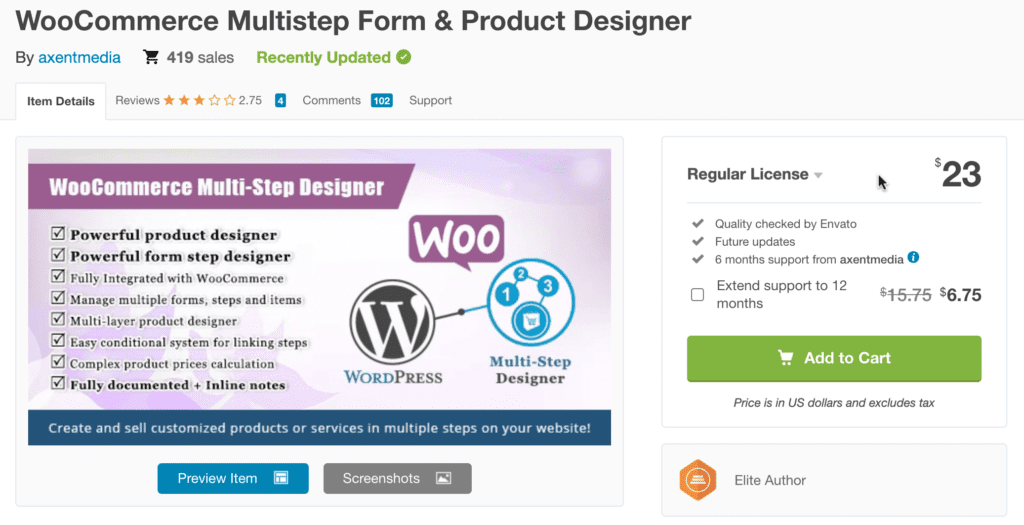 MyStyle Custom Product Designer
The MyStyle plugin offers a product customizer for any product of your choice. Your customers can then preview their designs with a photo-realistic product display. As a serviceware plugin, you need a MyStyle developer account to access all the high-res, cloud-hosted print files.
Users can add images, text, clipart, and apply bevels, glows, and drop shadows. It also supports gradients, and users can simultaneously design more than one side of a product. You'll receive high-res, print-ready output files at the end of the design process, and the user's custom design will even feature in the thumbnail of their online shopping cart.
Pros:
The plugin automatically detects mobile or desktop users
Users can upload their own clipart and images
The gradient tool is intuitive
The plugin works for a wide range of products
You can add more templates by contacting the plugin creators
Cons:
You can't easily remove singular elements of a background
Browsing for images and fonts is slow – only a few are displayed on each page.
The selection of free clipart is quite limited.
Pricing isn't transparent. While the download is free, there's a fee associated with the MyStyle developer account.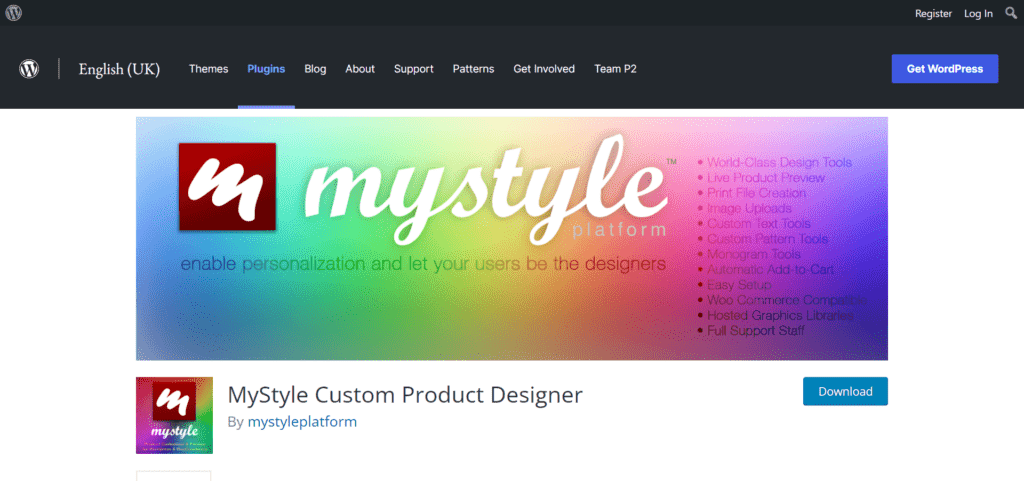 Are You Ready to Pick the Best WooCommerce Product Designer for Your Woocommerce Website?
That's it for our list of the ten best WooCommerce product designer plugins. Generally speaking, we'd say you get what you pay for with many of these solutions. While the core features are often the same, the user experience differs widely depending on the customizer. That's why we always recommend taking advantage of any free trials or freemium versions that are available.
That said, it can be challenging to customize these plugins to fit your branding. So if you want a product designer that precisely suits your needs and offers greater functionality, you might want to work with an expert to build a custom plugin for you.
Codeable can put you in touch with vetted experts with experience doing exactly this. As a result, you can rely on professional results and save yourself a lot of time and money than hiring a full-time developer by outsourcing plugin creation. Our experts can also help you maintain other aspects of your WordPress and WooCommerce store to help you focus on other areas of your business. So, what are you waiting for? Submit a project on Codeable today to receive no-obligation quotes from our experts.