WooCommerce is a powerful open-source WordPress plugin that empowers users to sell products online in a highly customizable way. If you're expanding your WordPress website into an online store, no doubt you've realized that WooCommerce is one of the most flexible options on the market.
Best of all, the online store plugin was built with developers in mind, giving them complete freedom to design their dream storefront and shopping experience. The sky's the limit when it comes to your website's functionality and design.
However, if you're looking to create complex designs and features and you don't have much experience in this field, this isn't something you want to do DIY. A mistake could severely impact the user experience, costing you customers and credibility.
This is where a WooCommerce store developer comes in handy. Thanks to the global online workforce, your business has access to a massive pool of developers worldwide. Finding the right expert can be challenging for small businesses and larger enterprises alike with all this choice.
In light of that, let's explore how to select and find the perfect WooCommerce developer for your project.
When is it time to hire a WooCommerce developer?
If you're still on the fence about partnering with a WooCommerce developer, it's essential to consider your requirements carefully. Here are some common scenarios where working with a professional is recommended:
You want to design and develop an eCommerce website from scratch
You're after sophisticated WooCommerce customization
You wish to create custom themes or templates for your store
You need ongoing website maintenance, or you require someone to fix any bugs and/or coding errors on your store
You want to build custom WooCommerce plugins
You want to improve your store's performance, accessibility, SEO optimization, etc.
If you're considering any of the above tasks, it's probably time to find a skilled WooCommerce developer to work with.
What should you expect from a great WooCommerce developer?
To vet the right professional(s) for the job, you need to understand the skills they should bring to the table to get the job done.
Of course, this will vary a bit depending on the project at hand. Still, there's a broad set of abilities every great WooCommerce developer should possess, including:
Hard skills. Hard skills comprise programming and development abilities and involve an excellent knowledge of WordPress and WooCommerce and HTML5/XHTML, XML, JavaScript/jQuery, and/or CSS3 know-how. They'll also need to translate website designs mocked up in Photoshop and transform them into a website complete with responsive design. Lastly, they should possess excellent front-end technical skills, too.
Experience. A professional and responsive web design background is a good indicator that you're working with a seasoned pro. Your chosen WooCommerce developer should have experience working with eCommerce businesses and be comfortable consulting you on the best practices and current WooCommerce trends.
Soft skills. The final consideration that should not be underestimated is soft skills. To bring your dream WooCommerce project to fruition, you'll rely on close and open collaboration with your chosen developer. They need to successfully work with project managers and other team members to gain a clear understanding of your objectives. This means excellent communication and problem-solving skills, patience, reliability, and attention to detail are absolute must-haves.
What to do before looking for the perfect WooCommerce developer:
Before you start hunting for the right WooCommerce developer, establish a clear idea of what you're looking for.
Here are three steps to help prepare you for the task:
1. Define the project's fundamentals
First off, you need to determine your project's fundamentals by asking yourself the following questions:
What's the scope of the project? What exactly do you need a WooCommerce developer for?
When will the project start, and how long do you envision it to last? A complex project might take months, even years to complete, whereas something basic may only take a professional programmer a few hours.
Do you expect your developer to work full-time on your project?
Do you have a specific deadline?
Who's involved in the project? How will they collaborate? Do you have in-house web designers and/or project managers who will weigh into the project? Who will be the main point of contact for the developer?
What budget can you allocate to your WordPress developer?
2. Define the qualifications of your ideal match
Prepare a list that includes your "must-have" and "nice to have" developer skills.
This could consist of:
A background in WooCommerce
Years of experience in the field
Knowledge of other eCommerce platforms like Magento and Shopify
Fluency in specific coding languages
Experience in website theme development
….these are just a few examples, but you get the idea.
3. Be ready to onboard your WooCommerce developer
When you're ready to start working with a web developer, ensure you have all the necessary materials and documentation prepared so they can familiarize themselves with your project. This better positions them to hit the ground running with whatever needs to be done!
Where to find a WooCommerce developer
At this stage, you're finally ready to start searching for a suitable web developer to help with your WooCommerce project. So, here are four ways to go about finding the perfect match:
Browse web developer profiles on freelancer platforms. There are plenty of online marketplaces specializing in web and WordPress development. Here, you'll be able to specify your requirements and find an expert to help you out. Just be sure your time zone aligns with your prospective web developer's.
Post a job offer on a job board. Like the freelance platforms mentioned above, there are also plenty of online job boards explicitly for technology and development. There are platforms dedicated to finding remote workers, start-up employees, and more. Even traditional channels like LinkedIn present a decent starting point.
Post your job offer on your website. Don't forget to advertise your job offer on your website. From there, you can also leverage social media like Twitter and Facebook to direct interested parties to apply for the role on your site.
Work with a hiring partner. A specialized hiring partner only works with vetted and experienced candidates. They'll put you in touch with the right people and cut down on the time it takes to interview and assess each candidate.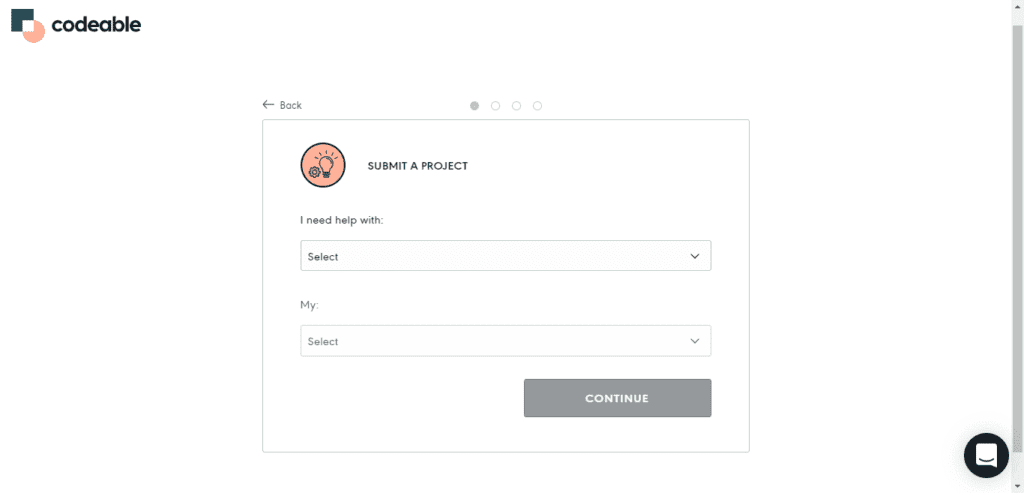 Options one and two, while viable, are both very time-consuming processes because of the vast number of profiles and/or applications you'll have to screen. If you go for option three and decide to post on your website and social media, you may risk receiving applications from candidates who aren't fully qualified.
In short, any process that requires you to vet candidates for skills and experience relies on making an educated decision in a field that you might not be familiar with. That's why we recommend working with a hiring partner.
Best practices for screening candidates
When screening candidates, there are some questions to ask to ensure they know what they're talking about:
Ask about their experience using plugins and PHP. An excellent WooCommerce developer should prioritize PHP in their approach. As such, they shouldn't rely too heavily on plugins and other third-party tools. This could adversely affect your website's load speed and increase your eCommerce development budget in the long term.
Enquire how they would improve WooCommerce performance. An expert developer should know all the tricks for optimizing online stores for conversions, SEO, speed, and accessibility.
What documentation and backend creation do they provide? A trustworthy professional will prepare accurate instructions or a guided backend so that you aren't left helplessly in the dark once you're done with the project. Check that this is part of their process before signing the dotted line.
WooCommerce development should never be taken lightly
Working on a new WooCommerce development project is an exciting process. But you should never rush into it without doing your research first, as you risk hiring the wrong person as a result. This could have a snowball effect with severe consequences for your project – delays in the deadline, technical complications, and loss of business… just to name a few.
A hiring partner is your safest bet when it comes to finding the perfect WooExpert. They are highly specialized and only work with high-quality WooCommerce experts, so you can enjoy complete ease of mind.
If you're looking for WooCommerce developers, Codeable is a risk-free hiring solution. Codeable introduces you to experts who have been carefully vetted based on the specific requirements given for each individual project. This guarantees that each proposed developer brings the exact skillset you need to complete the task at hand. That's why Codeable is a trusted platform recommended by top companies like Kinsta and WooCommerce itself!
With the right web developer, you won't only benefit from their technical skills. You'll also learn unexpected ways to improve your UX and conversions. So, what are you waiting for? Submit your project on Codeable for free today to find the perfect WooCommerce developer.