June's love from our clients

How we stacked up compared to last month
Howdy and welcome to another great month and another great Codeable Happiness Report! I can't believe June has already come and gone and 2017 is officially half over! Or is it only half begun? I guess it's all in how you look at it, right? 😉
Regardless, June has been a fantastic month as we came back from our annual exodus in the beautiful city of Paris where we joined around 57 of our dear Codeable experts for the annual WordCamp Europe event (and a nice dinner)!

What a great event and if you ever have the opportunity, I can't recommend it enough! Being surrounded by your peers and having the opportunity to speak with and network with some of the most brilliant minds in WordPress is an amazing experience and something you don't want to miss!
Not to worry though, if Europe is a bit too far to travel, perhaps the annual WordCamp US event is closer? This year it's going to be in Nashville, TN! Or heck, even your local/regional WordCamp events are a fantastic opportunity to connect with like-minded individuals, developers, and business and agency owners.
I'm not going to lie though, some of my favorite people are our very own experts and it's so wonderful to see them in person, to talk with them, shake their hands and even enjoy a couple of beers together. It's awesome and I wouldn't trade it for anything!
This year's event was extra special for me personally as I was able to cross something off my bucket list I've been hoping to achieve for the past few years now. I'm super excited I finally got the opportunity this year to meet and take a selfie with one of my personal heroes, the man himself… Matt Mullenweg!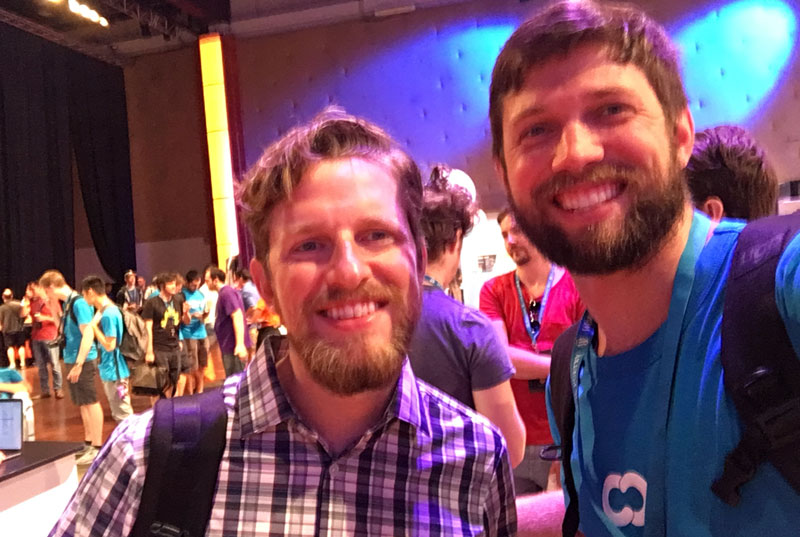 Fortune favors the bold and sometimes you just need to go for it when the opportunity presents itself and I'm so happy I did! Thanks for the photo-opp Matt!!
And the good times don't end there either! In other wonderful news we've added a new Happiness Hero to our team and please join me in welcoming Jordy Webb!!
Jordy joined Codeable on June 1 and has been an amazing asset to our support team and really hit the ground running. Before joining Codeable he was running the support department for The Grid, so he's no stranger to tech. Please reach out to us in Intercom and make sure to say Hi to Jordy. He's helping during our US business hours from 8am – 4pm EST although he's based in the Pacific Northwest. Thank you for waking up so early every day Jordy, we love you buddy lol!
In terms of our support numbers, we were a little bit quieter this month compared to last. This happens every year and we were expecting it. As school gets out, lots of families go on vacation and their WordPress websites take a slight backseat to travel and road trips and sunburns. But we were still plenty busy helping our amazing clients with their sites and their client's sites!
And even with most of our team traveling to Paris for the #WCEU event, Jordy was holding down the fort during the US hours and with his help, we were still able to keep our median response time at 3 minutes! BAM!
Please help us welcome our newest experts!
Here are our new Codeable experts that were added to our team in June. These experts have passed our multiple tests and are guaranteed to deliver on the Codeable quality promise:
What's to come?
1 word. Plenty!
Our backend team internally has been hard at work making improvements to our application to make things better for all of you who use it and work with us! We just launched a host of new features for our experts and we're working on a few new features and updates for our lovely clients next. We'll announce them shortly before we're ready to launch them.
We've also been super busy screening new developers and have some really brilliant experts getting ready to join the team to help clients with their projects, so be on the lookout for them shortly!
And we also have some new inbound marketing activities and strategies we'll be implementing in the near future. Our entire team is pulling in this new direction we're taking with regards to our marketing and feel this will help us better explain who Codeable is and how we're able to help clients with their WordPress websites. It's going to be a busy but very exciting next couple of months!
Until next month… enjoy your day and we wish you (and your site) the very best!