July's love email from our customers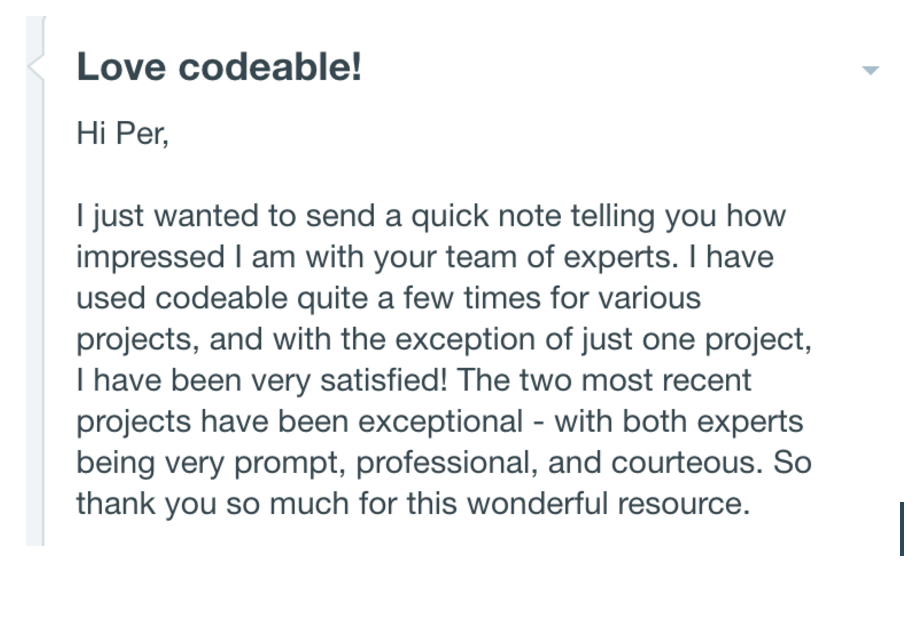 How we stacked up compared to last month
As you can see from the stats above, we are actually very similar to last month! It's the summertime, so some of our staff have been popping in and out for a few weeks vacation time, but hasn't slowed us down at all! In fact, our replies and new conversations started by users are up compared to June 🙂
The new screening process continues to be a big success
As we mentioned, we've implemented a new screening and testing process for our expert applications. While it does make the process to join Codeable as an expert more rigorous, we've been so pleased with the success our new developers have been having!
Please help us welcome our newest experts!
Here are our new experts added to our team in June, who have passed our multiple tests and are guaranteed to deliver on the Codeable quality promise:
What's going on at Codeable this summer?
The BIG news of the summer so far is our share buyback and partnership with WooCommerce.
Our press release went on July 1st (below) and we're absolutely thrilled with this new venture 😀
Copenhagen, Denmark: On Friday, 1st of July 2016

www.codeable.io, a leading global outsourcing marketplace for high-quality WordPress projects, today announced a share buyback from CAPNOVA and funding from several investors, including Automattic, the company behind WordPress.com and WooCommerce. The company also secured a loan from the Danish Growth Fund.

In addition to the investment, Codeable will partner with WooCommerce, the world's biggest e-commerce platform for WordPress, to offer site owners opportunities to connect with expert WordPress developers […]
Continue reading the press release here
What's to come?
Lots of cool things! On Tuesday August 2nd, we are having a webinar with Neil Patel– 7 Key Growth Lessons in Advanced Customer Acquisition.
Be sure to register (it's not too late!) and check it out.
We'll be continuing to onboard some new amazing experts to our platform who have really impressed us during the recruitment process. We're very excited about the diverse talents and skills that our experts bring to Codeable to truly make it the best place to find WordPress experts for any issue, problem, build or design project.