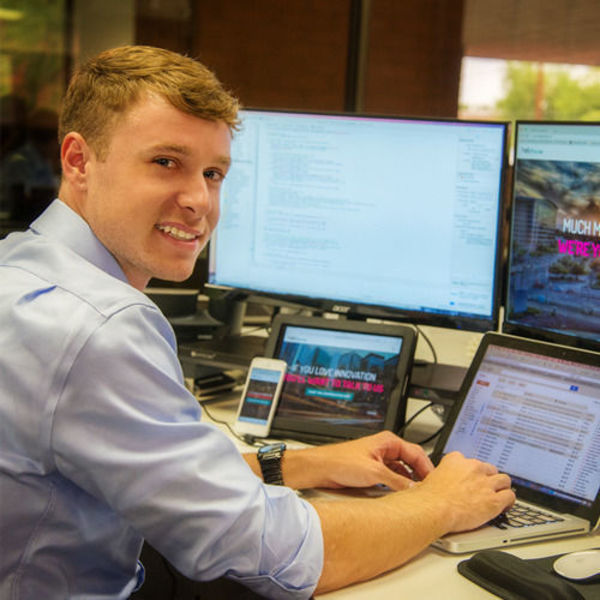 Nathan Reimnitz
Full-Stack Developer
Hello world, I'm Nathan... I've been a certified expert WordPress developer on Codeable since July of 2015 and I'm proud to maintain a near-perfect rating here as well. But please don't just take my word for it, scroll down to read what my previous clients have had to say about working with me.
Location
Minneapolis, United States
Member since
21 Jul, 2015
8 years
Typical projects
Full Website Builds, Migrations, Troubleshooting and Fixes
Let's make this as simple as possible, imagine having one dedicated consultant for everything WordPress related. No more questioning where to go or who to talk to. No more stressful confusion about your website. Sound good? Well then you're in luck. If you're looking for help building your next website, or with one that already exists, I've got your back… I've been in the web world for 15+ years and have shared successes with companies of all sizes. Throughout these years I've worked both freelance and had a couple 'real jobs' building websites from a desk, nine-to-five… I've designed, developed, and deployed customized web-based solutions for mom-and-pop shops all the way up to publicly traded companies. I've helped many small businesses grow their organic search traffic and helped corporations maintain websites with millions of annual page views. No project is too big, or too small, so please get in touch with me today :)
Nathan is tha bomb. Very helpful, and communicates throughout the entire process. Boosted my site speed more than I thought he would be able to. 6 out of 5 stars! He's great
Jan 07, 2020
Nathans help was invaluable and worth every penny. He saved me so much time in speeding up my website. He completed tasks quickly that would have taken me weeks to figure out. Nathan kept me informed throughout the process with a great summary of the changes at the end. My website speed results speak for themselves. I would thoroughly recommend Nathan and will use him in the future.
Oct 22, 2019
I am truly impressed, and I don't impress easily. I was having significant issues with speed on my Wordpress site and was feeling very frustrated. I realized I needed a professional developer to look at my site as I don't have the skillset to figure it out. Luckily, Nathan responded to my job posting. He was a pro right from the beginning. Excellent communication all the way through. He delivered on his promise to speed up my site considerably -- it's ultra fast now. He quickly recognized some widgets that were slowing down the site, which I had not clue about. He got rid of those, plus made a whole list of other changes in Cloudflare, and on the site which are far too numerous to list. Truth is, I'm beyond satisfied. He did the work in a short amount of time and was very open and responsive, providing updates as he worked, which I truly appreciate. He answered all of my questions, which were constant. I should be his agent :) All I can say is -- Thank-you! Do not hesitate to work with Nathan. I will happily return when new issues arise. Thanks again :)
Jul 20, 2019
Proactive and on point with his work!
Dec 06, 2023
Excellent experience. I'm new to codeable and Nathan helped walk me through the process, and make recommendations where needed. I can't recommend him enough!!!
Nov 30, 2023
Nathan was wonderful to work with and turned my vision into reality with a quick turn-around. I highly recommend him and am thankful for his knowledge and expertise....as well as his patience with me!
Nov 27, 2023
Nathan was very responsive and easy to work with. Our project was completed quickly and the process was smooth. We would recommend Nathan and will happily work with him again on future projects. Thank you!
Nov 14, 2023
Amazing communication! Kept working at a complicated issue to figure it out! Did an extra task because known task took less time! Thank you so much Nathan! I appreciate you!
Nov 07, 2023
We love Nathan... He always goes above and beyond!
Nov 06, 2023
Great problem solving skills and great communication!
Oct 30, 2023