Mohammed Al-Madhoun
Full-Stack Developer
Building elegant web-based solution is my passion, starting from the idea, ending with a stand-out solution that you deserve. In the last 5 years, I finished 90+ projects, including developing themes, plugins customizing them based on clients requirements. Get your piece of art now.
Location
Gaza, Palestinian Territory
Languages
Arabic, English
Member since
07 Feb, 2022
1 year
Typical projects
Full Website Builds, Plugin Development, Theme Development
👍 Who am I? I am Mohammed, a computer engineer, and a certified requirements engineer. I am working as a WordPress developer since 2015. 👍 How I can help? My overall focus is developing elegant web-based solutions, though my specialty is developing WordPress plugins and themes. In the last 5 years, I've finished 90+ projects, including building websites, and customizing plugins and themes based on customer requirements. I will use my experience in requirements engineering and project management to make sure that you will get the best experience ever. You will be able to know what you will get and when you will get it even before we start the contract. 👍 Some fields that I have strong experience in: 🥇 Basic WordPress fields: - UI/UX design based on WordPress specifications. - Building themes from scratch based on client design. - Building plugins from scratch based on client requirements. - WordPress database management. 🏆 Special WordPress plugins and fields: - WooCommerce, building normal stores, multivendor stores, ticketing systems, booking systems, integrating with CRMs, and online accounting platforms, customizing store functionalities, and more... - Online learning management systems, like Learndash, including building LMS websites, integrating with external services like H5P, GamiPress, and more... - Advanced custom fields, setting up the plugin, customizing the fields, customizing the functionalities and behavior of the fields. - Contact us forms, Contact Form 7, Gravity Forms, and others. Besides building the forms, I can customize the functionality of forms, for example, I can integrate the responses with HubSpot, Zoho, and other services... - Integrating modern front-end libraries like Vue.js and React into theme development, and benefit from their powers. - Building custom page builders blocks, for Gutenberg, Elementor, Divi, and more... If you have any questions or need any help in one of these fields, please don't hesitate to contact me.
Mohammed is an exceptionally talented developer. His vast knowledge and great communication skills made it a pleasure to work with him. I will hire him the future again.
Aug 10, 2022
Good work and very helpful
Jul 24, 2022
Mohammed did an amazing job. He made sure everything was complete and just how we needed it. Highly recommended!
Jul 19, 2022
Would hire again without question.
Jun 25, 2022
Mohammed provided a great solution to a complex WP Search Query thank you!
Jun 16, 2022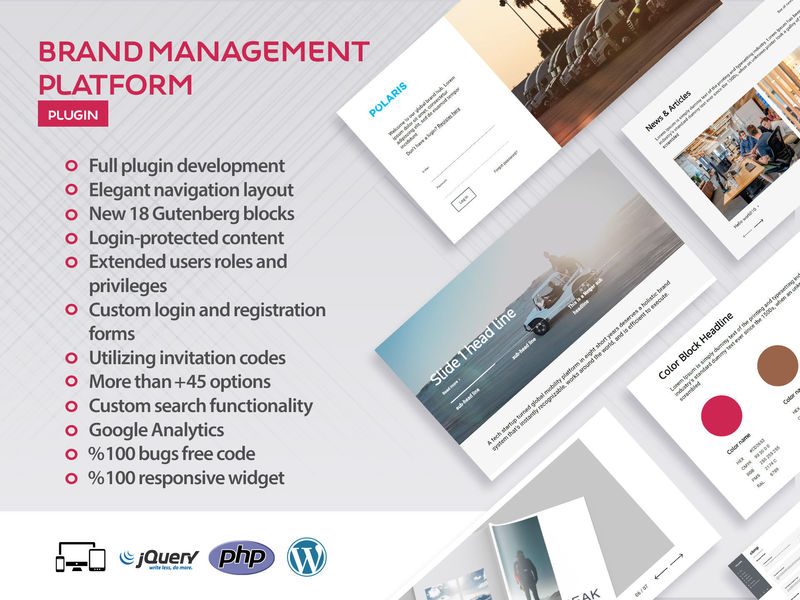 Brand Management Platform Plugin
- The Brand Management Platform helps companies in managing their brand. - The plugin has its own navigation layout, and it is using the native WP menu items. - The plugin has its own page templates, which has four main templates: public, login-protected, login, registration pages. - The plugin introduces new 18 Gutenberg blocks; these blocks are used to build the branding pages of companies.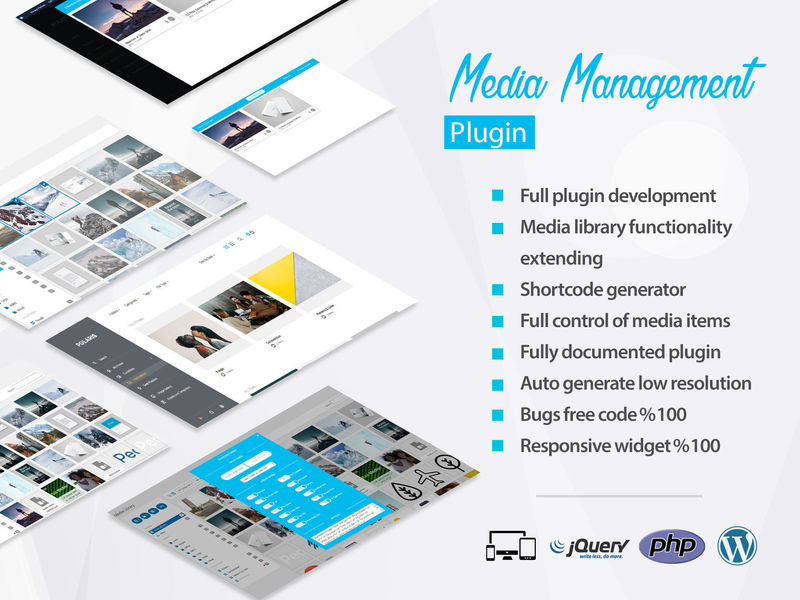 Media Management Plugin
- The plugin adds a file type to each uploaded media item. The file types are (photo, document, video, audio, logo, presentation, other). The file type can be chosen by the admin. - The plugin extends the native WP media library functionality by adding Folders, Collections, Categories, Tags. The admin can add the media library items to any of these new taxonomies.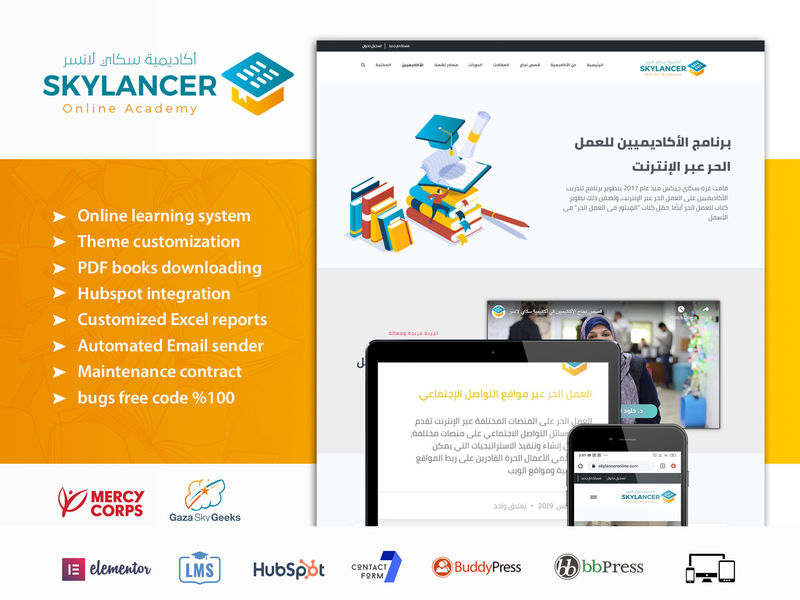 Online Leaning Managment System - Mercy Corps
- An online learning management system has done for Gaza Sky Geeks and Mercy Corps. - This website was built using the Elementor page builder. - I created a special plugin to integrate the students' information and activities with the client's HubSpot database. - I created a special plugin to search, show and export students' information. The reports are special Excel files used by Mercy Corps.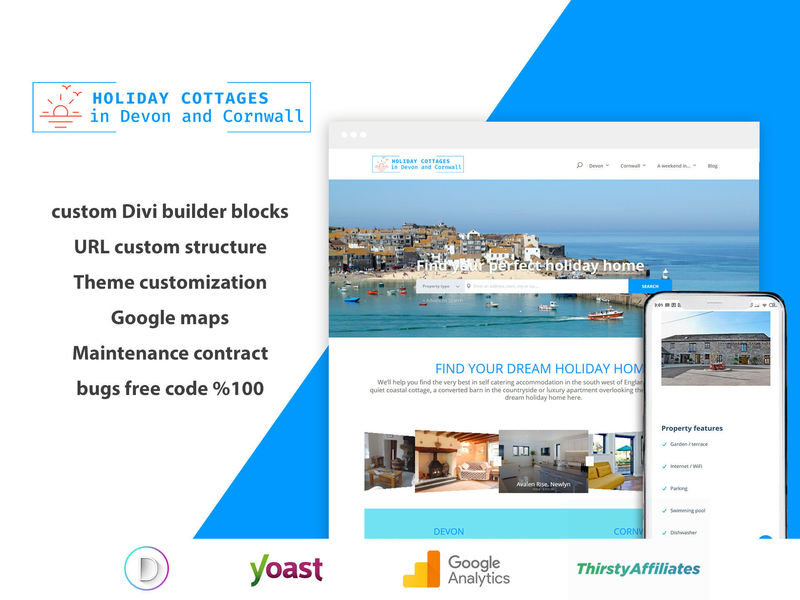 Online properties and apartments searching platform
- This website is built using Divi page builder. - I fixed several issues and conflicts between plugins for this client. - I worked on configuring a custom URL structure for some categories, based on the client requirements. - I created a custom Divi block, which is an advanced search block, which is using the custom fields of property custom post type to filter the apartments and rooms.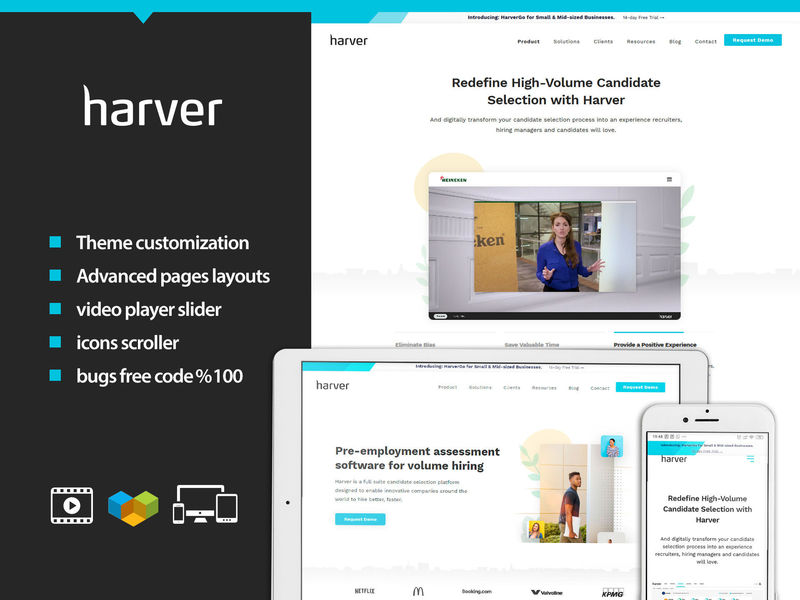 Harver.com - international client
- This website was built using WPBakery Page Builder (formerly Visual Composer). - On the product page, I created the following custom blocks: * Video slider. * Icons vertical scroll up and down section. * Inline videos that are playing in the loop and handled as images to replace the low-resolution gif images.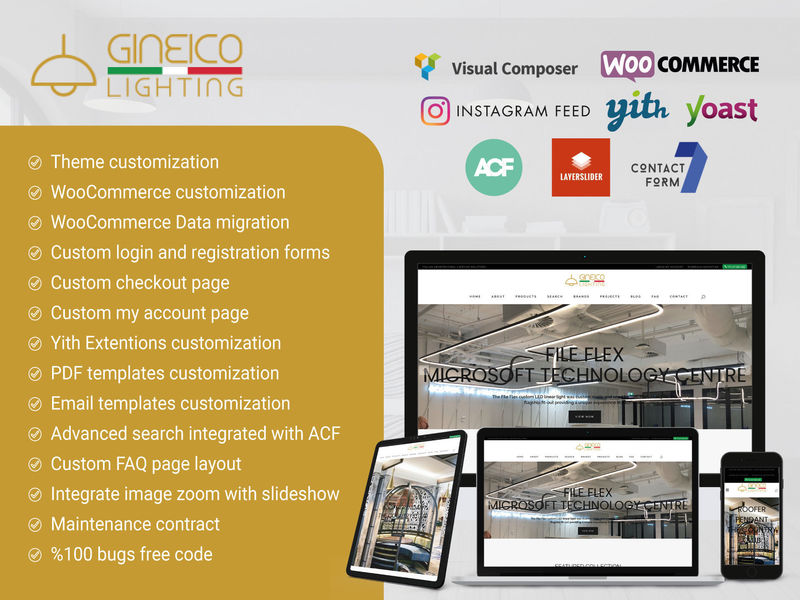 Wonderful Lighting equipments agency
- I extended the WooCommerce products by adding the following information: * 2 custom taxonomies: brand & Designer. * 1 custom field (download pdf). - I created an advanced search form that is using all 11 product's custom fields and the product title and SKU to filter the products. The advanced search form works as a popup. - I customized the WooCommerce my account, checkout pages layout.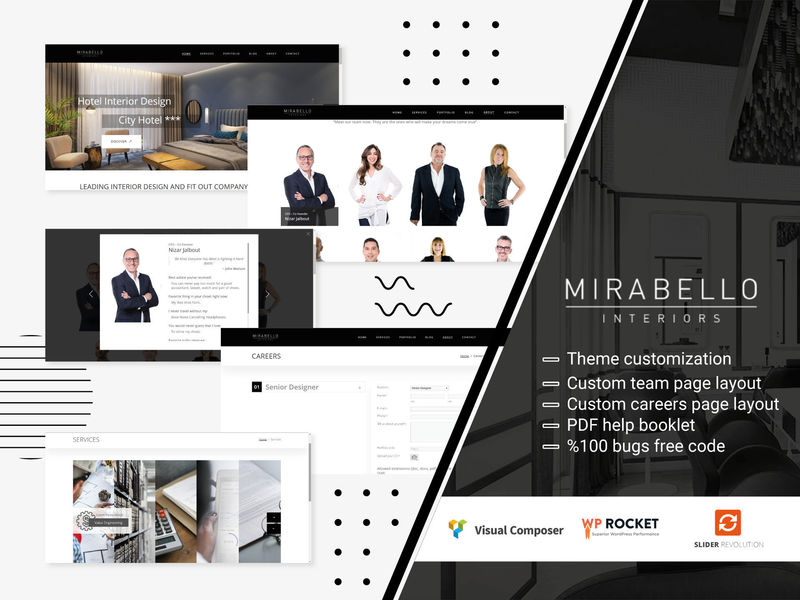 Elegant Interior Design Company website
- I created the required pages for this website based on my client's requirements and content. - In the team page: I used a plugin called "The Team Pro - Team Showcase WordPress Plugin", and customized the layout, and added the popup action, so when you click on one team member you will see full information about him/her. - I also created a PDF booklet to help my client manage his website.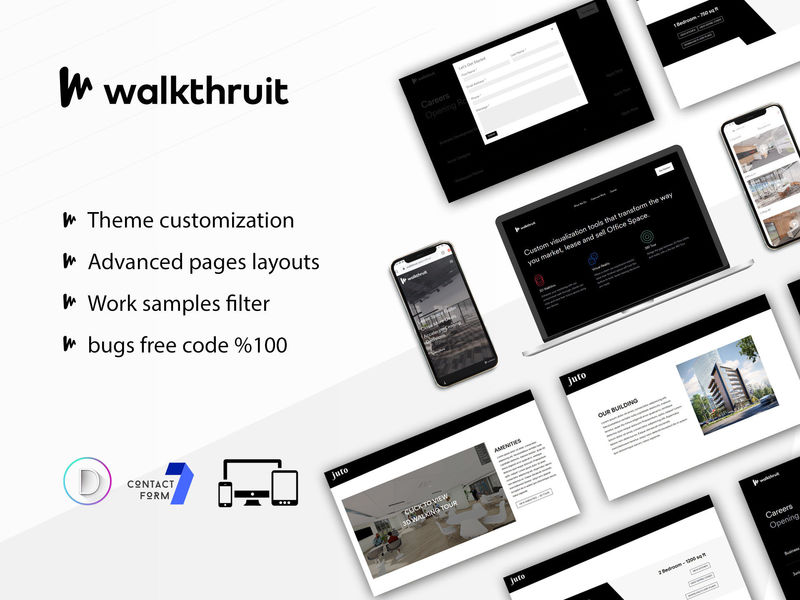 3D offices and companies design company Close the dialog
- I worked with this client to create several internal pages with totally different layout and design. - The featured work page has several items' types, for example, the gallery item type could have several images that appear in the popup slideshow but appear as one image in the masonry grid.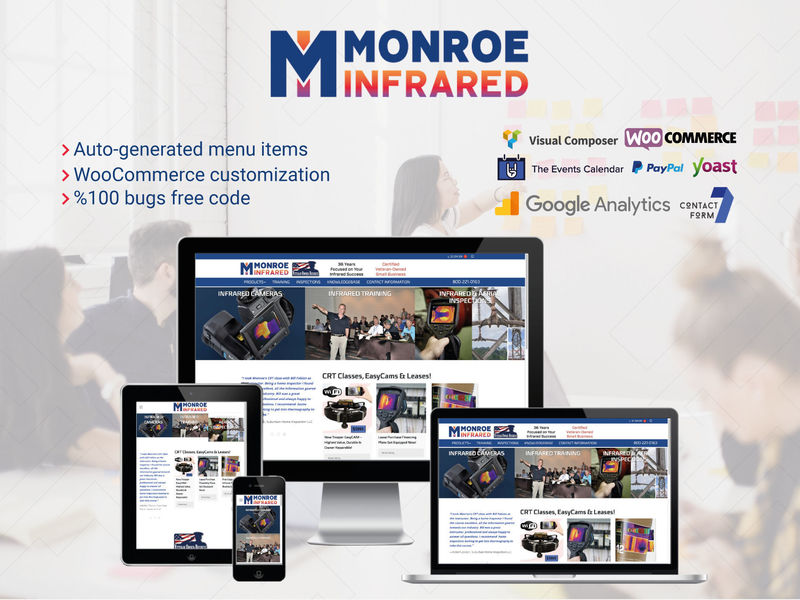 Highly WooCommerce Customized website
- I made the following WooCommerce customizations: * Connect products with specific other products and display them on the frontend as "related products", they didn't want to use the WooCommerce up-sell and down-sell feature, so I used ACF. * I updated the product gallery to display product video at the end of the gallery. * I added a code to filter the shipping methods available.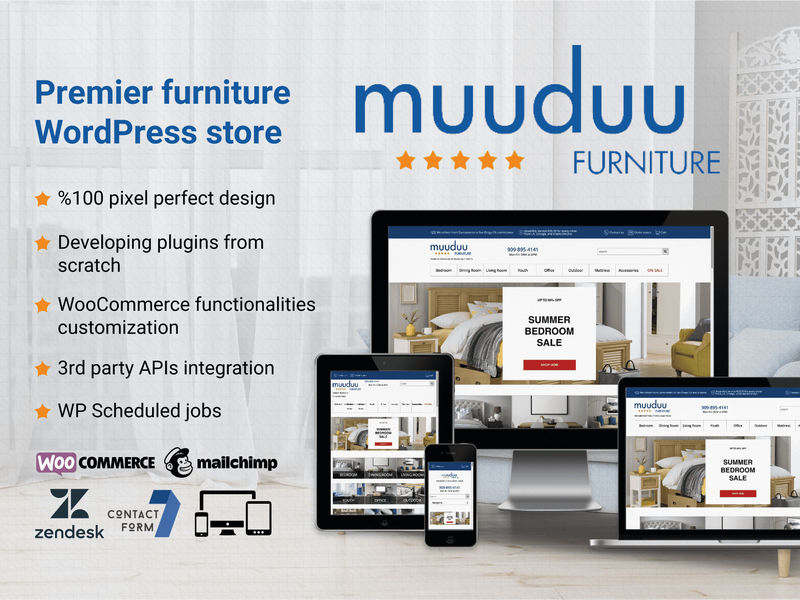 Premier furniture WordPress store
- I created a plugin to filter the zip codes on the checkout page, if the zip code does not pass the filter, the client email is automatically sent to MailChimp API - The 2nd plugin was to create a cron job, to check the old orders and automatically create tickets on Zendesk using the Zendesk API - The 3rd plugin was an update to a ticket creator to allow users to attach images to their tickets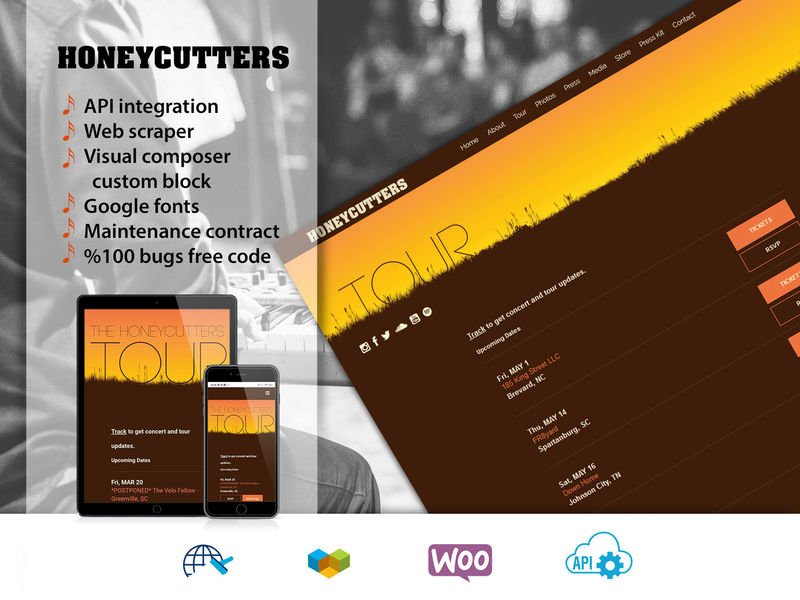 Tours API integration and customization project
- I created a plugin to scrape some information from the Bands In Town (BIT) application and API: (app.swaggerhub.com/apis/Bandsintown/PublicAPI/3.0.0) - The plugin is compatible with WPBakery (formerly Visual Composer). - The website admin can specify the API arguments, within the shortcode attributes, and also within the visual composer block option popup.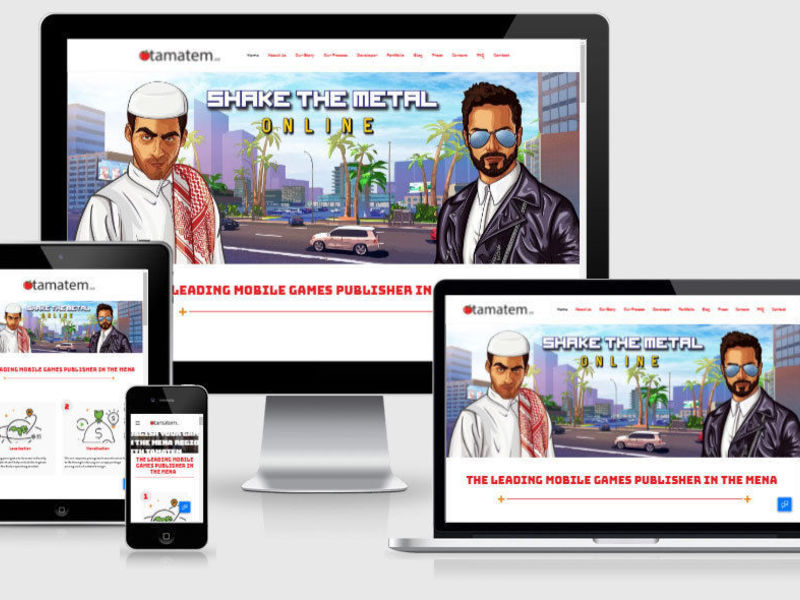 Tamatem co. fully responsive website
- I created the website using UpLift Theme (http://uplift.swiftideas.com). I received the designs from tamatem company and start working on it to create website pages. - The website has several animations on it, some pages have totally deferent templates from the whole website.
Load more