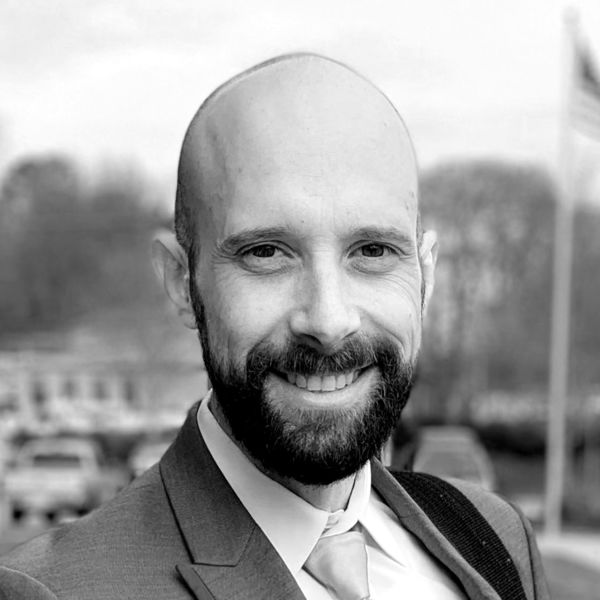 Lucian Florian | FLDTRACE
SEO Specialist
If Your Website Doesn't Make Money, Make Us Your SEO Partner. We specialize in helping service-based businesses drive traffic through effective SEO and websites that work.
Location
Charlotte, United States
Member since
11 Feb, 2015
8 years
Typical projects
Full Website Builds
Most small businesses struggle to find a reliable SEO partner who can rank them on the top results. That's why we do what we do at FLDTRACE. We've met many frustrated business owners who have wasted money on SEO firms that didn't deliver on their promises. We know you work hard for every dollar and any money you spend on SEO should be money well spent. We will make it so. We are experts in local SEO, content strategy, and link building. We use our skills to help increase SEO and revenue for businesses. We partner up only with a small number of clients, and we would be happy to learn more about your project to see if we would be a good fit.
Lucian was extremely thorough in his plugin audit of our website. His efforts reduced our page load speed by nearly half, amazing results given the timeline and turnaround. We would highly recommend him for future projects.
Oct 24, 2018
Hired Lucian to design and build a new website for my company. He was an absolute pleasure to deal with from start to finish. His knowledge and experience is evident! His communications throughout the process were second to none! Very quick to address any issues during building, staging & launching. He took time to explain and recommend things. Impeccable customer service! I would definitely recommend Lucian!
Aug 09, 2018
Very thorough with research and planning. Very organized in approach to get the best website layout, and call to action. Lucian's goal is to develop a results driven website. He is very responsive, and has a quick turn around for development. He has a creative eye that compliments the research he does to develop a site. I highly recommend Lucian, and I am very pleased with the results of our new design.
May 18, 2017
I really enjoy working with Lucian. He's smart, caring, organized, and an excellent communicator. Oh, and he's also really good at what he does! I look forward to continuing to work with Lucian and I recommend him :)
Sep 03, 2021
Great consulting experience with Lucian!
Jul 23, 2020
A++ Lucian is very knowledgeable and I've learned a lot. Thank you. Highly recommend.
Mar 30, 2020
Great to work with and very knowledgeable. Highly recommend.
Mar 12, 2020
Lucian was very helpful in our consultation. He clearly explained how he will approach my project and made me feel comfortable about the process of working through Codeable.
Apr 16, 2019
We had a great conversation, which provided good guidance on how to start implementing our website goals. Looking forward to continuing the collaboration!
Feb 15, 2019
Gave a detailed plan of action and stuck to it, getting it done in a very quick timeframe over the weekend to avoid any potential business impact. Can't ask for anything more!
Feb 06, 2019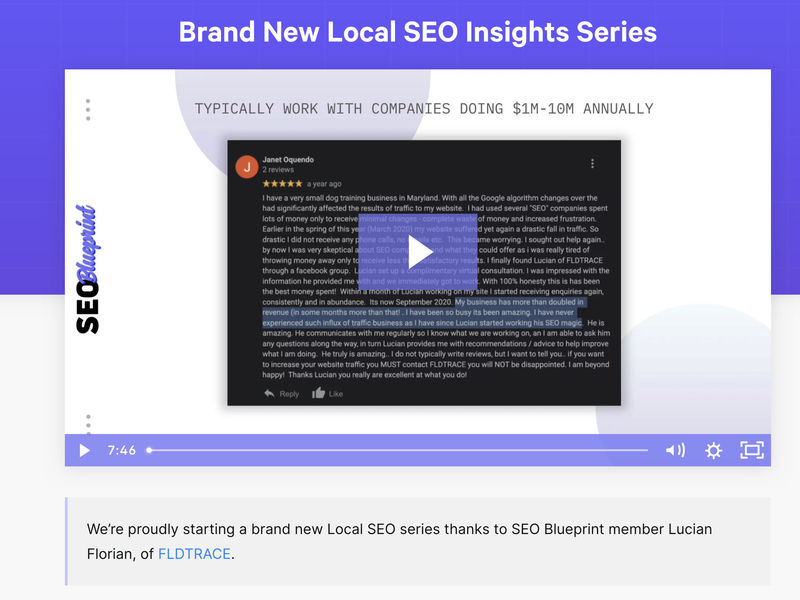 Taught a Local SEO course module as part of the SEO Blueprint
SEO Blueprint is an SEO course with 1300 members where business owners and SEO agency owners learn advanced SEO tactics/strategies. I've had the opportunity to be invited to teach here. The lessons I taught: Lesson 1. The invisible face of local SEO Lesson 2. Local SEO: How to Win in Google Maps with Tactics That Work Lesson 3. The Best Content Strategy for Your Local Website
Load more