Linden May
Full-Stack Developer
With over 8 years experience in back-end and front-end website development, you can rest assured knowing your project is in capable and experienced hands. Quality code, reliable service and quality assurance. These are the ways I will strive to exceed your expectations.
Location
Brisbane City, Australia
Member since
06 Sep, 2022
Typical projects
Customizations, Full Website Builds, Troubleshooting and Fixes
Hi, my name is Linden and I am a coder based in Australia (native english-speaker). I am offering full stack website development services focused on delivering excellent results. With over 8 years experience in back-end and front-end website development, you can rest assured knowing your project is in capable and experienced hands. One of my strengths is my ability to understand your project scope and perform quality assurance testing. I will comprehensively test and debug every aspect of your project to make sure it works well without any problems. I will go the extra mile to ensure your expectations are exceeded. As a full-stack WordPress expert, I can build top-notch WordPress sites and Woocommerce online stores. I have all the skills to create a new high quality website or improve / fix existing websites for individuals, small and large businesses and organizations, using the latest techniques and trends. I focus on modern and responsive website solutions that are fast, secure, and easy to manage. Some of my skills: ✓ PHP, JS/JQUERY, HTML5, CSS3, AJAX, MySQL ✓ I have a comprehensive understanding of WordPress ✓ I am a Woocommerce guru, having worked on many Woocommerce projects and developed many Woocommerce plugins ✓ I can build any custom feature for any type of website ✓ I can build, setup or customize Wordpress plugins or WordPress themes ✓ I can build, setup or customize Woocommerce plugins ✓ I can fix website bugs and restore hacked websites ✓ I can perform user experience and technical site audits ✓ I can improve your website speed ✓ I can build booking systems / payment gateways / membership sites / multilingual sites ✓ I can build add-ons for Elementor, Divi, Gutenberg, Gravity Forms, Contact Form 7, Visual Composer ✓ I offer long-term website maintenance Please do not hesitate to contact me or call me to discuss your project in detail and determine how my skills will positively contribute to your project's work.
Thanks for all your work. This was a difficult job and I appreciate the extra time you put in.
Nov 13, 2022
Great and professional service..
Nov 04, 2022
Linden is very patient to help me solve the problem. He even worked overtime to get the perfect result for us. Highly recommend Linden as your assistant.
Nov 03, 2022
Working with Linden is an A+ experience! He's extremely knowledgeable, communicates frequently and thoroughly, asks great questions, troubleshoots extensively, and is just great to work with. His work on my website customizations will allow me to grow my business and for that I am extremely grateful. I would absolutely work with him again in the future!
Oct 28, 2022
great service
Oct 19, 2022
Took the time to understand the requirements. Figured out the most simple way to achieve the desired outcome. Highly recommended developer.
Oct 14, 2022
Linden was excellent throughout the project, going above and beyond to help. Any questions or issues we had were quickly answered and resolved, while the finished project is exactly as we wanted.
Oct 12, 2022
Really helpful, well researched, professional
Oct 02, 2022
Excellent assistance. Would Highly recommend. Communication was very clear and concise, all steps were outlined and completed perfectly. Work was quick and turn around was faster than expected. Made this codeable experience beyond positive. If anyone is looking for project assistance use Linden!
Sep 22, 2022
Linden is a very rare find. After I had the worst experience ever with a developer from 99Designs, I came across Codeable. Linden reached out and helped me fix my website issues and I am now hiring him for optimization and SEO. Thanks Linden and Codeable!
Sep 21, 2022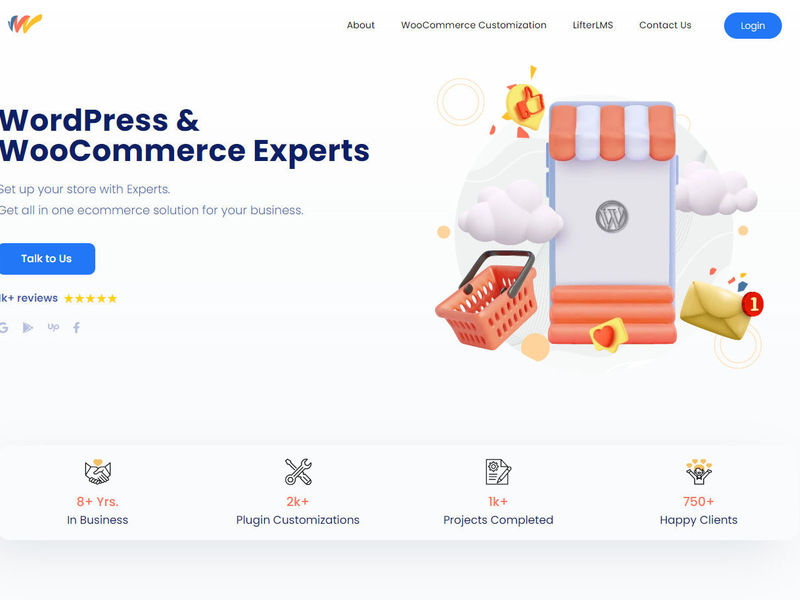 Woocoders Website
I am part of the woocoders team and I assisted in design, layout and build of the woocoders website.
Load more