Gerson Ruiz
Full-Stack Developer
Software development engineer with a passion for website security and technical writing. Over five years of productive remote work experience.
Location
Managua, Nicaragua
Languages
English, Spanish; Castilian
Member since
14 Aug, 2020
3 years
Typical projects
Customizations, Full Website Builds, Plugin Development
Hi! I'm a software development engineer with passion for WordPress, website security and technical writing, with over five years of productive remote work experience. I want to provide to you and your business with more than code or configurations, I want to understand the issues you're trying to solve and provide meaningful solutions that you'll be happy with. My mindset will always be around how to get you where you want to be, not on "how do I complete this task". With that in mind, I want to lend you my knowledge and my experience on WordPress and website development so that you can focus on what's important for you — growing your business.
Gerson is our go-to problem-solver for Wordpress, server, and security issues. He's amazing and we are lucky to have him working with us.
Jul 20, 2021
More than "Excellent work" ... After I was trying to fix my web issues and search for days for someone to help me, Gerson Ruiz got the job done.. in just half of a day. I highly recommended him. I will continue working with him.
Apr 25, 2021
Gerson was patient, creative, intuitive, and fun to work with! I knew I needed help but lacked the vocabulary to articulate the website/wordpress way to describe it. That didn't matter, because Gerson asked all the right questions, tried a variety of possibilities, and didn't stop until it was perfect! He was also kind enough to offer insight and advice that I should have known about (staging, security, plug-ins, etc) and explained it all in a clear and kind way. I recommend Gerson and his work unequivocally and look forward to working with him again!
Dec 22, 2020
It was a pleasure working with Gerson!
Nov 26, 2020
He was a pleasure to deal with. Spent time getting a clear understanding of the project and outlining a clear project scope and then effectively completed the project and fixed the security issues.
Oct 26, 2020
Gerson has been wonderful to work with. He knows what he's doing, he communicates so well, and I am really excited to finally have a developer I can work with long term.
Oct 25, 2020
Gerson was a delight to work with. He was quick, thorough and very friendly. I highly recommend Gerson to anyone as he genuinely cared about helping me achieve the website I desired. He did a fantastic job! :)
Oct 01, 2020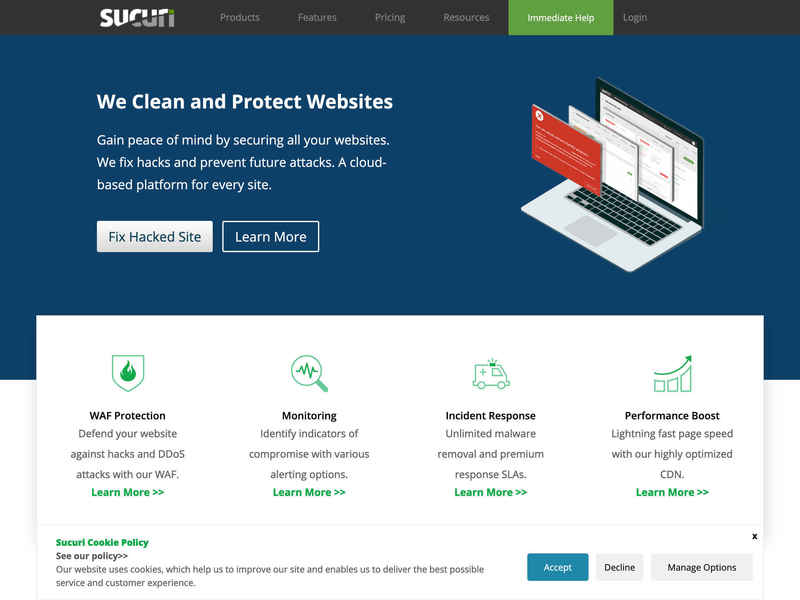 Sucuri Marketing Site
In order to help the Sucuri content team publish content easier, I lead the migration of the static codebase of sucuri.net to WordPress by creating custom themes, plugins and Gutenberg blocks (React).
Load more