The best WordPress user registration plugins enable your website to become a thriving community center without you having to write a single snippet of code.
You can get far more in a user registration plugin than the ability to make user registration and user login forms. You also gain the functionality to:
Create a membership community site.
Collect email addresses, phone numbers, and other personal data.
Make an event registration form for activities.
Allow guest posting without approval.
Give coupons or discounts.
Monetize content — charge to access courses, podcasts, blogs, videos, and more.
Choosing the best WordPress user registration plugin can be a daunting task. A registration form plugin search on WordPress presents over a thousand results for you to sift through.
We're going to narrow your search for the best WordPress user registration form plugin down to the top five tools. We'll share what to look for to get the best solution and what to do if:
You're not comfortable selecting and setting up the WordPress plugin yourself.
Your project has more advanced requirements than off-the-shelf user registration plugins can handle.
WordPress does have an elementary built-in registration form with limited functionality, but installing a good user registration form plugin adds many other valuable capabilities to your website.
Considerations When Choosing the Best User Registration Plugin
First off, you should match your website's purpose with the primary purpose the plugin was built for. Some user registration plugins are designed around ease of use or an attractive appearance. Others excel at integration with ecommerce stores, membership, sites or email marketing platforms.
Answering these questions will give you a good idea of the functionality you need.
What's the budget?
How will content be available?
Will content be dripped?
How many membership levels do you need?
Do you need payment processor integration?
Are you using WooCommerce?
When you consider the appearance of the forms the plugin generates you may discover you need:
Easy to use drag and drop form builder to create a custom user registration form.
Great looking, user-friendly form templates to make your design work easy and increase new users' signups. The registration form should look good on your chosen WordPress membership theme.
An attractive login page to get more logins.
Form customization options — custom fields, colors, fonts, and more.
No limits on the number of forms you can generate.
Think about other functions you need to integrate with:
Payment collection tools — if you are using your WordPress site to sell, you'll need to offer multiple options like PayPal, Stripe, Google Pay, and credit cards.
CRM, membership levels, and forums.
Offer the right options to create a good user experience:
Registration options for users — email, social media logins, mobile number, and more.
Some personalization options for user profiles — profile photos, social media links, and more.
Communication between registered users.
Managing your users:
Multiple membership levels or user's roles.
Options to control who can access your website or to protect specific sections from unregistered users.
Options to save and manage your users' details — members' directory, download data, and file export.
Security features to protect both your website and your users, and anti-spam measures.
You may also need good support and documentation in case of problems.
Here's an excellent article with more information on how to choose a WordPress user registration plugin and the top three mistakes people make.
The 5 Best WordPress Registration Form Plugins
Each of the best WordPress user registration plugins will perform all the everyday registration tasks, and each has specific areas where it shines. For every WordPress user registration plugin we've chosen, we'll discuss these critical points:
Ease of use.
Important free version features.
Best paid version features.
Integration.
Documentation.
Price.
1. User Registration

User Registration is a clean, easy-to-use plugin. The drag and drop editor lets you quickly create great looking registration forms. As you work, the editor shows you exactly how your form will appear on the frontend.
The free version allows you to:
Create custom fields for your form in addition to those provided.
Send emails automatically when registration is complete and when passwords or payment details change.
Use shortcode snippets to easily place your form anywhere — in columns, pages, or posts.
The paid version gives you many advanced features, including:
Social buttons.
Captcha.
Content restriction tools.
File uploads.
Style customizer.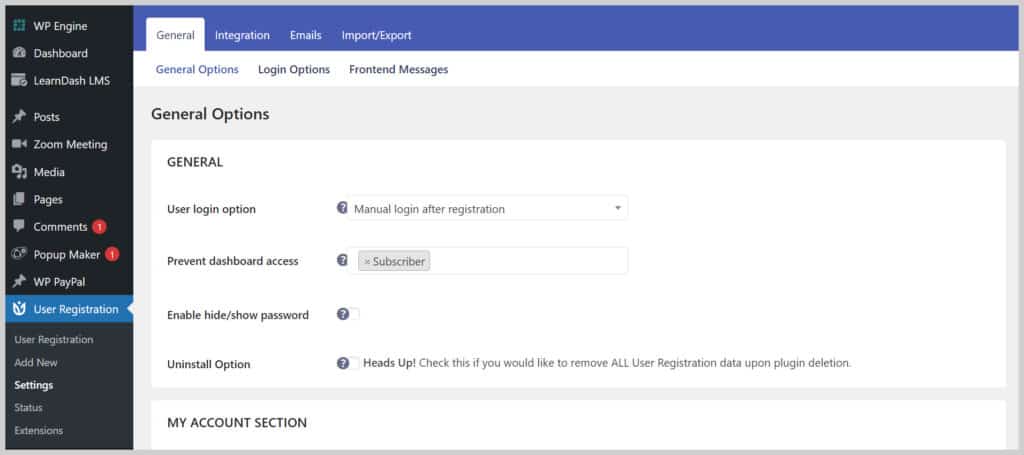 Integrations include:
Paypal.
Stripe.
WooCommerce.
Mailchimp.
Zapier.
LearnDash.
Documentation is extensive and clear. YouTube videos are also available.
Price: There is a free version. Paid plans start at $69 and go up to $299, depending on the add-on bundle.
2. Ultimate Member

Ultimate Member is a reasonably easy to use WordPress registration plugin focused on creating a dynamic, interactive community.
The plugin has a drag and drop form builder that will create a custom registration form. The builder lets you see the frontend form appearance while you work.
Free features are basic:
User profiles.
User registration and user login.
Content restriction.
Member directories.
Important paid features available via extension include:
Private content.
Verify users.
Online users — view which users are online.
Friends — allow users to become friends,
Private messages — message other users.
User reviews — rate other users.
Social activity — create and view public posts.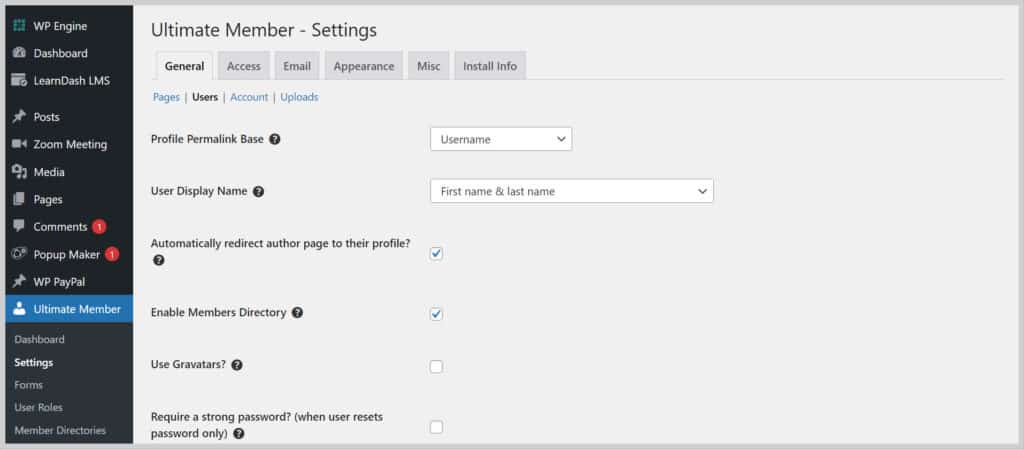 Integrations include:
Mailchimp.
WooCommerce.
JobBoard WP enables job postings.
MyCred badges for gamification.
Unsplash for pictures.
ForumWP.
Documentation and FAQs are basic, but there are many good YouTube tutorials.
Price: The core version is free, and so are some extensions. Paid extensions can be purchased separately, starting at $35 or as an add-on bundle for $249.
3. Registration Magic

Registration Magic's 90+ free features and 50+ paid features make it a complete solution that small and medium businesses find valuable and affordable.
Customization options include different styles and colors in the drag and drop builder. You can build forms accepting document attachments like ID photos, and users can view their submissions and payments.
Important free features are:
Built-in login form.
Shortcodes.
Quick form creator.
The best-paid features include:
HTML form insertion shortcode support isn't available.
Visual form editor.
Paid user roles.
Email verification.
WooCommerce custom registration fields.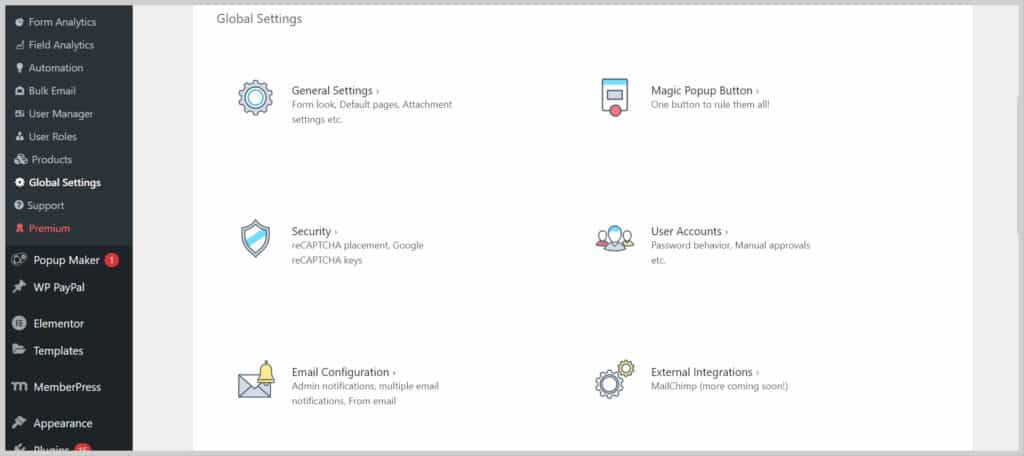 Integrations via paid extensions include:
MailChimp.
AWeber.
PayPal.
Stripe.
Authorize.net
WePay.
Documentation is extensive and good. YouTube videos are available.
Price: The paid version is $89 for one site. That includes all add-ons.
4. MemberPress

MemberPress is a popular membership plugin that offers WordPress user registration and far more. This complete solution lets you control who sees content. You can professionally sell access to courses, podcasts, and digital downloads.
There is no free version, but you do get a 14-day money-back guarantee.
Powerful paid features include:
Unlimited members.
User role levels using conditional logic.
Powerful access rules.
Built-in course creator.
Coupons.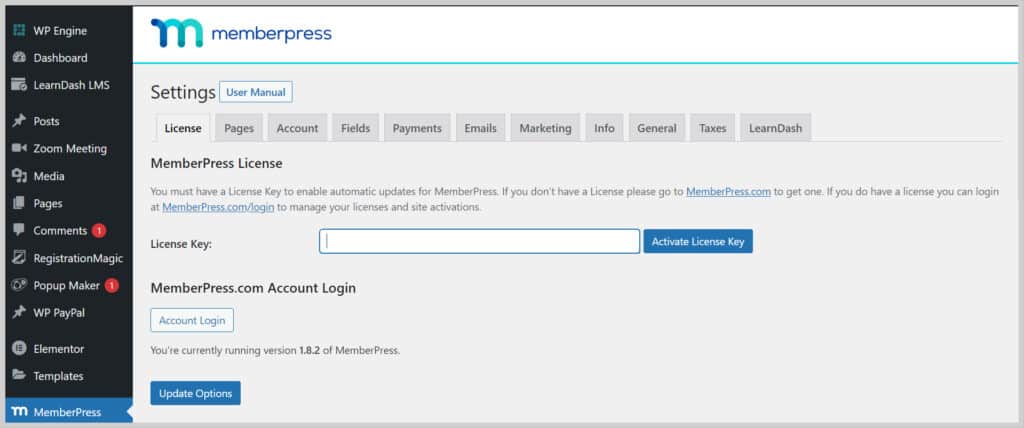 Integrations:
MailChimp.
Aweber.
Paypal.
Stripe.
Authorize.net.
Many more.
Documentation is extensive and good. Many YouTube videos are available.
Price starts at $179 and goes up to $399, depending on the add-on bundle.
5. WP User Manager

WP User Manager lets you create communities and highly customizable user profiles. The plugin is rather basic so that a developer can build more features and more sophisticated forms, but it is beginner-friendly.
The free core version automatically creates a registration page and a login page.
Paid features are:
Profile builder to create a profile form.
Content restriction rules.
Shortcode editor.
User verification.
Social logins.
Private content.
Advanced custom fields.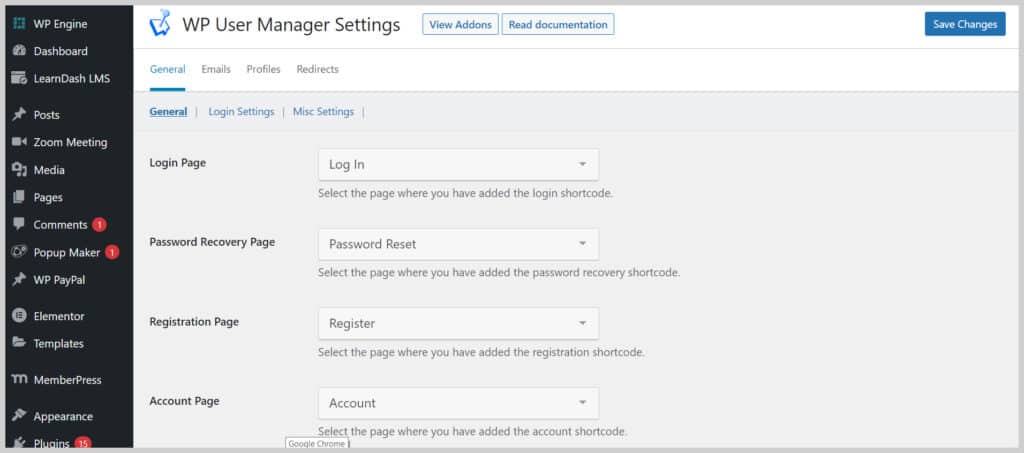 Integrations:
Documentation is spotty. There are few YouTube tutorials available.
Price: The core plugin is free. The Starter add-on bundle is $149. The complete add-on bundle is $299.
Are these solutions right for you?
These five WordPress plugins offer sound solutions for many organizations. Even if you're not a techie, you can use a WordPress registration form plugin to add many needed functions. Whether you start with a free plugin or immediately upgrade to the premium version, your website will appear professional without you writing any code.
If your needs are more complex, or you need technical help, you could consider hiring a professional who, at an affordable rate, will choose, install, or modify a user registration plugin for you.
Expert Help is Available
The top mistakes people make selecting and installing a WordPress user registration plug-in are over customization and using too many plug-ins. Either mistake results in conflicts that can crash a plug-in or your entire WordPress website.
If you're uncomfortable with DIY WordPress registration plugin selection and setup, have limited time available, or need a custom solution, you might benefit from the advice and support of affordable, vetted, professional help.
Codeable is a trusted hiring partner. Partnering with Codeable enables you to collaborate with skilled, experienced freelancers capable of creating the perfect user registration process for you.
From their pool of over 500 vetted experts, Codeable will choose the top freelancers whose skills match your project needs and introduce you — usually within hours. You choose the expert you want to work with, and they go to work.
Discover more about how you can partner with Codeable freelancers.