WordPress is a versatile, open-source framework that's grown to power over 35% of the internet. This may sound astonishing, but when you consider how many features and customization options WordPress provides, it's really no surprise,
Although WordPress is used by many, not all its users are necessarily experts. It takes a lot to know every twist and turn of this platform. Not to mention, WordPress continues to grow and evolve every day, making it all the more challenging to keep up.
When it comes to making the most out of WordPress, you may find yourself limited by your technical know-how.
Cue, WordPress outsourcing
This is the easiest, most reliable way to harness WordPress's vast potential. Outsourcing is a robust and valid market, with as many as 300,000 positions outsourced every year and 59% of businesses outsourcing tasks to reduce expenses. By outsourcing skills you're not 100% confident in, you free up your time to focus on other money-generating activities.
This is our guide on how to find and hire the right talent for your WordPress project.
WordPress Outsourcing – Is It the Right Decision for You?
Before diving deeper into finding the best outsourcing partners, we need to answer a simple question. Is WordPress outsourcing the right choice for you?
It depends…
Who Should Consider WordPress Outsourcing?
Even without much technical skill, you can achieve many things using WordPress on your own. There's an active and thriving community willing to help you along your WordPress journey. Plus, there are tons of one-click WordPress plugins (both free and paid-for) like WooCommerce, that make it easy to extend your website's functionality. With a basic understanding of web hosting and servers, you might be able to get your WordPress site up and running by yourself.
However, if you're looking to create a more sophisticated website, technical skills soon become necessary. Most notably, if:
You need a custom plugin.
There's a specific way you want your WordPress theme customized.
You need to customize a plugin to complement your website's branding.
You want to achieve minimum page speed, and you're unsure how.
You want to boost the security of your WordPress website.
You want to enhance your WordPress conversions.
When Shouldn't You Consider WordPress Outsourcing?
Outsourcing might be an unnecessary expense if you have the skills to do the job yourself. Even then, you might consider outsourcing WordPress development to save yourself time to focus on other areas of your small business.
That said, WordPress outsourcing might not be appropriate if:
You have a tight deadline. Briefing outsourcing partners takes time, and they might not be immediately available to work on your project straight away.
Your project is very, very particular. Some projects are just way out there. If you have a specific idea that is far from the 'norm,' it might take too long to brief someone else. In that case, if you've got the skills – and the vision – go for DIY.
Factors to Consider When Selecting The Right WordPress Outsourcing Services
When considering WordPress outsourcing, there are a few factors to mull over to help you determine the best partner for the job:
The Type of Task(s)
Ask yourself the following: what type of work are you outsourcing? How important is it for your business? How specific is your brief?
The answers to these questions will help decipher the degree of expertise you need to hire.
Of course, it's not just custom WordPress development you can outsource. There are loads of tasks you could delegate which will, of course, dictate that kind of partner best suited to your project. For instance, you could outsource a combination of:
Template customization
The creation of custom web design
The performance and technical/security optimization of an existing website
Bug fixing and scheduled website maintenance
Marketing and content/ search engine optimization (SEO) management
Sophisticated eCommerce website development
Your Work Style
How do you go about your day to day tasks? Think about how an expert might fit in with you and your development team's work style and processes. Do you want to provide your freelancer/agency with frequent and detailed briefs? Or would you prefer for them to take the project and run with their initiative? When will your expert need to report to you? How much of the decision-making are you comfortable leaving with them?
Once you have the answers to these questions, you're better positioned to evaluate whether their workflow compliments yours.
Your Technical Preferences
Some WordPress developers adopt a preferred set of coding practices. For instance, how they name fields in the backend or how they write documentation. When choosing your outsourcing partner, you need to ensure their programming style matches your needs. If possible, determine such criteria ahead of time. That way, you can clarify your requirements from the get-go.
The Budget and Scope of Your Project
Either by yourself (or with your team), discuss the number of outstanding projects, their complexity, and budget. Will this be a one-off outsourcing gig, or do you need someone on retainer to handle maintenance or further developments later down the line?
Also, think about what you require from an outsourcing partner in the long-term. Would it be okay to work with anyone who can solve your problem? Or would you prefer to build a relationship with one point of contact?
That way, you can rest easy knowing they have an in-depth understanding of your project and your brand's vision. You may find that consistency is more important for ongoing assignments – especially when it comes to staying on-brand. Not to mention, when someone's familiar with your brand and style of work, you should also save some time. But of course, what's available to you all comes down to the size of your budget.
How to Outsource WordPress Work
Once you've thought about your requirements and what you hope to achieve, it's time to find a WordPress outsourcing partner. At this moment, you have a few different options.
Outsource Small Projects and One-Off Tasks
Sometimes you may only need simple, individual projects completed, like customizing a WordPress theme or custom plugin creation. In that case, you could outsource to different freelancers/agencies specializing in those areas. Typically, this is more cost-effective because there aren't any retainer fees as (normally) long-term maintenance costs aren't necessary.
The drawback, however, is that this is usually more time-consuming. As the expert isn't familiar with your brand or working style, briefing them can take longer. It's also riskier than working with someone on an ongoing basis. Each developer works differently, so you can never be 100% on whether they'll be a good fit.
Hire the Same Freelancer Regularly
If you're confident you'll need to outsource similar skills and tasks on an ongoing basis, it's wise to hire the same freelancer. Over time, they'll develop an in-depth appreciation of your workflow, website, and brand. With this knowledge, they're better positioned to produce high-quality work within a quicker time frame, and it should take less time to brief them.
On the downside, finding the right person can be more time-consuming. You might come across them through trial and error after working with a few different freelancers. Or, you may identify a collaboration by spending more time interviewing and screening potential partners. Either way, finding the right fit to develop a long-term relationship requires more care and effort.
Hire a WordPress Agency
Suppose you're working to a tight deadline and looking for professional-quality work. In that case, an agency or WordPress development company might be an excellent option for you. 
Agencies bring many benefits to the table. Namely, because they have a team of experts under their belt that (usually) cover multiple areas of expertise. As such, they're more likely to provide the right person for the job and have the manpower to double-down on tasks to complete them quicker.
On the other hand, an agency is likely not the right choice for you if you're on a tight budget. Typically, the pricing of quick delivery and high caliber expertise is more than individual freelancers.
Where to Find The Right WordPress Outsourcing Company?
Having said all that, this still begs the question: where/who should I outsource my WordPress-related tasks to?
We can't stress enough how important choosing a well-grounded outsourcing channel is. Choosing the wrong partner can lead to delays, project mismanagement, bad work quality, and financial complications. The list of risks is seemingly endless. The only way to avoid this? Find and hire a reliable WordPress outsourcing partner.
You might consider using an online freelance platform to pair you with an expert. While there are gems amongst the rubble, there's often an overwhelming number of candidates to sift through. With these platforms, you can't always guarantee the applicant has the skills and expertise to do your job justice. Even if the platform offers protection for work quality, a mismatch could lead to losing valuable time.
Introducing Codeable
Codeable is a reliable WordPress outsourcing partner that can match you with the right WordPress expert in less than a day. Codeable's a highly specialized platform focusing on WordPress development services. We present vetted talent across a limited number of experts (up to five) at a single price estimate. Rest assured, you'll only ever receive quotes from pros that boast the skills to handle your job with the capacity to deliver on time and within budget.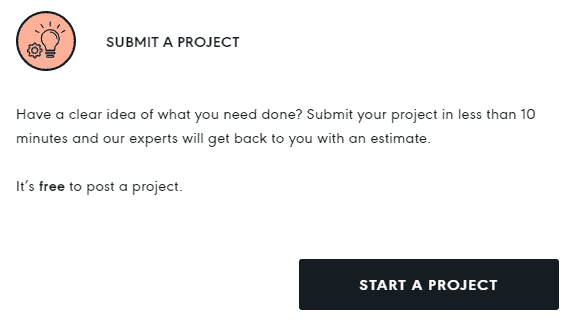 Gone are the days where you had to invest hours researching the perfect candidate. All it takes is a few minutes to provide Codeable with a brief. We can offer assistance for any project size and scope, from short-term jobs to custom web development work; we handle it all. An affordable consultation service is also available to help you make the best decision.