With 76% of business owners saying that subscription-based products boost customer retention coupled with the fact that a 5% rise in customer retention can increase revenue between 25-95%, it's no wonder that launching subscription-based membership sites is becoming increasingly popular among entrepreneurs.
Subscription-based membership sites better enable you to engage with loyal customers. Most notably, by sharing exclusive and premium content, making announcements, and communicating with consumers one to one. All the while simultaneously generating a steady monthly/yearly revenue – win-win!
If creating a membership site is something you're considering, you'll need a modern-looking membership website theme to hit the ground running. However, with so much choice on the market, picking the right one for your brand can be daunting. If you can relate, fear not. To help start your research, we're revealing 13 of the best membership website themes for WordPress sites. But, before we do, first, we need to cover the basics.
Do You Need a Dedicated WordPress Membership Theme?
Most WordPress themes are compatible with popular WordPress membership plugins like bbPress and BuddyPress. bbPress is a WordPress forum plugin, whereas BuddyPress is a social networking plugin. Still, they're both built by WordPress developer Automattic and are free to install and completely open-source.
That said, if you're serious about creating and launching a WordPress membership site, it's worth opting for a premium WordPress theme designed explicitly for this purpose. Generally speaking, these themes come with features designed expressly with membership sites in mind.
Often, these include:
Restricting content based on the user's membership level
Compatibility with popular membership plugins (such as Paid Memberships Pro)
Supporting eCommerce features to enable you to monetize your membership site
Access to pre-designed membership pages, including user profiles, groups, newsfeeds, messaging, etc.
Of course, any high-quality WordPress membership theme should also be responsive, provide a great user experience, and offer a reasonable degree of customization freedom. With all that in mind, below, we've listed the top membership themes for WordPress websites.
NB: None of these brands are affiliated with Codeable in any way. We've just handpicked this selection because, in our opinion, these popular WordPress membership themes have the most to offer.
As well as being one of the most popular WordPress membership themes on the market, Divi is also one of the most powerful multipurpose themes. Divi empowers you to build your membership site using its advanced visual composer. This tool makes the design process both intuitive and engaging.
Divi also comes with over 800 pre-made WordPress website layouts as well as animations and access to royalty-free photos. Not to mention, Divi's theme is highly responsive and boasts templates for contact forms, blogs, and testimonials, all of which are immensely helpful for membership site creation. On top of that, Divi partners with Boom so that you can create lead generation popups and Monarch for social sharing.
Divi starts at $89 per year.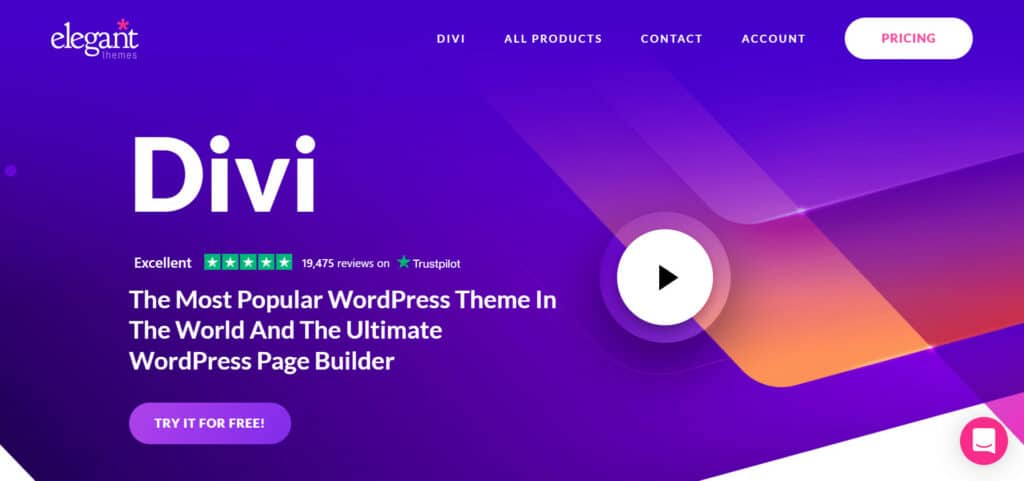 Astra is another WordPress membership theme plucked from the proverbial WordPress hall of fame. It's an incredibly fast, lightweight plugin with plenty of customization potential.
Astra comes with a range of pre-built websites and starter templates that bring you a step closer to making your dream membership website a reality.
If you have a development team behind you to create bespoke membership functionality. In that case, Astra might be the best choice for you. It's completely open-source and comes with clean and extendable code and SEO-friendly markup.
As you've probably gathered, this means it's free to download. However, to unlock more in-built modules like an advanced header builder, layouts, sticky header, global color palettes, and more. Prices start at $59 per annum for Astra Pro.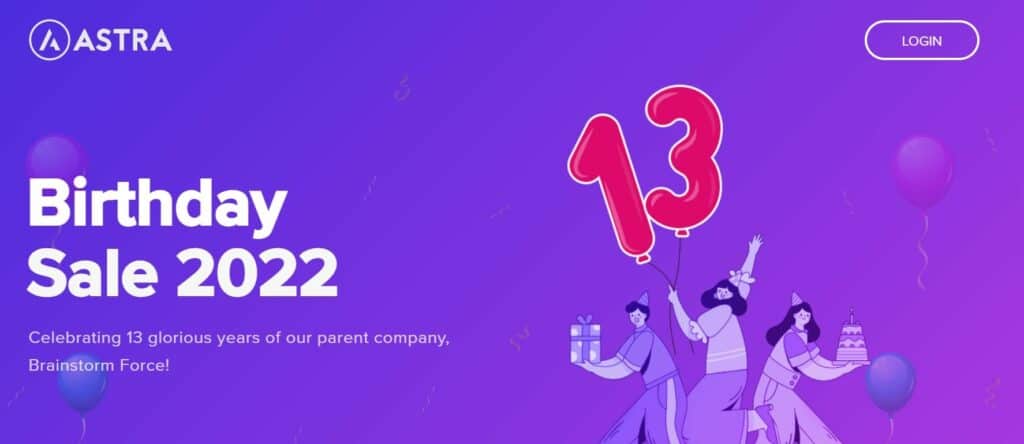 Unlike the options above, which also position themselves as website and eCommerce themes, with Aardvark, we've reached the first dedicated theme for membership site owners and communities.
It provides everything you need to build an online community surrounding your store, news site, blog, paid membership sites, online course, etc. It's also designed to work alongside Sensei, BuddyPress, WooCommerce Paid Courses, and various page builders. In addition, Aardvark provides responsive, code-free customization with over 200 theme options to help you create a membership site unique to your brand.
Other key features also include the ability to add customer reviews and ratings to your posts and web pages. Aardvark also comes with intranet and extranet features. In other words, you can restrict website access until members are logged into their dashboards. In addition, if you're looking to launch a more complex membership site, you can easily create custom pricing tables and create mega menus.
Aardvark comes bundled with a bunch of other premium plugins, including Ultimate Reviewer, Sensei Certificates, LayerSlider, and more.
Aardvark's regular license costs a one-off $69 fee.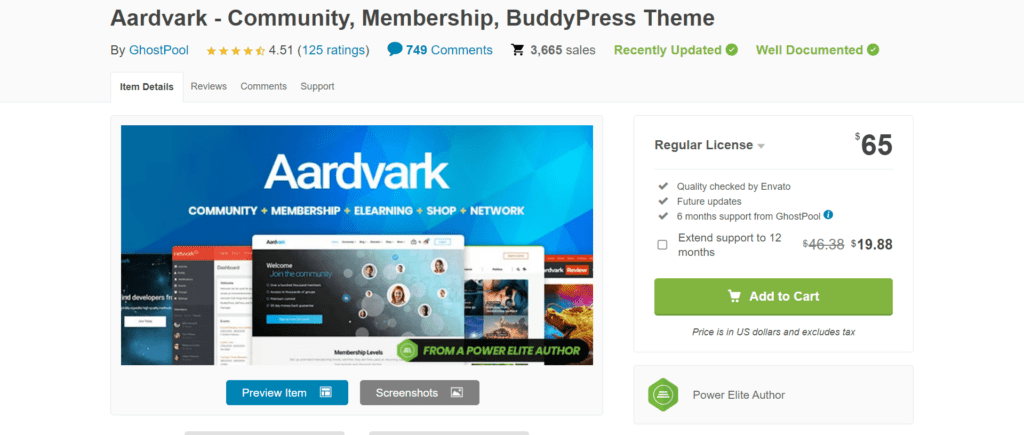 OneCommunity is the "BuddyPress membership Theme." So rest assured, you'll have everything you need to set up a membership site using BuddyPress. However, OneCommunity also fully integrates with bbPress and Paid Membership Pro. In addition, the theme comes with over 40 carefully styled social pages for members, group listings, private messages, activities, blogs, forums, profiles, and more.
Thanks to its fragment cache, it's fast-loading. It also offers dynamic content loading, which is great for quickly loading content-rich membership sites displaying members, groups, and posts.
OneCommunity also comes with the GamiPress reward system, enabling you to set up leaderboards based on your member's achievements. In addition, members can display their achievements and show off their awards badges. You can use this to boost engagement (including comments, likes, viewing content, and more).
OneCommunity's regular license costs a one-off fee of $59.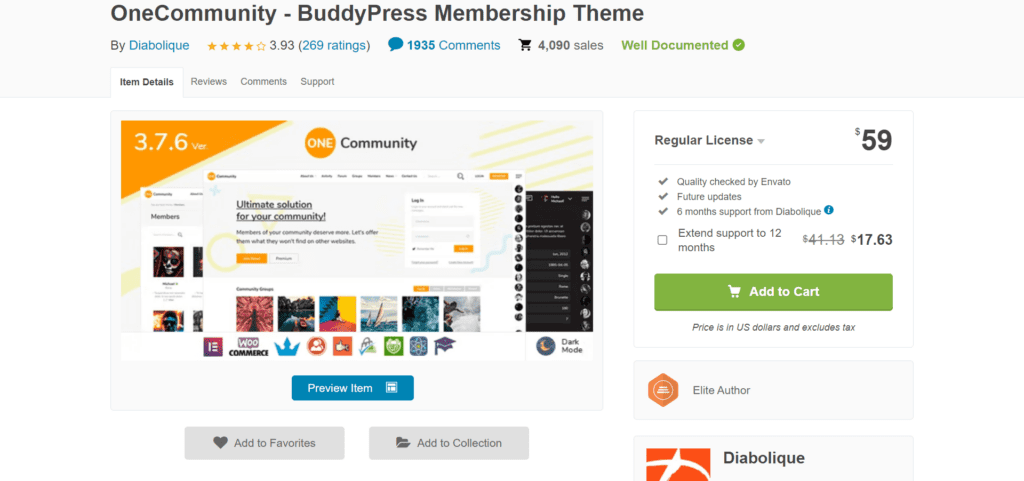 Vavyo is another dedicated WordPress membership theme with a shared focus on media streaming. This makes it great for video creators and those offering online courses. In addition, Vavyo makes content restriction, membership plan creation, and free trials easy to create and manage.
Vavyo also comes with ARMember includes an eCommerce membership plugin that comes in handy for selling and managing subscriptions, user registrations, member profiles, etc.
Vavyo also enables you to offer customers a 'pay per post option,' permitting you to sell posts individually without creating full membership plans. You can also utilize periodic billing models, and drip feed your content.
The theme is tablet and mobile-friendly, ready for translation, and lightning-fast for video and audio streaming. In fact, Vavyo comes with its own video player included, which supports YouTube, Vimeo, and locally hosted videos. Lastly, users can also add ratings and reviews to your content. Vavyo's advanced search also makes it easy for your members to find specific videos.
Vavyo's regular license costs a one-off $69 fee.
Gwangi is another dedicated WordPress membership theme specifically designed for entrepreneurs looking to launch online communities, paid and free membership areas, dating sites, e-learning communities, and more. Users have also used Gwangi to sell digital and physical products, organize events, and offer coaching services.
You can charge for weekly, monthly, or annual subscriptions and restrict specific pages and website features to paid access only. You can also monetize your membership site by displaying ads in your website's sidebar or other widget areas.
The theme comes with nine starting demos and couples with BuddyPress's community features to enable matchmaking based on profiles. It also facilitates member messaging and displays members' mutual friends and ratings.
The theme is also fully compatible with Youzify, one of the top-rated community and user profile plugins on the market.
Lastly, Gwangi boasts a 93% page speed and a Google grade of 99. Not to mention, it's fully responsive!
You can get Gwangi for a one-off sum of $59 on ThemeForest.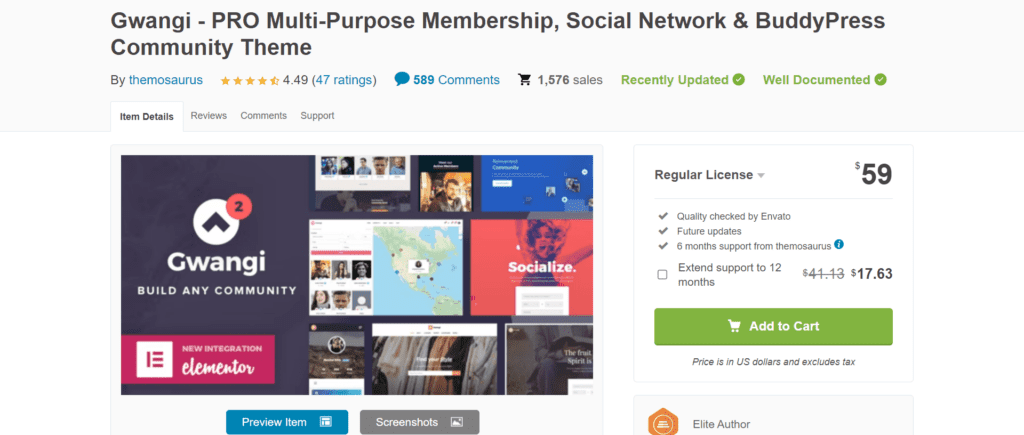 Cinematix enjoyed a thorough rehaul in 2020 to bring us version 3.0. It now considers itself the ultimate BuddyPress theme for online communities, offering creative and outstanding designs that are especially suitable for entertainment websites. Cinematix even repackages BuddyPress's features so that they're more intuitive.
You can set up user registrations, profiles, messaging, groups, and much more. In addition, the theme comes with over 40 pre-designed social pages, and you can use unlimited color schemes. Overall, its feature set is very similar to OneCommunity's. For instance, it mirrors vital features like the global like button, the GamiPress reward system, and fast fragment cache.
In other words, what sets this theme apart is mainly its styling. Cinematix employs bold, fun colors that might be perfect if your brand has a youthful vibe.
This responsive theme is available for a one-off sum of $59.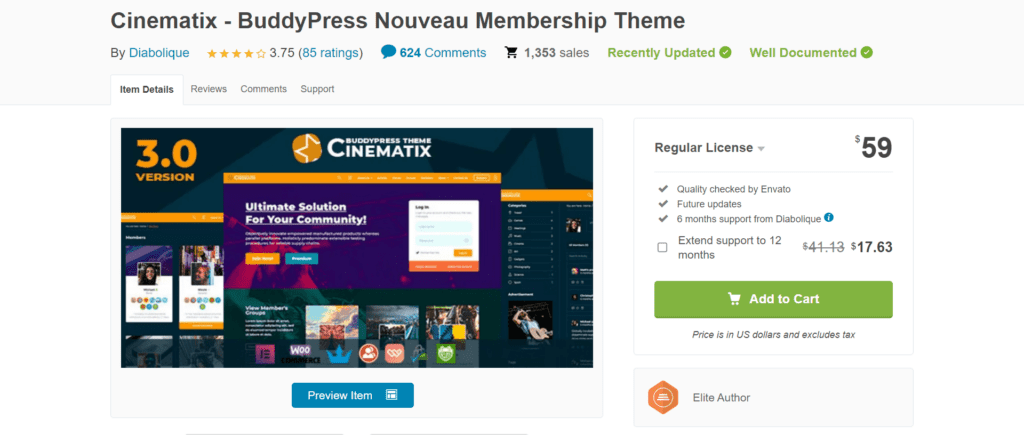 …And not just Boss, but Boss 2.0! The Boss theme promises an all-new way to visualize BuddyPress to help you create your social network. In addition, the theme comes with a powerful admin panel. From here, you can customize logos, colors, fonts, layouts, images, sliders, and more. You can also easily add custom code (like CSS) and optimize scripts, making a pretty flexible theme.
Boss even comes with a Social Learner add-on so you can transform your network into an e-learning platform. For example, you can add membership levels, restrict content, and charge for memberships with paid Membership Pro. It also seamlessly integrates with Sensei, LearnDash, and social logins so that users can comfortably log in via social media like Facebook, Google, or Twitter. In addition, Boss fully supports WooCommerce and provides sitewide search and live notifications.
Boss isn't only suitable for single sites, either. You can purchase a single license for $129 or get a five-site license bundle for $179.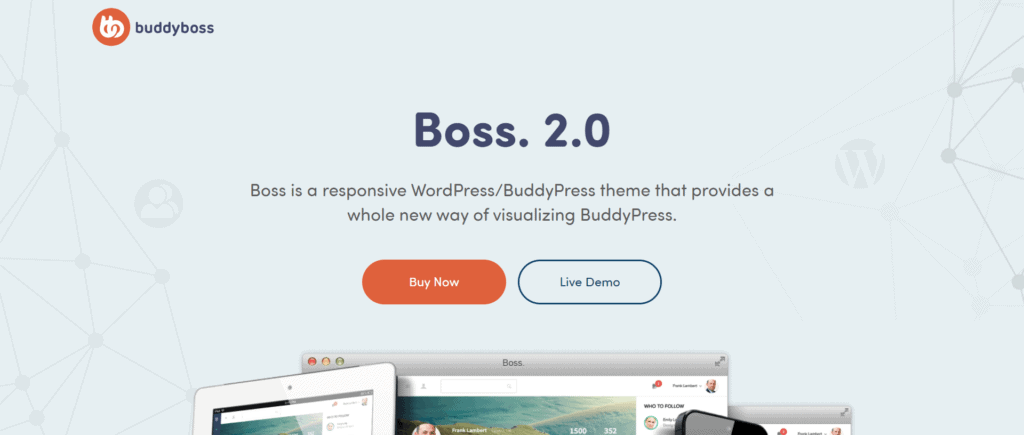 Aptly named, Membershiply are a WordPress theme explicitly designed for membership areas and online communities. It's responsive and loaded with helpful membership site features. For starters, Membershiply integrates with ProfileGrid so you can easily create profiles, groups, communities, memberships, and more. This same integration also enables you to restrict content on your WordPress site so that only members can access it.
Membershiply is crisp, clear, and a little minimalistic, making it an excellent option for more professional membership sites focusing on establishing credibility. In addition, it's compatible with intuitive page builders like BeaverBuilder and Elementor to allow for more flexible website design.
Although this theme is best for vertical scrolling sites, Membershiply is also a great blogging theme. That's as well as real estate sites, summer camps, schools, magazines, and medical or event websites. When purchasing Membershiply, you can also add a child theme specifically designed for online communities or educational organizations.
Pricing starts from $29 for one domain.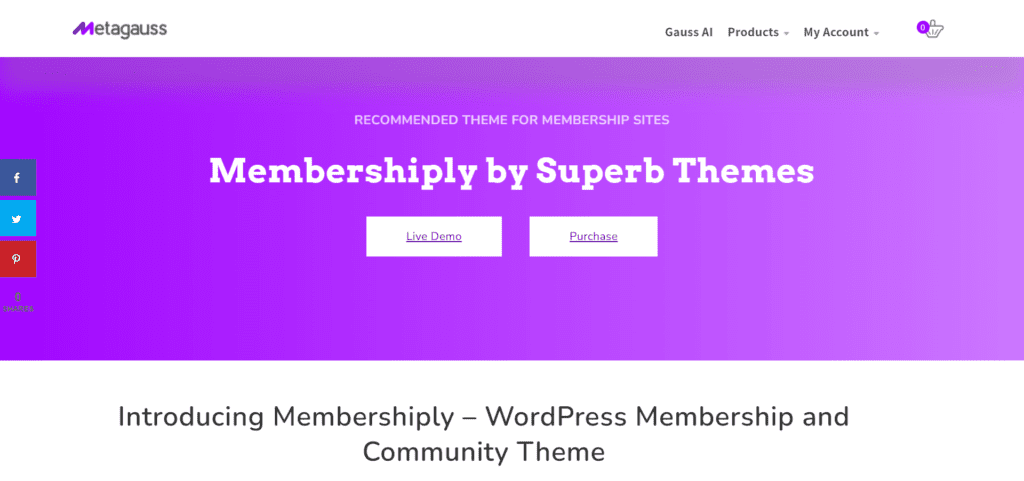 Memberlite is another first-rate WordPress membership theme that enables you to customize a fully responsive site and edit page layouts, fonts, colors, and more. In addition, it comes with easily configurable shortcodes for banners, buttons, messages, membership signup blocks, recent posts, and more.
Most importantly, however, Memberlite integrates with all the major plugins you'll need to create and manage your membership site. These include Paid Membership Pro, bbPress, WooCommerce, a Testimonial Widget, and the Events manager.
Memberlite has a conservative appeal, making it a great choice for B2B brands looking to launch online membership areas. The same can be said for educational organizations. On top of that, it's worth noting that this streamlined theme works wonders for boosting credibility, so it's also an excellent choice for news sites and professional blogs.
Another positive? This is a free WordPress theme.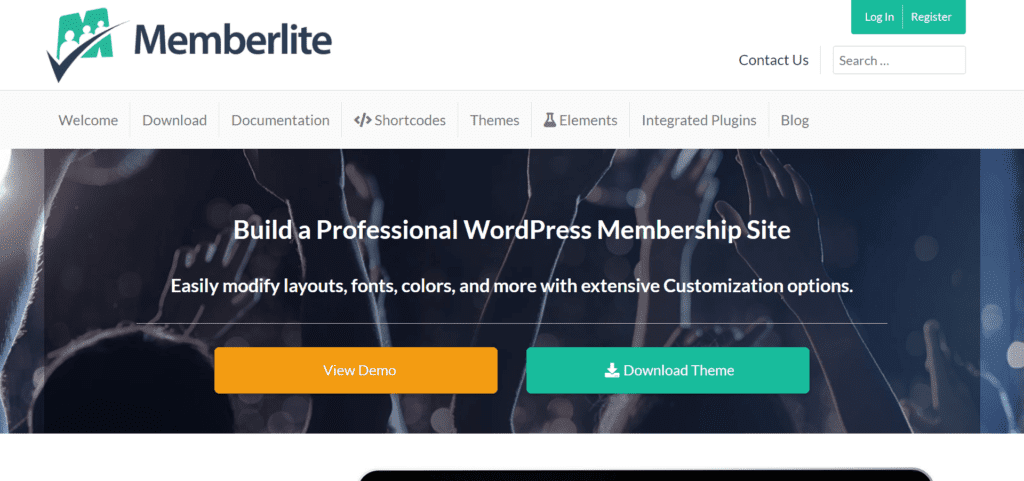 Unsurprisingly, this free and responsive theme aims to make the most out of BuddyPress and BuddyBoss. It seeks to empower you to create a thriving online community, social learning, membership, or social marketplace site.
The demo installation comes prepared for either public or private membership communities. It integrates with popular online marketplaces, events, gamification, and membership plugins. Its WooCommerce compatibility also encourages users to utilize multi-vendor plugins like Dokan and WC vendors to transform online communities into social marketplaces. Where e-learning is concerned, the theme is compatible with LearnPress, LearnDash, LifterLMS, and tutor LMS.
BuddyX is perfect for brands with a playful, friendly appeal. It comes with beautifully styled post types exuding lighthearted, positive vibes. It also supports enriched blog listing layouts to liven up your blog.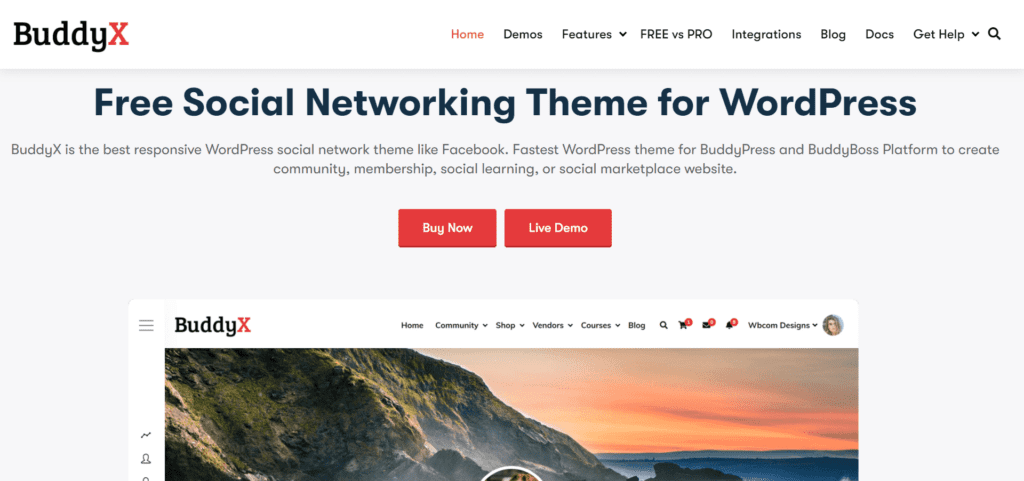 Beehive is another social network theme for WordPress that requires no coding and is easy to set up. In theory, you can have your website up and running within just a few minutes. Thanks to its complete compatibility with bbPress and BuddyPress, you can create news feeds, video feeds, groups, notifications and facilitate likes, comments, messaging, etc.
The theme comes with three ready-made homepage designs and several social templates. Ajax login forms permit users to log in and search content across your website. You can also work with unlimited colors and benefit from powerful theme customization. In addition, you can import demos with just a click and access Google Fonts to enrich your website's typography.
If you're also looking to build an online store, Beehive works well with WooCommerce.
You can get Beehive for a one-off fee of $59.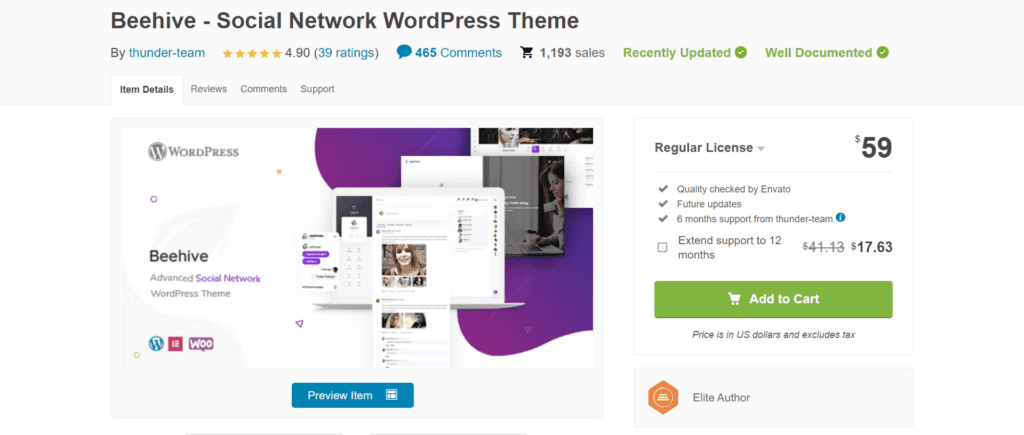 Kleo is a popular, dedicated membership theme for WordPress. According to Kleo, you won't need any other theme to build a successful membership site. It's explicitly designed to support online communities and social networks. In 2018, it was actually the number #1 best-selling BuddyPress theme.
Thanks to its BuddyPress compatibility, it's ideal for business directories, eCommerce stores, portfolios, blogs, and more. In addition, Kleo comes with pre-built demos that you can install with just a click. There are also over 30 such demos available, one of which is a popular magazine template. On top of this, the powerful WP customizer allows you to tweak the theme's design for your own purposes with its user-friendly drag-and-drop page builder.
Kleo comes bundled with Sensei and Facebook login integrations, live notifications, and Google Material Design Color Presets. The latter enables you to adjust your site's color palettes with ease.
This theme is available for $59.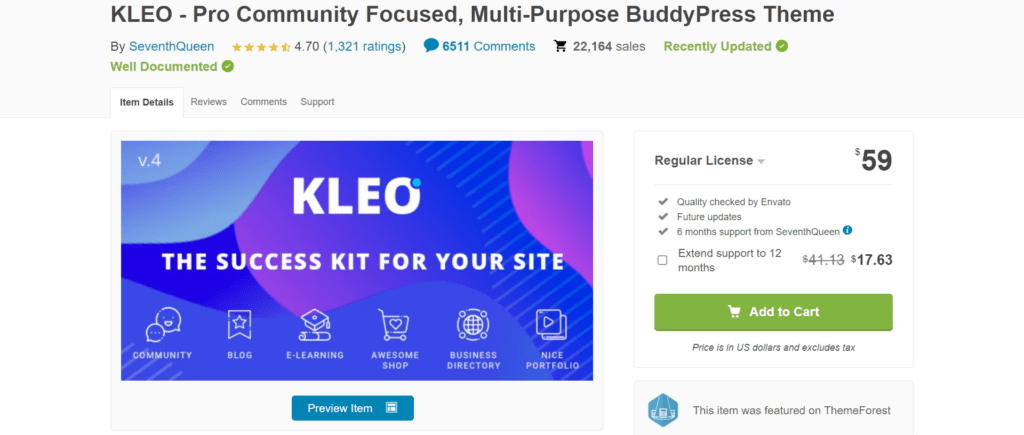 Can't Find the Ideal Membership WordPress Theme? Consider Engaging a Developer to Build Your Own.
If you've not spotted a suitable template for your membership website in the above list, it might be because, at heart, you have a precise vision you would like to see realized. But are these themes missing certain features? Do they simply not represent the look and feel of your brand?
In that case, you might be better off looking to create your own WordPress membership theme. However, unless you have the experience and skill to do so yourself, your best bet is to engage a professional WordPress developer. They can create custom plugin integrations, customize a highly specific WordPress theme, add your desired functionality to your membership site, and much more. 
Working with a professional web developer is an excellent experience if you find the right match for your requirements. This is where Codeable comes in. Codeable connects you with experienced WordPress developers that specialize in theme customization. Every expert is carefully vetted, so you can rest easy knowing they'll get the job done to an impeccable standard. Codeable also provides a safe payment system that deposits your funds in escrow and only releases them when you're 100% satisfied with the results.
Are You Ready to Design Your Membership Site?
As you can see, with a dedicated membership theme, you can create a successful and great-looking membership site. Many of our top 13 contenders come with vast customization potential and integrate with front-end drag-and-drop page builders like Elementor, making web design a breeze. In addition, all of the WordPress themes mentioned above are responsive and integrate seamlessly with BuddyPress and bbPress.
Nonetheless, WordPress membership themes aren't one-size-fits-all solutions. After choosing your theme (whether it's one from our list or otherwise), you'll likely need to modify it to meet your needs. Fortunately, Codeable's experts are waiting in the wings to help you.
Submit your WordPress theme project on Codeable for free today to receive quotes from vetted experts.