Are you looking to work with a WordPress consultant?
If your business deals in complex projects beyond your field of expertise, you can consider hiring a WordPress consultant to help with your projects. You may be familiar with the basics of WordPress and how to use minimal features, but as you scale your business, you will need a professional. 
Statistics show that WordPress powers 43% of all websites globally. This surge in WordPress' popularity has created a market for many professionals who specialize solely in WordPress. There are thousands of WordPress professionals available for hire, making choosing the right consultant for your project even more challenging. 
In this article, we'll delve into what a WordPress consultant does. We'll offer insight into why you should hire a WordPress consultant, what to look for, and how to select the right consultant for your project.
What is a WordPress Consultant?
A WordPress consultant is a professional with high levels of expertise and can provide practical assistance and advice for your WordPress website. A WordPress consultant can help plan and create a flawless strategy for a new site. Their function could include updating and customizing your current website, conversions, and marketing integrations required and identifying and eliminating bugs, design-related problems, security issues, or any development problems that may arise.
Many confuse a WordPress consultant with a WordPress freelancer; the two perform different functions. A freelancer helps with specific tasks and one-off projects such as design and development work, configuring plugins, and installing WordPress.
On the other hand, a WordPress consultant provides a more holistic service to your company. They advise on the overall strategy, optimize your website's performance and improve your search engine optimization (SEO). Consultants work on a larger scope and oversee and manage more touchpoints of your WordPress project.
Why You Should Hire a WordPress Consultant
A WordPress consultant could become an integral and key part of your business. Let's consider some of the main reasons you should hire a competent WordPress consultant.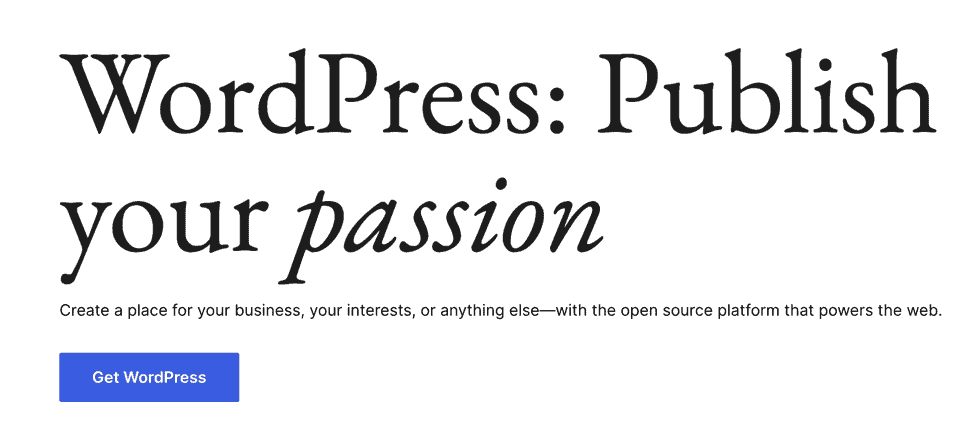 WordPress consultants are highly experienced
WordPress has a steep learning curve for most users. Before tackling your project, you need to understand hosting, website design and development, best design practices, and how to boost user experience. Hiring a WordPress consultant solves this problem because they have a wealth of knowledge on the platform. They can quickly diagnose and resolve problems.
WordPress consultants will save time and costs
A WordPress consultant will optimize your website and anticipate and resolve any issues before they arise. Since this is their specialty, WordPress consultants can deal with problems immediately. This time saving alone will alleviate wasting money trying to diagnose and resolve these yourself.
WordPress consultants free up your time
If you are not an experienced WordPress website manager, it makes sound business sense to hire a consultant to free up your time. With this professional assistance, you can focus your efforts on the company-wide strategies and leave the website to the WordPress consultant.

7 Things To Know Before You Hire a WordPress Consultant
Now that you've established what a WordPress consultant does, what are the things you need to look out for before hiring one?

Gauge their expertise
Communication skills
How experienced are they?
What's their availability?
How much do they cost?
Choose the right hiring platform
Ask questions to confirm suitability
Gauge their Expertise
A competent WordPress consultant must understand the platform's fundamental infrastructure and coding concepts. They need to know how to create custom plugins, themes and other WordPress modules. The consultant should understand all programming languages to execute these tasks correctly.
Using the different languages relevant to WordPress is a crucial skill for any WordPress consultant. Some of the basic languages they need to know include HTML, PHP, MySQL, Javascript, Ajax, jQuery, and Cascading Style Sheets (CSS). The language required will vary depending on the task.
If you want a unique WordPress site, your consultant needs to understand the different design elements to avoid using the same templates as many other businesses. Hiring a consultant skilled in this area will result in the best website design.
Choosing a WordPress consultant with a high level of expertise makes work easier for you. They can work independently and provide guidance and advice on what your WordPress website needs.
Communication Skills
When hiring a WordPress consultant, you need to consider the communication factors. Unlike a freelancer hired for a one-off project, a consultant needs to be available for ongoing maintenance, resolving any arising issues, and advising on the strategy. Therefore, before hiring a WordPress consultant, you must agree on the communication frequency.
An ideal consultant should clearly explain their recommendations and answer all your questions. They need to provide a detailed explanation of why you should implement specific strategies on your WordPress site. Additionally, your WordPress consultant must offer regular progress updates if the project is time-sensitive.
Your consultant must be responsive and available during working hours. This level of communication is vital if bug issues arise that need immediate attention. If your website requires updates or changes to plugins to function properly, you need a contactable professional.
For instance, if you run an e-commerce site, your website needs to be online constantly to allow your customers to shop. Having a WordPress consultant on call ensures you don't lose customers and money due to lagging issues or downtime.
How Experienced Are They?
To effectively manage your WordPress site, you need to work with an experienced WordPress consultant. Finding someone who has worked on projects similar to yours is vital. For instance, if you need to change your themes and plugins, you need to find a developer specializing in plugin and theme development. 
Recruiting a consultant with relevant experience simplifies your project because they understand your needs and can deliver accordingly. You can gauge their experience level by asking them about previous projects. The best way to determine their experience before hiring a WordPress consultant is to request a portfolio, preferably with contactable references.
Additionally, it would help your decision if you visited the WordPress websites they've built. Spending time on these sites to get a feel of the performance and key features provides first-hand information about the applicant's experience level. You can also contact these companies to get testimonials on the WordPress consultant's standard and work ethic.
A crucial consideration is ascertaining whether the applicant has experience with WordPress specifically. Your hire should be a specialist rather than a general developer if you want to get the most out of your platform. A general developer may be less familiar with critical WordPress languages and skills.
What's Their Availability?
Since the COVID-19 pandemic, remote working has become increasingly popular globally; therefore, a consultant can work from anywhere. As you need a consultant for routine website maintenance, you need to hire someone available during your office working hours and within your time zone.
The WordPress consultant does not have to work in-house; you can outsource your WordPress services as long as they have the right technical skills to handle and manage your WordPress website. To circumvent delays, look for a consultant who offers a quick response time and will be available to address issues quickly when needed. 
You could lose customers if your consultant is not available to fix any bugs and issues promptly. Website downtime leads to revenue loss because you are not meeting your customers' needs.
How Much Do They Cost?
Like any specialists in their field, WordPress consultants charge a fee for their services. Before hiring a consultant, you need to have a budget in place. As a business owner, it is up to you to evaluate the pricing before offering anyone the assignment.
Consider consultants with a transparent pricing model. For instance, consultants who charge a fixed rate per project might be better than those with hourly rates. A fixed-rate model is better for budgeting as you can more accurately estimate the project's cost early on and make the necessary adjustments.
While the quality of the work is essential, you also need to consider the costs. It's better to hire a professional who offers value for money. To get an idea of the rates these professionals charge, compare the rates on different platforms and ask for quotes before settling on one individual. This information allows you to evaluate quality vs. cost vs. value adds.
Choose the Right Hiring Platform
We've established that there are benefits to consulting a WordPress professional. But where do you find them? Fortunately, there are many platforms to source a good WordPress consultant. Here are a few suggestions:
Freelancer platforms
Freelancer sites like Upwork and Freelancer have thousands of website developers for hire. The downside is that these sites do not cater to WordPress only; therefore, you'll find website developers of all kinds. The platform cannot guarantee quality work or transparent pricing structures. You may notice that most website developers on Upwork charge an hourly rate which is not ideal.
Furthermore, using this method, you will have to sift through thousands of profiles to find one good consultant. Once you've done this, you still need to check their references and portfolio before finally interviewing them. This entire process takes time which can be costly for any business.
Word of mouth
Offline methods might come in handy in finding a reliable WordPress consultant. Word of mouth speaks volumes, so ask family, friends, and colleagues for recommendations. You will most likely get quality work from a WordPress professional who comes highly recommended.
Codeable
Codeable instantly narrows your search if you are looking for WordPress experts. This WordPress-specialized platform is full of vetted, experienced developers who can work with you on any WordPress-related project. You can confidently select a professional with the right skill and experience level on Codeable.
Ask Questions to Confirm Suitability
Once you identify your most suitable WordPress consultants, you need to assess them to determine their suitability for your project before making your final selection. You should organize an interview to ask critical questions and determine whether their level of expertise is a good fit for your business. Some of the questions should include the following:
How long have you been working with WordPress?
What are your typical projects? What experience do you have working on projects similar to ours?
Do you have extensive knowledge of all aspects of WordPress development?
Can you take me through your consulting process?
What kind of support do you offer?
Do you provide training sessions or one-on-one support sessions during the project?
Do you provide ongoing support once you have completed the project?
What is your pricing model?
Are there any penalties if I need to cancel/postpone the project midway through?
You can decide on the right consultant based on how they respond to these questions. An interview demonstrates how well they communicate, how fast they respond, and if they clearly understand your needs. Additionally, it can give you a sense of how easy they'll be to work with and if they are the right fit for your team.
Why You Should Use Codeable to Hire a WordPress Consultant
Codeable specializes in WordPress and gives you access to high-quality professionals with skills we have carefully vetted before being added to our site. 
Hiring a consultant from Codeable is simple and time efficient. You'll get a selection of vetted WordPress experts and their estimated pricing when you submit your project brief. All you need to do is make your choice based on which expert meets your budget and has the skills best suited to your project. Payment is only due after the WordPress project is done and approved.
Find the Right WordPress Consultant for Your Business
As WordPress soars in popularity, hiring a WordPress consultant is necessary. Your consultant should have excellent communication skills, be available, and have a transparent and fair pricing system. Most importantly, your WordPress consultant must be an expert in WordPress with relevant experience. Looking for a WordPress consultant via any source can be a daunting task. Fortunately, a reliable platform like Codeable can make your search for the perfect candidate seamless and pain-free. It takes a few minutes to submit your brief to Codeable and get recommendations.