Are you a business owner who needs to be more productive in updating your WooCommerce website? Or maybe you're a store owner who dives headfirst into updates?
Either way, it's time to rethink your approach!
WooCommerce updates are vital for enhancing your website's speed, performance, and security, but the process of updating requires a careful balance of timing, knowledge, and technique.
In this comprehensive guide, we'll walk you through the whys and hows of updating your WooCommerce website. We'll start with the basic strategies and then dive into more advanced tactics to ensure a smooth and successful update.
Moreover, we'll discuss when it's time to call in the experts and how Codeable can help you find the perfect developer for your WooCommerce update needs.
So, let's embark on this exciting journey to keep your WooCommerce store in tip-top shape!
Why is it important to keep your WooCommerce store updated?
You need to understand the significance of regular updates to keep your WooCommerce store working as it should. WooCommerce releases updates for various reasons, all designed to improve and optimize the platform.
Let's explore some of the major reasons behind these updates:
Security updates
As cyber threats evolve, so should your website's security measures. WooCommerce updates often include patches and fixes that address potential vulnerabilities, keeping your store safe from hackers and malicious activities.
Bug fixes
No software is perfect, and WooCommerce is no exception. Updates often address glitches and bugs that users may have reported or discovered by developers, ensuring that your store continues to run smoothly.
New features
WooCommerce is constantly innovating and adding new features to make managing your online store more efficient and user-friendly. You gain access to these new tools and functionalities by updating, allowing you to stay ahead of the curve.
Speed
As technology advances, so do the expectations of online shoppers. WooCommerce updates often include performance optimizations that increase the speed of your store, resulting in a better user experience and higher conversion rates.
Now that you understand the importance of updating your WooCommerce site, it's crucial to remember that your store's plugins and themes also need attention.
Developers typically release updates for these components to ensure compatibility with the latest version of WooCommerce and introduce new features and enhancements.
Keeping your plugins and themes updated ensures a seamless, fully functional online store that continues to benefit from new features and support.
Skipping WooCommerce updates puts your store at risk of
Security threats
Bugs
Missed opportunities to utilize new features
Potential compatibility issues with your theme and plugins
Limitations in functionality and performance
However, updating WooCommerce without a proper plan can also lead to problems.
Hasty or automatic updates may result in broken functionalities, design issues, or even prevent customers from completing purchases.
The key is to approach updates with caution and the right know-how.
Keeping your WooCommerce store updated: Basic strategies
Before we dive into the world of advanced strategies, let's start by mastering the basics. In this section, we'll explore some simple yet essential tactics that every WooCommerce store owner should have in their arsenal to keep their WordPress site up to date. These strategies lay the foundation for a well-maintained and secure eCommerce platform that can withstand the test of time.
Besides, understanding the fundamental strategies will not only help you keep your WooCommerce store updated but also provide the groundwork for more advanced techniques we'll discuss later on.
Back up your store
One of the most fundamental strategies for maintaining your WooCommerce store is to back up your data regularly.
Think of backups as a safety net that catches you when an update goes awry. If something goes wrong, you can simply restore the latest backup, investigate the issue, and try again with newfound wisdom.
There are two main approaches to backing up your store: automatic and manual.
While both methods have their merits, automatic backups made using backup plugins are generally preferred because they allow for more frequent and consistent backups without the need for manual intervention.
The frequency of your backups is crucial. Imagine your store backs up every hour, and suddenly, disaster strikes, causing your store to crash. In this scenario, you risk losing an hour's worth of orders and customer data. Ideally, you want your backups to happen in real-time, although achieving this can be challenging due to backend database processes.
WooCommerce experts and users alike emphasize the importance of choosing a reliable hosting provider that offers automatic backups as part of their service.
At Codeable, we recommend partnering with hosting providers like Kinsta, SiteGround, or WP Engine, known for their automatic backup features and top-notch cPanel support.
Stay on top of the latest releases
Keeping yourself informed about the latest WooCommerce releases is an essential step in maintaining a healthy, up-to-date online store.
By staying in the loop, you'll gain valuable insights into what updates have been made, why they were implemented, and what actions you need to take to prepare for the update.
One of the best ways to stay informed is by following the WooCommerce Developer Blog.
Don't be intimidated by the "developer" label; the changelog posts are written in a straightforward and accessible manner, catering to users of varying technical backgrounds.
Staying updated with the WooCommerce team's ongoing projects can help you anticipate upcoming changes and their potential impact on your store. For instance, by August 2023, WooCommerce will enable High-Performance Order Storage (HPOS) by default for all WooCommerce stores. Any extensions being used on the site which are not marked compatible with HPOS will be deactivated in new stores.
The result? This update will require careful testing of custom modifications and plugin compatibility to ensure a smooth transition to the new version.
Imagine being caught off guard by such a significant update. With prior knowledge, you might be able to address compatibility issues, resulting in a potentially stressful and time-consuming ordeal.
However, by keeping up with the latest releases and understanding their implications, you can take proactive measures to prepare for the update, such as consulting with a developer well in advance.
Keep it simple
While WooCommerce updates are typically safe to execute, the real challenge lies in troubleshooting compatibility issues with your site's theme, other WordPress plugins, and any custom modifications you may have made.
To minimize the risk of encountering issues during an update, adopting a "less is more" mindset is wise.
The fewer plugins you have installed, the less potential there is for something to go wrong. That said, you should still use plugins.
Instead, focus on only utilizing plugins that are absolutely essential for your store's functionality. Remember, every plugin you install introduces another variable into the mix, increasing the likelihood of compatibility issues when updating.
To streamline your WooCommerce store, take the time to assess your current plugin usage. Identify any no longer necessary plugins, and deactivate and uninstall them.
Choose a WooCommerce-compatible theme
As a WordPress user, you'll find no shortage of themes compatible with WooCommerce. One of the easiest and most reliable options is the Storefront theme, which is built and maintained by the WooCommerce team.
With Storefront, you can rest assured that your theme will always be up to date with the latest updates for all WooCommerce extensions.
Of course, there are plenty of other third-party themes that work well with WooCommerce.
However, it's important to remember that updates for these themes will depend on their respective developers. This means that you may need to wait for the theme developers to release updates that are compatible with the latest version of WooCommerce.
Automatic vs. manual updates
Automatic updates offer the advantage of speed and convenience, as security fixes can be applied quickly without any manual intervention.
However, this convenience comes with a certain degree of risk. If an automatic update causes your site to break, it might happen at a time when nobody is around to address the issue. In other words, relying solely on automated updates can be a bit of a gamble.
On the other hand, manual updates provide a greater sense of control and safety.
By applying updates manually, you can monitor the process closely and immediately address any problems that may arise. This hands-on approach allows you to mitigate potential issues more effectively and ensures that your store remains functional and accessible to customers.
Advanced strategies for keeping your WooCommerce store updated
As your WooCommerce store grows and evolves, so too will your need for more advanced strategies to ensure seamless updates and optimal performance.
You need to go beyond the basics to unlock new efficiency and security levels that will benefit your business and your customers.
Let's now delve into some advanced strategies for keeping your WooCommerce store updated, highlighting key techniques and tools that can help you stay ahead of the curve.
Know when to update WooCommerce
As we've discussed earlier in this article, there are better courses of action than updating WooCommerce immediately after a new release.
Instead, it's crucial to take a measured approach, understanding the changes made and how they might impact your website.
Here, we'll explore some key considerations to keep in mind when deciding when to update WooCommerce.
Before updating WooCommerce, verify that your theme and plugins have also released updates. This way, you can carry out updates simultaneously, ensuring maximum compatibility and minimizing potential issues.
If the add-on WooCommerce plugins you use are customized to extend the platform's capabilities, it can be a challenge to update all plugins, as each extension and custom modification must be compatible with the new WooCommerce version.
Unless there's an urgent security fix, waiting a few days before updating WooCommerce is often a good idea. Doing so allows time for major incompatibilities to be discovered and debugged before you run your update.
We recommend waiting a few days after a WooCommerce update for themes or plugins from third-party developers. If there's yet to be an indication that the developer has released an update for their product, reach out to them to ensure they're working on it.
This proactive approach can save you time and trouble in the long run.
Make use of staging environments
Staging sites are vital in maintaining a stable and secure WooCommerce store. They serve as a replica of your production site, allowing you to test updates to WordPress, themes, and plugins without risking damage to your live website.
Your staging environment can help you identify and debug errors before they impact your main site. If something breaks during the update process in the staging environment, you can take the necessary time to pinpoint the issue and ensure a smooth update on your live website. Additionally, your staging environments should ideally match the production environment as closely as possible in terms of server configuration, caching mechanisms, and other performance-related settings. This will help you ensure that any performance issues you will identify in the staging environment accurately reflect how the updates or changes will impact your live site.
You can also get your queries answered in WordPress support forums or from the official WooCommerce support team if required.
There are two primary methods for setting up staging environments:
Choose a hosting provider that offers staging environments: Many hosting providers include staging environments as part of their plans. Selecting a host offering this feature allows you to easily create and manage staging environments without additional effort or expense.
Use a plugin like WP Migrate DB Pro: If your hosting provider does not offer staging environments, you can still create one using a plugin like WP Migrate DB Pro. This plugin allows you to duplicate your live site and set up a separate staging environment for testing updates.
Monitor your website's performance
After updating your WooCommerce store, it's crucial to ensure everything functions correctly. Any broken elements or issues can significantly impact your store's SEO, user experience, and sales.
Various tools are available to assist in monitoring your site's performance, including:
Visual comparison plugins like WP Boom: These plugins can detect subtle changes in formatting or widgets that may have stopped appearing on the front end. They are particularly useful for larger sites with multiple product pages, as they can save you the time and effort of manually comparing each page template before and after the update.
End-to-end testing tools like Ghost Inspector: These tools automate complete tests, such as adding an item to the cart and checking out. By simulating real user actions, they can help you identify any issues that might arise during the checkout process.
While these tools are convenient, it's essential not to rely on them exclusively.
A human expert who knows how to test for errors manually will always have a better understanding of potential issues and solutions.
Familiarity with the changes made by a WooCommerce update can help you focus your testing efforts, but an experienced WooCommerce expert will have a thorough testing process in place.
For example, note what Codeable expert Edith Allison says:
After updating, it's important to check that everything is working. I like to have a list of key functions for each site I look after, which for Woo sites usually means placing a test order, checking that the front end of the site works without any issues, and reviewing the error log.
Update your WooCommerce database
Your database organizes, contains, and stores vital information about your products, orders, posts, and pages. Ensuring that it's up to date is crucial for your store's functionality and efficiency.
When you update WooCommerce, you'll often receive a notification to update the WooCommerce database to match the plugin version you've updated to. This step is critical, as it ensures that your database is compatible with the latest version of WooCommerce, allowing you to take advantage of new features, bug fixes, and improved security.
Here's a short tutorial you can follow to update your WooCommerce database:
Backup your site: As mentioned earlier in this article, always back up your site before performing any updates. This will provide you with a safety net in case anything goes wrong during the update process.
Check the notification: When you receive the notification to update your WooCommerce Database, carefully review the information provided. It will help you understand the changes and potential impacts on your site.
Perform the update: Click the "Update Now" button in the notification to initiate the database update process. This may take some time, depending on the size of your database and the number of changes being made. Make sure not to close your browser or navigate away from the page during the update.
Monitor the progress: Keep an eye on the progress of your update, and be prepared to address any issues that may arise during the process. If you encounter any problems, consult your backup and seek assistance from a WooCommerce expert if needed.
Test your site: Once the update is complete, thoroughly test your site to ensure that everything is functioning as expected. Review your products, orders, posts, and pages to confirm that the updated database is compatible with your site's theme, plugins, and custom modifications.
Working with a maintenance developer
While the advanced strategies we've discussed are not overly technical, as a WooCommerce store owner, you may not have the time or interest to stay on top of the latest releases, understand technical fixes, learn how to create staging environments, monitor changes, and so on.
This is understandable; as a business owner, your primary focus should be on developing the business side of things.
To save time and ensure your site is well-maintained, consider working with a WooCommerce maintenance developer who can keep your site up to date with minimal downtime.
By doing so, you'll have peace of mind that your site is well looked after, potentially avoiding more costly fixes down the line.
Codeable is a WordPress developer platform that can assist you with implementing and testing WooCommerce updates. Boasting a team of around 700 experts, these professionals are well-versed in the latest WordPress plugin updates and have done the research, so you don't have to.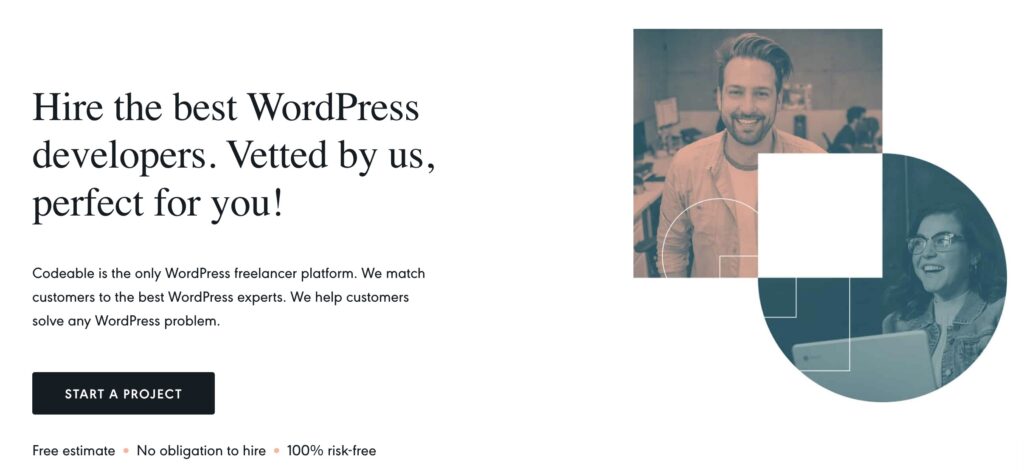 One of the benefits of Codeable is that you can hire developers on a project-by-project basis, eliminating the need for a long-term contract. However, if you find a developer you enjoy working with, you can hire them multiple times. For example, if you want to work with Edith Allison (who we quoted earlier), simply visit her profile here: Edith Allison – Codeable.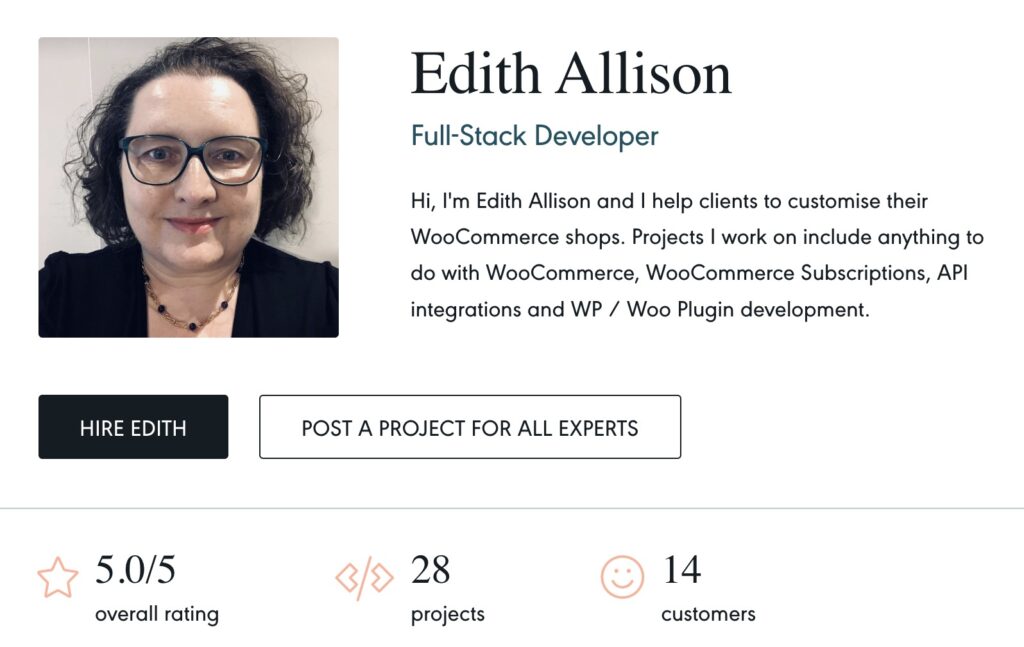 Alternatively, you can browse the entire list of WooCommerce development experts on the platform to find one that best suits your needs. Another option is to submit your project as a new task and wait to be matched with 1-5 developers eager to help you out.
Update WooCommerce safely with Codeable
Keeping your WooCommerce store updated is crucial for maintaining your online business's security, functionality, and performance. Regular updates not only protect your site from potential threats and bugs but also allow you to benefit from new features and enhancements.
To ensure smooth operation, keeping your theme, plugins, and payment gateways aligned with the latest version of WooCommerce is essential.
While updating WooCommerce may seem daunting, it can be achieved with some tact and attention to detail. You can ensure a seamless update process by backing up your store, knowing when to update, using staging environments, and monitoring changes.
However, if these tasks seem overwhelming, Codeable's WooCommerce experts are here to help. With a team of experienced professionals, you can rest assured that your WooCommerce store is in safe hands, allowing you to focus on growing your business.
Don't let the technical side of WooCommerce hold you back.
Start your new project with Codeable today and experience the peace of mind of knowing your store is secure, up-to-date, and ready for success!
Embrace the future of eCommerce and let Codeable's experts guide you every step of the way.

Start implementing your next great idea with Codeable now!