Suppose you're a professional using a WordPress-based eCommerce platform. You could either be running an online store for your brand or managing eCommerce websites on behalf of your clients.
In either case, WooCommerce maintenance is essential.
Why?
Put simply, so that you get the best out of your site.
That said, whether you're looking to tackle WooCommerce maintenance yourself or hire a pro to handle it for you – here's our guide to WooCommerce maintenance.
First, Some Background
WooCommerce is incredibly popular globally, with over 5,000 million installations– and with good reason. Its versatility and customization options alone are attractive to developers and website owners alike. Not only that, but the plugin boasts tons of functionality – it's 100% open-source, scalable, and mobile-friendly, enabling eCommerce store owners to sell anything, anywhere.
According to front-end developer and Codeable expert Deborah Butler, "Woocommerce is reliable and flexible for all types of businesses, it is free and open source, which helps to make it the most widely used eCommerce platform. Not only does Woocommerce have premium add-ons that can be used for when your business starts to grow, but because WooCommerce is free and open source, you can completely customise and control your eCommerce store".
In addition, WooCommerce comes to us from the same team that created WordPress. As such, it's no wonder that WooCommerce is continually undergoing new features, improvements, and updates to ensure complete compatibility with WordPress.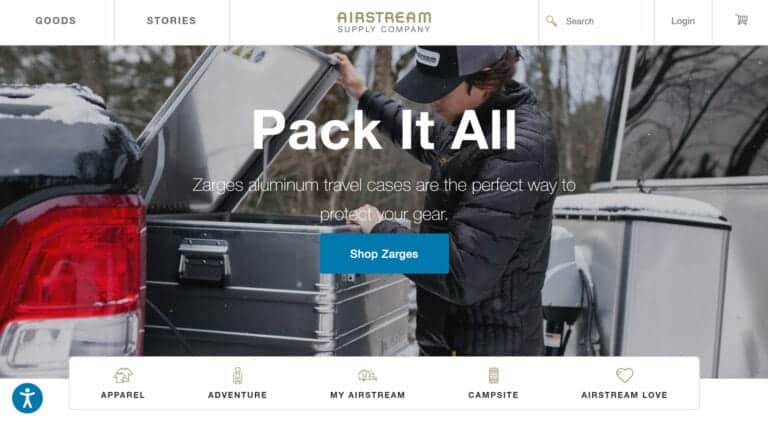 But, the constant evolution of WooCommerce means one thing: Regular updates.
However, while developers may welcome these necessary WooCommerce maintenance updates, non-developers may feel overwhelmed by their frequency. Namely, because seasoned developers have the skills and expertise to successfully carry out WooCommerce maintenance updates and security checks. In contrast, non-developers may simply see them as another demand on their time, with a lot to lose if they do something wrong.
In light of that, we're discussing why WooCommerce maintenance is necessary, how to do it, and the risks and benefits of taking a DIY approach vs. hiring an expert to do it on your behalf.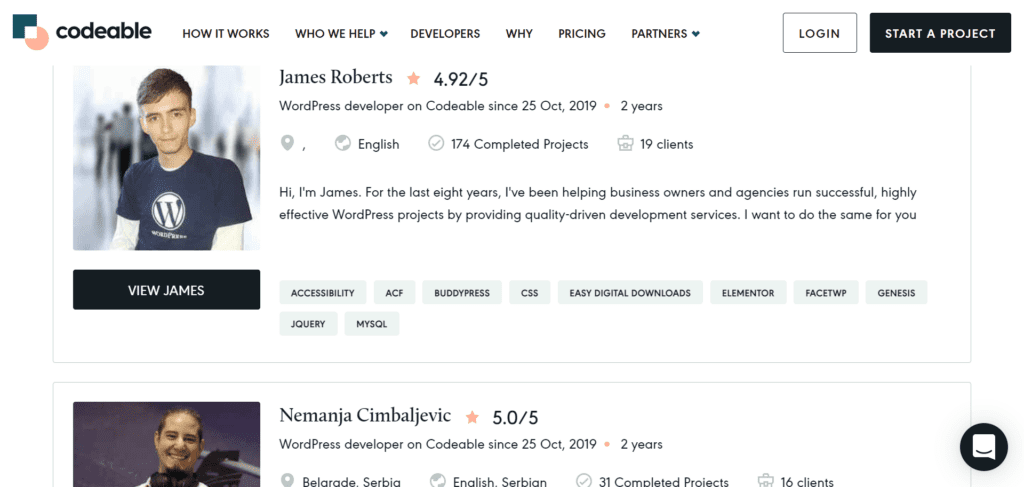 WooCommerce Maintenance and WooCommerce Updates
Before going any further, it's essential to distinguish the difference between running a complete WooCommerce maintenance cycle and just installing WooCommerce updates:
WooCommerce Maintenance
In short, an entire WooCommerce maintenance cycle is when you run through a comprehensive checklist of tasks, including:
Website backups
Checking whether your eCommerce store has any out of stock products
Fixing broken website links
Monitoring your website's uptime
Monitoring product inventory updates
Security checks
UX (user experience) optimization
The removal of any outdated info
And so on…
WooCommerce Updates
WooCommerce updates occur when new security patches are released by the WooCommerce team. Typically, these fix bugs or other site vulnerabilities. Consequently, this means a more recent version of the WooCommerce plugin is now available for your site.
Unfortunately, the integrity of your WooCommerce eCommerce store may be compromised if you don't update your site regularly. Most notably, you'll increase the likelihood of exposing your site to security breaches, bugs, and other vulnerabilities.
But, unlike other WordPress plugin updates, WooCommerce updates are a little more complex. That's why it's better to install updates in a staging site and generally recommended that companies enlist the help of a developer. This goes a long way to ensuring their website is safe from compromise.
What to Do Before Starting WooCommerce Maintenance
Before diving into the deep end with WooCommerce maintenance, bear in mind these simple tips:
List the things you need to change, such as product descriptions, images, and so on, so nothing is left off.
Have all the latest information to hand, such as updated product information, new image files, etc.
Back up your WooCommerce eCommerce site to keep all your data safe should anything disastrous happen. For instance, if your site gets hacked during the maintenance process.
Top Tip: You can simplify the backup process by using a plugin like BlogVault, UpdraftPlus, or Duplicator.
WooCommerce Maintenance: 8 Key Steps
Now, in this section, we'll walk you through eight critical steps to conducting thorough WooCommerce maintenance on your eCommerce site.
Step 1: Enable Maintenance Mode
First off, put your WooCommerce site into 'Maintenance Mode.'
If you're not a developer, the easiest way to complete this step is to use a reputable plugin.
Your chosen plugin should display a message to website visitors that your website is undergoing maintenance or redesign and isn't currently available.
Once you've chosen a maintenance plugin:
Install it
Design your 'Maintenance Mode' page
Plugins usually have templates that help you create your 'Maintenance Mode' page. The degree of customization freedom will vary depending on your chosen plugin. However, some come with neat design features like countdown clocks for when your site will be back up and running. In contrast, you could just publish a simple message that your website is 'under construction' or you could launch a 'coming soon page' – the choice is yours.
At this point, it's also worth anticipating any questions your website users may ask. Perhaps you could answer them on this page or add links to your social media channels where visitors can contact you and find out more information.
Enable maintenance mode: Choose whether you want the entire website to be restricted or only the selected pages you're maintaining.
Publish your WooCommerce Maintenance Mode page.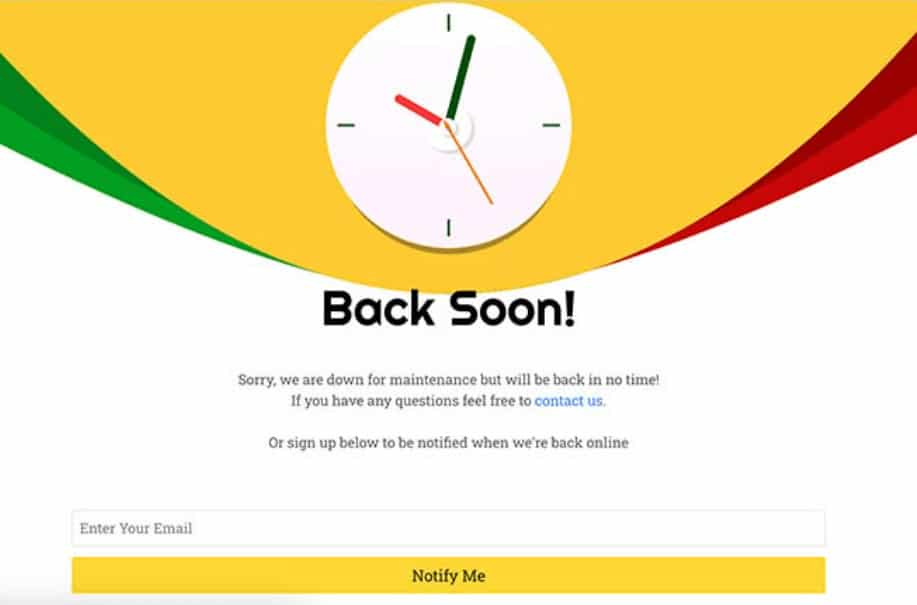 Step 2: Run Updates
There are several pros and cons to enabling automated updates for WooCommerce:
Pros:
It reduces your WooCommerce maintenance workload as the updates are done in the background, keeping your site secure without you needing to do anything.
Cons:
Your site could crash, causing downtime
You could lose valuable data – especially if you haven't carried out a recent site backup

In contrast, if you wish to run manual updates, follow these steps:
Update WordPress core (upgrade to latest PHP)
Update the WooCommerce plugin
Update, add or remove all other plugins
Update your WooCommerce store theme
Step 3: Update Website Info
Update product information, out-of-stock products, and your inventory.
Depending on the type of website you run, these updates could include:
Updating product attributes, categories, descriptions, images, and metadata
Adding or removing products
Updating inventory and products that are out of stock
Step 4: Monitor Your Site's Uptime
You must verify your server uptime to ensure your site works properly. More specifically, it's worth double-checking that your server aligns with your website traffic demands and your WooCommerce website's data. Remember that the slower your website is, the worse your SEO and UX will be, so this is worth keeping an eye on. Otherwise, you jeopardize falling through the rankings.
Step 5: Improve Your Site's Security
Your website stores sensitive information about your business and its customers, such as payment details, making it a prime target for hackers. So, ensure you have a security plugin that can detect and remove malware on your site, and if you're facing a worst-case scenario, your chosen plugin should have a functionality that can alert you of any security breaches.
Step 6: Configure Daily Backups
Daily backups ensure all your website data is saved. This massively reduces the risk of losing any of your content, even if something goes wrong with your WordPress website maintenance.
Something else to bear in mind is that it's potentially dangerous to restore your site to a previously backed-up version, especially if you're inexperienced. You could risk losing data like sales orders and customer information you acquired before the last backup. This is why daily backups are such a good idea.
Step 7: Test Your WooCommerce Site
You're nearing the last steps of your WooCommerce maintenance program. At this point, it's essential to test that all the efforts you've carried out thus far have worked. You can do this by logging into your WordPress dashboard and doing the following:
Check that everything is working correctly and that all the updates you wanted to make have been successfully made.
Check that the frontend of your WordPress site looks as it should and that there are no visual errors or image quality problems.
Run a test order to check that everything is working, especially during the checkout process.
Use WooCommerce's maintenance tools to check that all your website pages are loading quickly.
Check that your eCommerce site's tracking pixels are implemented correctly.
Log in with a test customer account and check again that everything's working as it should be on your eCommerce site.
Step 8: Switch Your WooCommerce Shop Out of Maintenance Mode
Now that you've completed Steps 1-7, it's time to place your WooCommerce site out of Maintenance Mode so that your site goes live to customers again.
WooCommerce Maintenance: Best Practices and Expert Tips
Follow these best practices to carry out successful WooCommerce maintenance:
Site Backup and Data
When backing up your website, ensure your data is saved elsewhere. By this, we mean that it's stored away from your server on external file hosting. Again, this helps to negate the risk of losing essential website data. Example services include Dropbox, Google Drive, Microsoft OneDrive, or MediaFire.
Bear in Mind Your Site's Downtime
When monitoring your server's uptime (see Step 4), remember that search engines like Google penalize websites suffering from significant downtime. If your server's performance is poor, it's worth considering a different WooCommerce hosting plan or even a completely new web hosting provider altogether. If this issue crops up, this is something you can discuss with your WordPress maintenance developer. 
Handle Webhooks Properly During Downtime
An eCommerce website relies on webhooks to communicate with payment gateways like Stripe, Square, or PayPal. So even when your site is down, your payment gateway might still be trying to send you order notifications such as successful/failed refunds or subscription renewals, which you could end up missing.

WordPress developer and Codeable expert Yoren Chang explains how to handle this situation:
"In most cases, if a webhook receives a success response (usually a 200 HTTP status) from your server, it won't resend notifications again. The issue arises when you use a plugin to put your site in maintenance mode, which may still return a 200 HTTP status code to the webhook unless you specify an alternative status code (such as 503) for the webhook endpoint. This can cause problems for your orders during WooCommerce's upgrade process, since it is unable to process the webhook payload."
There are two solutions here:

You can make sure the webhook endpoint returns HTTP error codes (such as 503), so the payment gateway knows they need to resend the webhook again later.
Alternatively, you can leave the endpoint as it is, but you'll need to go to your payment gateway when the maintenance is complete and manually resend any webhook events that were triggered during the maintenance and don't have corresponding records on your site."
It Takes Skill to Run WooCommerce Maintenance
Running your own WooCommerce maintenance may not save you money or time in the long term. Instead, you need a specific skill set to ensure you do it correctly and don't create more problems than what you started with.
Things to take into account are that both WordPress and WooCommerce are built using the PHP language. This is an open-source general-purpose scripting language used by developers embedded into HTML. As such, an understanding of this is essential.
You also need to be able to safely put your WooCommerce site into Maintenance Mode and successfully manage a backup without any hiccups such as losing a connection, doing backups infrequently, not backing up the entire website, and so on.
Are You Ready to Maintain Your WooCommerce Site?
In this step-by-step guide, we've outlined:
How best to maintain a WooCommerce site
Why it's important
What skills are needed
How best to carry out WooCommerce maintenance successfully, including putting your eCommerce website into maintenance mode.
If you have the right skills, time, and resources to carry out your own WooCommerce maintenance, our guide will hopefully be of some help.
However, suppose you don't feel confident or knowledgeable enough or don't have the budget to hire in-house staff to handle your WooCommerce plugin site maintenance. In that case, you may prefer a reliable hiring partner – like Codeable – that will put you in touch with a professional freelancer or agency who can do this work on your behalf.
The most practical solution is to talk to Codeable about hiring a vetted expert who will provide the WooCommerce maintenance services you need. To ensure that your website gets the care it deserves, you can also choose a flexible and customizable monthly retainer package. So, what are you waiting for? Submit your project to get a free, no-obligation, pricing estimation.