September's love from our clients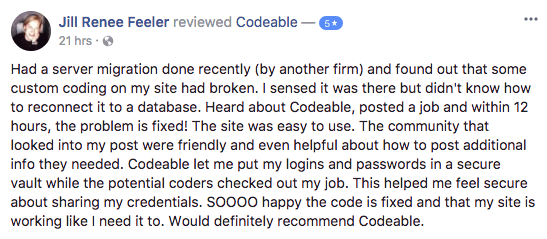 How we stacked up compared to last month
Hello and welcome to another edition of the Codeable Happiness Report! I'm excited to share with you the latest around what's going on at Codeable – as usual, we're all super busy working on ways of improving Codeable for all of you! Being a 2-sided marketplace, we are constantly working to make things better, easier, more efficient for our clients and our expert developers.
Our first announcement is that we have new accessibility testing going on to make our site and app easier to use. We have new inbound marketing funnels being crafted, launched, analyzed, and tweaked to better nurture leads into understanding what we do, how we're different, and help people feel more comfortable with our platform. We also have great feedback we're implementing from clients for making our platform less confusing to new clients. Sometimes living in your product for too long makes it difficult to see what new clients see when using you for the first time.
This is a great lesson to consider implementing into your own business (online or offline), website, or app. Ask new clients for honest feedback and always be striving to make it simpler for people to understand what you do and how to get started working with you. Like Donald Miller of StoryBrand says, "If you confuse, you'll lose…"
Some feedback we received from new clients is that they felt confused about what category to use when posting their project. We're addressing this by trying to re-format our category options to make it simpler or even perhaps removing the category listings altogether. We're going to set up some additional systems behind the scenes to still be data-driven, but we're also determined to make it simpler.
More great feedback we got was informing us that after posting a project, it's brand new and listed under the 'IN PROGRESS' tab in your dashboard. That brings up a great question, 'Why place a project behind an 'in progress' tab, instead of just listing it directly in your dashboard as a listing?' Our team is already making progress on introducing a new way to list and filter projects to reduce confusion and make finding your projects faster and simpler.
We also learned that new clients aren't aware that when you post your project, while it's private and only visible to our carefully screened WordPress developers, it's an open-communication comment area meaning all of the developers inside of your project communicating with you can see all of the comments being posted. We do this for a few important reasons:
We found that this helps to speed up the discovery phase of your project and leads to a more clearly defined scope of work to be delivered.
This process helps you get precisely what you're looking for
It prevents you from having to answer the same questions multiple times
But we forgot to make it clear that this is how it works! We explain it in our FAQ / Help Center article titled 'How does communication work?', but not everyone read about it over there. So we're going to start displaying more information about how the workroom comments are visible to all of our developers up until the point you hire an expert to begin working with you. As soon as the HIRE button is clicked, the workroom comments become private for only you and your chosen expert and everyone else is locked out.
And finally, we now understand that it wasn't clear how to actually HIRE an expert and that it's only possible to hire after an expert has submitted an estimate. At that point, when an expert submits their estimate, then the HIRE button appears next to their name.
Btw, did you know that you can view an expert's profile to learn more about them? It's easy to do, simply by clicking on their name or picture inside of your project workroom, their profile will display allowing you to learn more about them, see examples of their portfolio, and see other client's ratings and reviews 🙂 We're again addressing all of this to help reduce confusion and make it a smoother process.
We get wonderful new clients telling us every single day how thankful they are to have found us and how much better they enjoy working with our developers versus using other outsourcing websites. It's easy to get tunnel vision by all of the love and think everything is going amazing, when in reality, there are other people who may be confused by how different we are and how our site operates, and many of them may never reach out to us in support to ask questions or read our FAQ / Help Center articles…
We really hope if you are confused or not understanding anything about Codeable, that you'll reach out to us in support. We have amazing Happiness Heroes standing by who are always happy to take time to explain things in more detail for you. We really love helping our clients and answering all of your questions so that you feel comfortable throughout the entire process.
There are some other features we'll be introducing shortly and if you think of anything we could be doing better or wish we did differently, please let us know! We always appreciate feedback (both good and bad) and use it to continue improving for you.
Please help us welcome our newest experts!
Here are our new Codeable experts that were added to our team in September. These experts have passed our multiple tests and are guaranteed to deliver on the Codeable quality promise:
What's to come?
We're making the final preparations for WooConf! We're super excited to be heading to Seattle, Washington next week!!
As I've mentioned previously, I really love WooConf – it's probably my favorite event of the year! (Although meeting and getting a picture with Matt Mullenweg at WordCamp Europe (Paris) back in June 2017 was amazing and something I had been wanting to do for about 4 years!)
Not only will we be 5 strong from our core team (Per, Tomaz, Raleigh, Jordy, and myself), but we'll also have 9 experts there!
If you plan on attending, we really hope when you see us walking around that you stop us to say Hi 🙂 We always love connecting with our users and meeting you in person… maybe we'll even be able to buy you a beer (or soda if you prefer) 🙂
And to recap from last month's Happiness Report:
It's October 19-20 in beautiful(but rainy) Seattle, WA at the Bell Harbor Conference Center, and features some big-name speakers like Rand Fishkin (Moz), Lisa Wang (Google), David Lockie (Pragmatic), Todd Wilkens (WooCommerce), John Maeda(Automattic, MIT), and so many more! To learn more and grab your tickets, check out WooConf.com
If you're attending, we wish you safe travels and look forward to seeing you there!
Until next month… enjoy your day and we wish you (and your site) the very best!