Cool stats of the month
April's signs of love from our clients

Why we do what we do (hint: it's because of you)
Codeable is changing lives for hundreds and even thousands of people around the world. That's not some cheesy tagline or cliche, it's real and it's what drives us every day to continue improving on our service, most of us working 10-12+ hours per day and a few more on the weekends.
Almost every single day we get people taking time to message us how Codeable has helped them in some way. For example, clients send us unsolicited thank you notes expressing their sincere gratitude for saving their website after it had been hacked.
Agencies tell us that because of our service, they've been able to scale and grow their business in ways they couldn't have before. Largely because our experts have already been vetted and they don't need to waste time going through the vetting process themselves, hoping to find someone who can deliver quality results on their client's project.
Experts share how we've changed their lives in awesome ways; for instance being able to afford to buy a home or move their families to new countries, or quit their 9-5 day job and freelance full time earning more money in the process.. all because of the opportunities that Codeable provides.
We actually had so many have incredible stories our experts were sharing with us that we have a new #ChangingLives video series where our own Matteo interviews our experts so that they can tell their story in their own words about how Codeable has impacted their lives.
Codeable is even changing lives for our own in-house team; it's allowing all of us to live the remote lifestyle while providing for ourselves and our families.
It's absolutely incredible to be doing the work you love and surrounded by such amazing people on a daily basis. 🙂
Growing up: 2 new awesome team members are part of the family
We are extremely excited to announce 2 new hires to our Codeable team!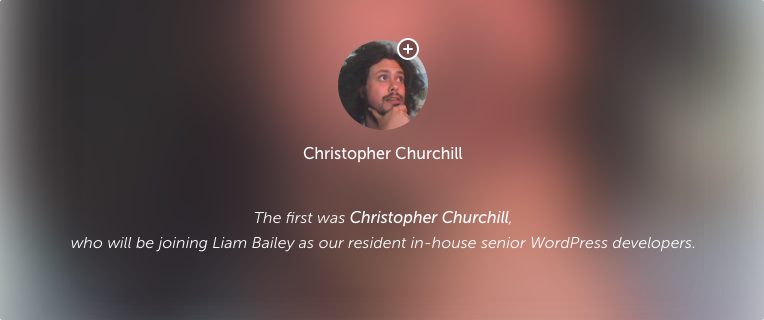 The first was Christopher Churchill, who will be joining Liam Bailey as our resident in-house senior WordPress developers.
We brought Liam on last year and it was such a smart decision. It's been wonderful having him available to help us and now this year we've added Chris.
Chris was one of our best Codeable experts, a brilliant developer, super friendly and personable, and an all around great guy.
We're growing so much that we needed to bring another developer in-house to help us out with everything we have going on.
Chris is already proving to be a wonderful asset to our team and is helping to:
onboard clients
starting the conversation with clients on newly posted projects to help properly define the scope of what's to be delivered
reviewing new expert applications
randomly spot-checking existing Codeable experts to ensure our quality promise is being delivered.
helping on some of our internal projects involving our own site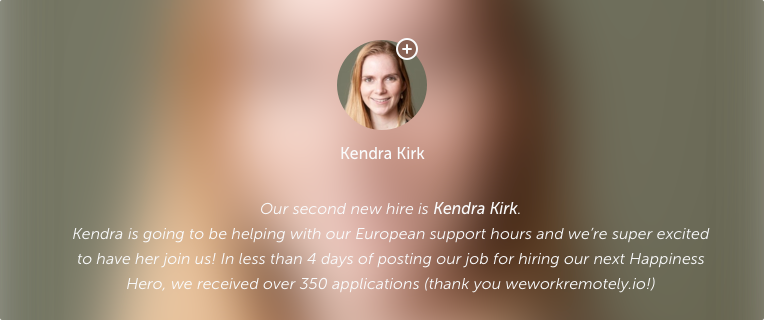 Our second new hire is Kendra Kirk. Kendra is going to be helping with our European support hours and we're super excited to have her join us! In less than 4 days of posting our job for hiring our next Happiness Hero, we received over 350 applications (thank you weworkremotely.com!)
It wasn't easy as we had so many great candidates wanting to work with us, but Kendra was outstanding and we knew as soon as we spoke with her that she would be a great asset to have on our team.
She really embodies the Happiness Hero values of honesty, integrity, clear communication, empathy, patience, and understanding. And if you're going to be a Happiness Hero, you'd better bring the happiness and positive attitude, which she does!!
Welcome to the team Chris and Kendra!! You both are awesome!!
Challenges we faced down the road
We were previously receiving around 40 applications every week from good developers wanting to join us and become a Codeable expert. We ultimately turn down 98-99% of all applicants who apply as we're committed to only allowing the best of the best to work with our clients.
As a result of receiving so many applications every week, our review team got over-loaded and a few months behind in the review process. We take our time to carefully review each application and when we're receiving 40 a week, it begins to not scale well. We would need a person reviewing applications all day long every day.
So we decided to take down our apply page to attempt to reduce the number of applications we were receiving and allow us to catch up with our backlog of submitted apps.
We thought we might get a few people messaging us, but we didn't realize just how many. We're now getting an average of 16 developers messaging us every day asking where the apply page is and asking if we know it's resulting in a 404 error. D'oh! Didn't see that coming lol!
If you're interested in becoming a Codeable expert, please be patient with us and we'll get the page back online soon!
How happiness spreads around
We get asked this pretty regularly so I wanted to let everyone know we proudly use Intercom.io as the backbone of our support system.
This software is fantastic and I really can't recommend it enough. It's simple to use, efficient, and it keeps everything organized really well on the backend so we can keep track of conversations with profiles of users.
It also loads fast for our users and provides a really nice user interface for both clients and admin. Oh, and their support is top-notch. They are always kind, helpful, friendly, and quick to respond to any questions we have. Intercom rocks and we love those guys and gals over there for providing such a quality product.
May goals (aka what we want to improve on)
Due to the unexpected increase of tickets regarding the expert apply page, our median response time increased by 7 minutes over last month. This is also in part due to our lighter weekend support.
Nonetheless, I'm confident in getting our median first response time down to less than 15 minutes again. Especially now that we have Chris and Kendra on our team to help.
Wrapping up
That about wraps up our first Happiness Report for April and I'm looking forward to sharing some more insights next month. Perhaps I'll even reveal behind the curtain a bit and let you know some of the secrets of our Happiness department 😉
If you have any questions, please comment below and we'll do our best to answer them. If you liked this article, please share it across the interweb with your friends and followers. Thanks for your continued support and we look forward to chatting with you!