Have you ever talked to someone on a diet like cutting out carbs, substituting meat with other protein-rich food, or any other? Here I don't mean all those people who say they'll be starting next Monday, but end up never doing it. I'm talking about those who are motivated to getting closer to their goal. Those people.
Do you know the toughest challenge they all share? After losing some weight or fat, they struggle in keeping their gains. Believe it or not, websites aren't much different from that. At least, websites that need to keep delivering and addressing your business needs in the best possible way.
As people on specific nutritional regimens, who keeps track of everything they eat regularly to gather relevant data about their diet, you as a website owner should do the same.
Did you install a new plugin to capture more leads? You'd need to keep your speed in mind because slow pages scare visitors away. Is a new field in your purchase form exposing your user's credit card info? Well, that should never happen! Is your website (or some sections of it) down because something happened but you have no clue yet? A big alert should be sent your way so you can act in a timely manner.
Building up your website, or eCommerce really is just the beginning of your business journey. After that initial stage, when all is live and kicking, your focus should switch onto keeping your website up to your needs.
So how can you regularly collect valuable data for your website? What free tools could you use?
I'll tell you that in a moment…
First, let's start with what type of info and data you should collect and assess on a regular basis to keep your business website running smoothly.
What type of data and info you'd need to check and collect regularly
So your website is up and running and you need to check its health status on a recurring basis to uncover issues you might never have thought of. But where should you look? Well, even if every website has its own story to tell, I think we're safe when outlining the following common types of elements for a recurring check of all websites:
Uptime/Downtime
Speed and performance
Visitors and 404 pages
Security threats and vulnerabilities
Let's dig into them one by one.
How to monitor your website Uptime/Downtime
A website down is the nightmare any website owner dreads because it isn't always possible to get it back online fast. Sometimes it's just one of the most common reasons that brought your website down, but other times they're hard to find. Because of its importance and its impact on your business, uptime/downtime monitoring should be your first element on your list today.
5 free tools to monitor your website uptime and get alerts
1. Uptime Robot

Uptime Robot allows you to monitor up to 50 sites with intervals of 5 minutes check in. Other than that, you'll be able to check your HTTP/HTTPS status, ping your servers and also monitor ports useful for your smtp or DNS for example.
2. Pingdom

As one of the most famous online monitoring tools, Pingdom has to be mentioned because it provides several data types and insights. Even if they changed their free plan at the beginning of this year, they're still offering a useful set of tools and you can have 1 single website monitored, along with a nice dashboard and response time history.
3. Uptimia

Uptimia is something I haven't tested thoroughly but sure looks interesting, at least for its appealing dashboard. On their free plan, you'll be able to set up a 1 uptime monitor and have it testing through 5 different datacenters on 5 minutes interval.
4. Monitority

When things go wrong, you want to know as soon as possible. And, sometimes, the old-fashioned way to get info is just the best one: text messages. Many of these tools charge you for each SMS notification or they don't offer it through their free pricing tier that's why Monitority might come in handy. Even if still in beta, and you'd need to grant access to your Google profile data, you can quickly set up an uptime monitor and get a free SMS notification each time your website goes down. They're also providing the most frequent uptime check frequency (down to every 20 seconds) when compared to others' free offerings.
5. Create your own website uptime monitor with Google Spreadsheet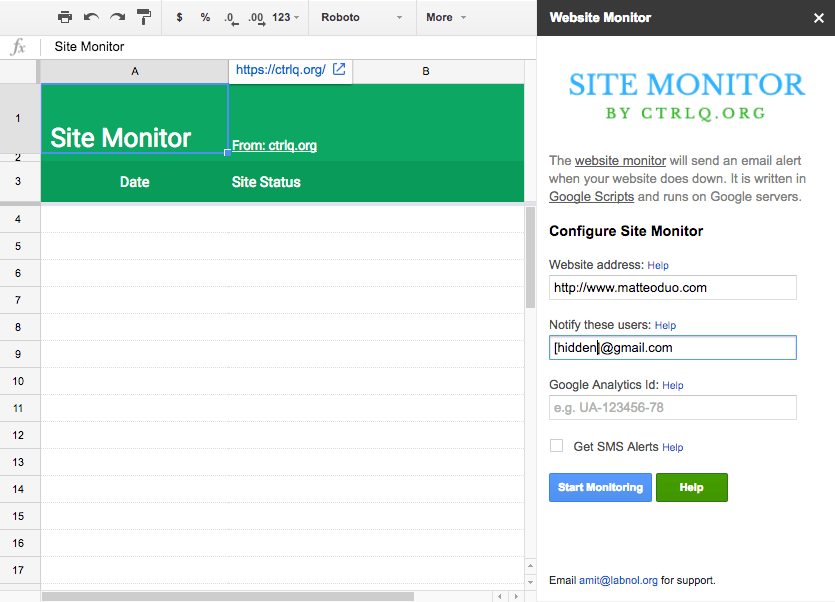 If none of the above tools look interesting and you're more of a do-it-yourself kind of person, Amit Agarwal came up with an interesting solution for you: a Google script that would do the monitoring for your website and log events in a spreadsheet and Google Analytics. This script might come in handy also to check your hosting provider performance with other data you've collected.
Now that you know how to monitor whether your website is up and running, it's time to look at another key aspect: speed and uploading time required by your pages.
How to check your website speed
Your website speed is a two-faced beast you should regularly monitor because it directly affects your SEO rankings and can have a major impact on conversions (hence lower your rankings because of low click-through rates on some of your pages).
LEt's just leave SEO out for a second and try to think about how you usually browse websites: how long do you usually wait for pages to show up? Have you ever left websites/eCommerce stores that took "too much" to load their pages? I bet your answer would be affirmative. Well, that's why you should check your website speed on a regular basis and here are some free tools to start with.
5 free tools to test your website performance speed
1. Google PageSpeed Insights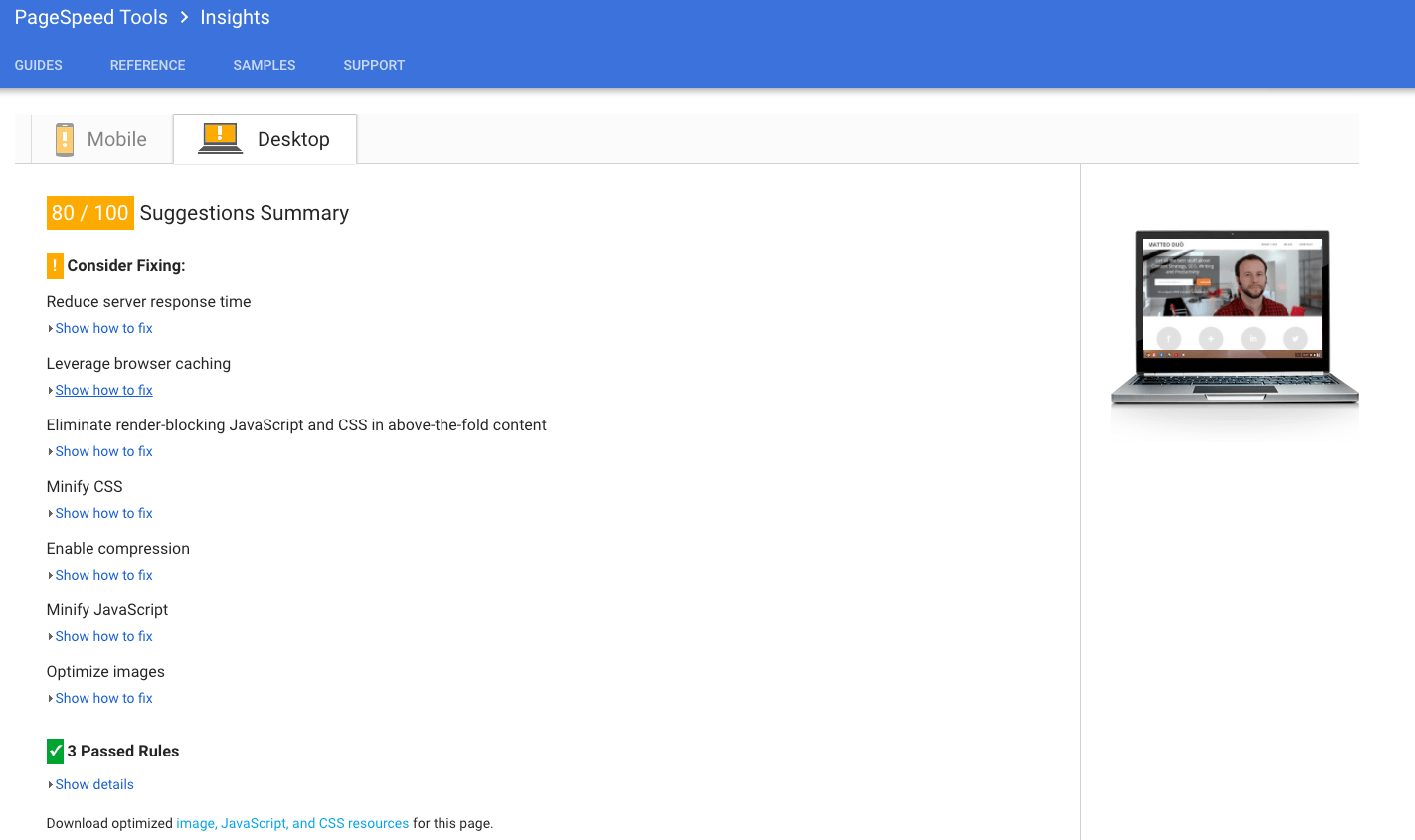 A pretty useful tool for checking your website speed is the one provided by Google. Thanks to PageSpeed Insights, you'll be able to get your website speed (desktop and mobile versions) tested and graded on a scale of 1 to 100 along with specific hints you should take action on and fix (or ask a professional to do that for you). As Google explains, this speed tool measures how the page can improve its performance on a) time to above-the-fold load and b) time to full page load.
2.Pingdom

Another pretty interesting tool here is Pingdom's website speed test, which will enable you to test a given website from 4 different locations (two in US, one in Australia, and one in Europe) and provides you with a quick overview at the top of the page, followed by tons of granular data.
3. GTmetrix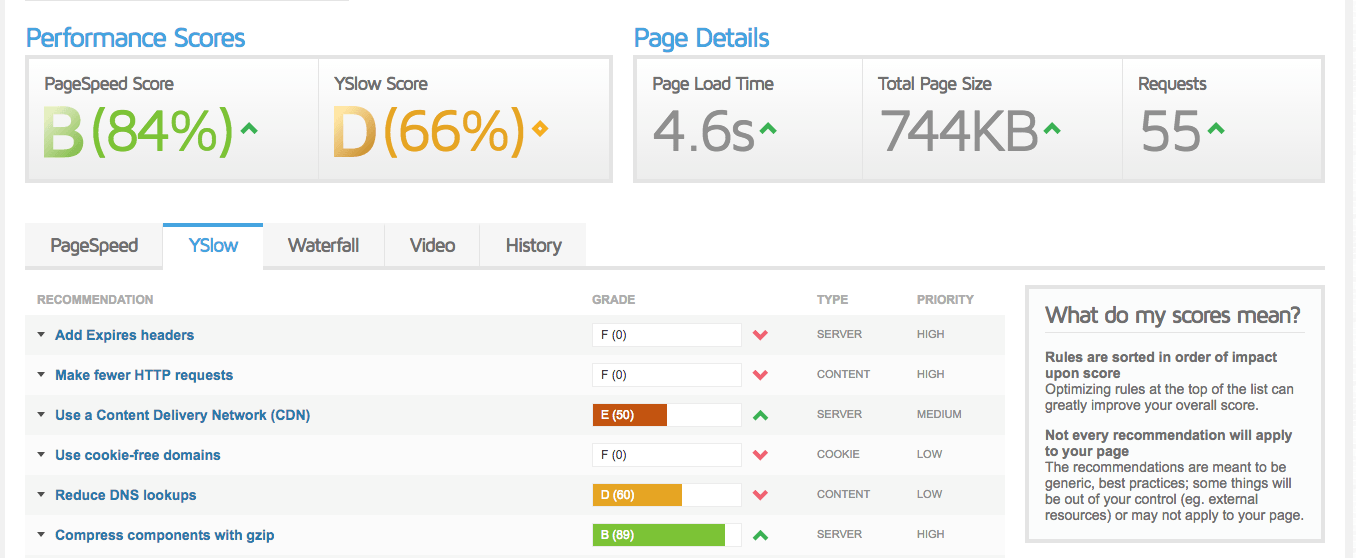 Bundling two different services, which use different recommendations when analyzing URLs, GTmetrix is an interesting tool you might want to try to collect even more granular data. Specifically, with GTmetrix you'll be able to check your website speed through PageSpeed and YSlow in one go. Once you run your check, you'll be presented with an overview dashboard followed by more detailed info grouped into five tabs.
4. Sucuri Load Time Tester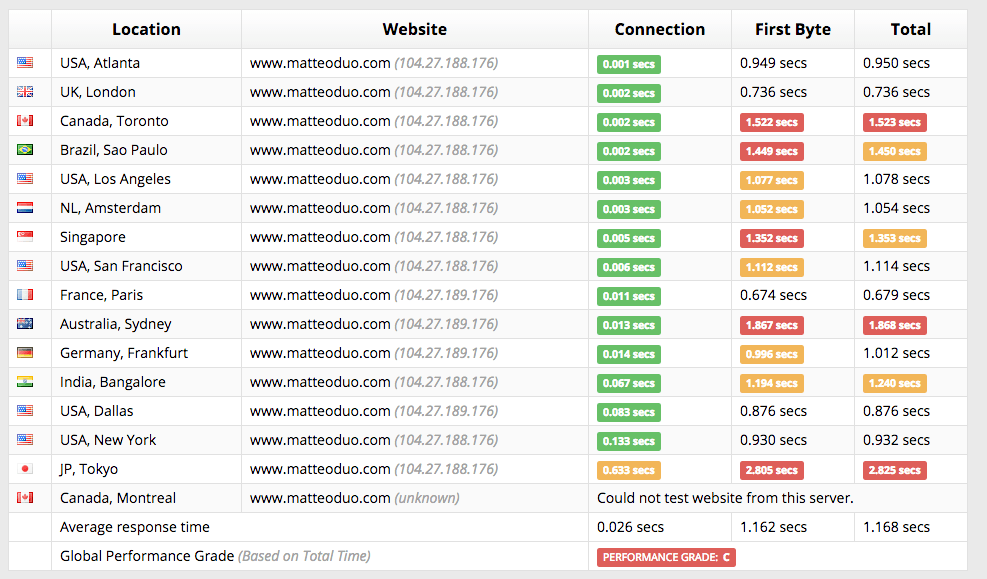 By focusing only on page load time, Sucuri Load Time Tester doesn't provide you with that much data, such as those you could get from other online tools. Yet it's still useful if you'd like to test how long it takes to connect to your site and for one page to fully load from 16 different locations worldwide.
5. WebPageTest

A more complex tool with plenty of parameters to enable/disable sure is WebPageTest. Thanks to it, you'll be able to test your website performance from more than 40 locations worldwide, have it graded based on 6 types of performance results (those in the image here) and collect tons of data because of its complete reports.
With so many tools out there and with so many different scenarios it's almost impossible to provide you with an answer to the question What's the best tool to check my website speed?. On my experience, I'm relying on Pingdom to check and collect data about page load time and server response, and pair it with Google PageSpeed Insights for UX issues and overall speed.
Now that you know how to check your website performance and collect data to improve on it, let's move to the next point on the list: get info about your website visitors.
How to collect information about your visitors/users for free
Who are your visitors? How many did you have last month? What are they mostly interested in? These are just 3 pretty common questions any website owner, and anybody who's in charge of a website/eCommerce store should be able to provide an answer to. These questions-answers are all tied to knowing the people you're trying to sell your product/service to. Since we're talking about free tools here, the most known and widespread solution is Google Analytics.
1. Set up Google Analytics on WordPress
Probably the most famous of all analytics tools, Google Analytics allows you to collect tons of data related to your website visitors in a given period of time: how many visits, how many uniques, how much time they spent on your website, what pages are the most visited, and so on. Other than that, you could also set up goals and funnels to have a better picture of how visitors use and navigate through your website and eCommerce store.
In this short tutorial, you can see how quick and easy it is to setup Google Analytics in your WordPress website:
In the video Kathrine uses a plugin from Yoast to add the tracking code to her website but that's not the only way to do it; in fact, you could also manually take care of it by placing it anywhere you see fit (note: usually you should place your tracking code in your footer to prevent your page speed to decrease).
If you run an eCommerce store or are interested in digging into data related to your website, you might want to check this video playlist from Google to get the gist of what you can do with GA.
Be aware of your 404 pages
One type of data always forgotten is that coming from "broken" pages, i.e. pages that are no longer available and show a 404 error message to your users. I don't need to tell you how bad it is from both a UX, and website owner to have visitors leave because they landed on those useless pages. That's why you should keep checking them regularly and act as soon as new one show up. So if you need to list your 404 pages out in Google Analytics, here's what you'd need to do:
Navigate to Behavior > All pages
Select the "Page title" tab from your reporting window
Add "404" or "Page not found" in the search box
Click through each page you'd get from that query
Wish to keep these broken pages more under control? Set up custom alert messages.
Note: A 404 response isn't bad per se, it is a natural way for removed content to be de-indexed by search engines, but if pages you still have are returning 404 response codes then this is a big problem.
2. Jetpack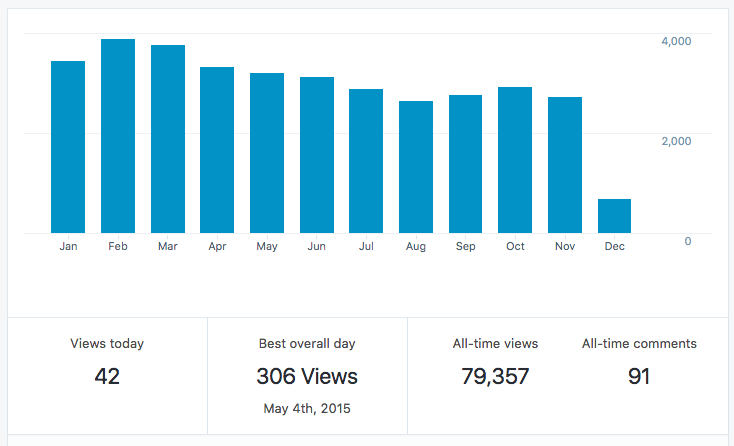 Not the complete solution of Google Analytics, Jetpack is still an interesting solution worth mentioning because it provides you with a quick view of how many visits your website got along with a bunch of other interesting info. If you haven't already, you can enable it by navigating to Jetpack > Settings > Engagement in your WordPress install.
3. Piwik

If you're a fan of Open Source software, then Piwik would be something you should try. They offer 2 different versions of the software and since we're discussing only free tools, you'd need to opt for the self-hosted one and set it up on your own server.
4 tools to scan your website for vulnerabilities and malware
There's an enormous flow of attacks throughout any given year (it'll probably get worse) and "just" having a strong password isn't enough. On top of that very basic suggestion, which people keep failing at regularly, it's a matter of compound solutions with strong passwords, two-factor auth plugins, and continuous backups being the 3 pillars to any website that wants to make a hacker's life tougher.
One important thing though is to regularly check your website for any vulnerabilities or security threats you haven't realized might affect your website or your eCommerce store. And here are some free tools you could use.
1. WPScan
The first tool for security audits is WPScan, a self-hosted security WordPress scanner sponsored by Sucuri and maintained by the WPScan Team, that's able to identify your plugins and themes, list your user IDs and brute force your passwords. It's a little "techie", I know but here's a video showing you how to install it on Mac and Linux (no Windows version):
2. Sucuri SiteCheck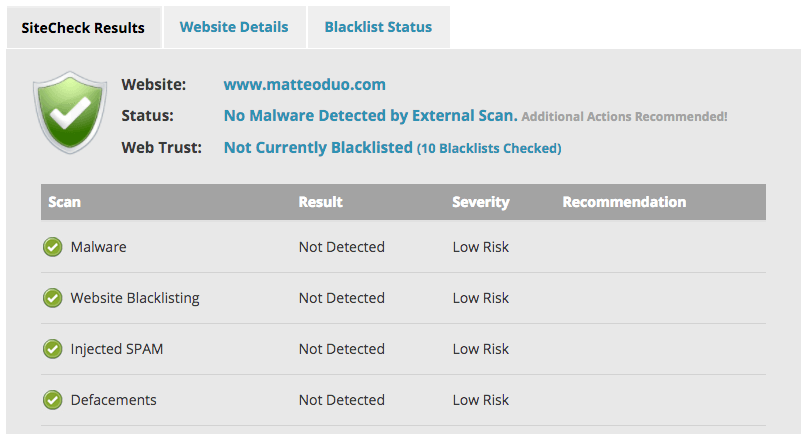 Sucuri also provides an online tool allowing a quick scan for known malware, blacklisting status, website errors, and out-of-date software called Sucuri SiteCheck. Just add your website's URL and click "Scan website!": in a matter or seconds, without the need to create any account, your website will be scanned. Fast and easy!
3. WordPress Security Scan

WordPress Security Scan is another online tool that comes with a free vs paid price tier. With the former, you'll get what it's called "a passive check" which resolves into downloading a handful of pages from your website along with analyzing the raw HTML code. In addition to that, WordPress Security Scan will also list other useful info such as plugins that need to be updated, linked JavaScript, whether User Enumeration is possible or not. For a more comprehensive assessment, you should look at their paid version.
4. Wordfence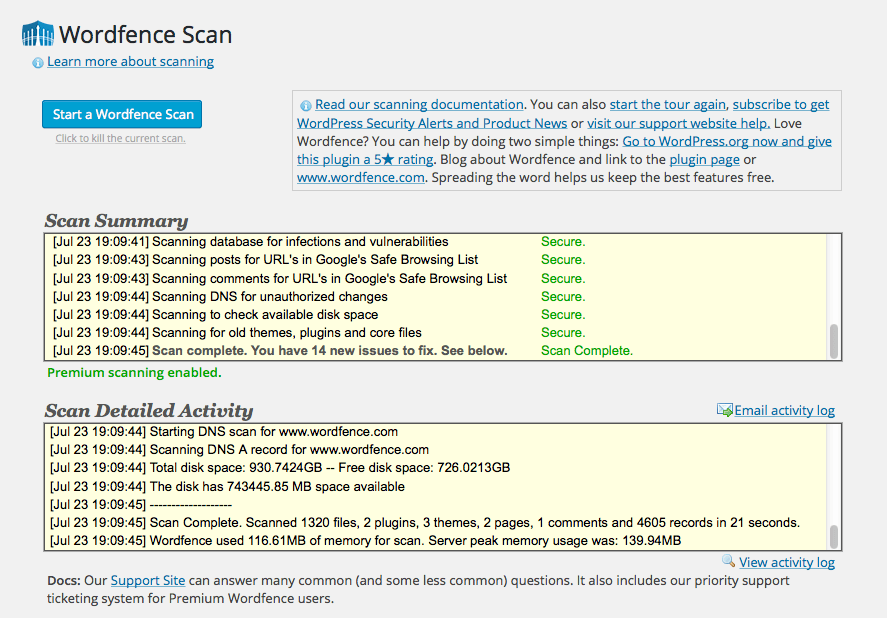 A list of security tools can't be published without featuring a well-known plugin such as Wordfence, which will regularly check your WordPress site for suspicious and malicious code, MySQL injection, and common threats. Given its many features and options, some user might find it hard to use because it requires some time to get used to.
Wrapping things up
Lots of free tools, huh? Now it's the best time to crash the I-can-have-it-all-with-free-tools dream of yours. Sure, these free tools are out there, it's not a secret. And they are helpful to a business if used correctly, which is relying on them exclusively for collecting the initial data on a regular basis and then decide on what to do. Read again:
[bctt tweet="Start with free tools, then go deep with a thorough assessment/audit from a professional"]
Would you always need a WordPress developer, then?
No, not always. Yet, the most common flow we've seen is gathering some initial data within a specific area (like speed, for example) and then hire a developer to work on it. The data collected here would be useful to provide you with some real, tangible data and information so you'll be way better at writing your brief or requesting more specific help. Therefore saving you time and money.
One the other end, more and more businesses, once they find a reliable WordPress developer they like to work with, they have them regularly taking care of these recurring tasks and reporting on a monthly basis. Note: we're working on Retainers here at Codeable, which are recurring types of projects and tasks you could delegate to an expert for a fixed-recurring price. You'll hear more about them in the coming weeks.
With so many tools available, it all comes down to how you use them for your business. If you haven't yet, my suggestion is to start planning regular checks in (at least) these 4 areas to collect data for your website. Then, it's up to you whether to fix all by yourself or hire someone who can take care of some/all professionally.
Now it's your turn: What tools do you regularly rely on to check your website? How frequently do you check what's going on with your website?