The mobile content consumption revolution is here: Apple News and WordPress (part 3 of 3)
Every day people spend more time on their smartphone that on any other device, turning them into the perfect point of contact for a given business. In this sense, we've looked at how Facebook and Google are tapping into that specific need with new solutions and formats: Instant Articles and AMP pages. But there's still one well-known company that's been moving towards the mobile world even further and came up with its peculiar solution. I'm talking about Apple with Apple News and the News publishing platform.
In this 3rd and final part of the series, we'll go through this topic by explaining what's Apple News, how it works, and how to publish content from your WordPress website on Apple News platform.
---
What's the Apple News app?
At WWDC 2015, while unveiling iOS9, Apple announced that a new app would be available for iPhone and iPad users: News, which is a reading app that aggregates articles from different sources and presents them in a nice mobile-optimized format. 
What it's important with that news wasn't only the app itself, rather Apple's new publishing tools that came along and that could be of interest to many publishers and businesses publishing content through their website. Specifically, as the News app is likely to be pre-installed on roughly 1 billion devices by this Summer, Apple's publishing tools open up an opportunity to get content in front of many people.
At the time of writing, News is only available in the U.S., UK, and Australia. If you live outside of those countries and want to have it on your iOS device, follow these tips.
How to start publishing your content through Apple's publishing platform
When firstly announced, only select publishers like Condé Nast, CNN, ESPN for example, were able to publish and syndicate their content through the News app. Until recently, when Apple silently opened up its gates for anybody interested. This means your business too could be in front of 40 Million users.
So how can you publish your content and have it in the News app? Let's see.
How to publish your content on the News app
News Publisher is where everything starts because it's the platform through which you can publish, manage and view insights related to your content. News Publisher allows two different types of publishing format, namely Apple News Format (ANF) and RSS: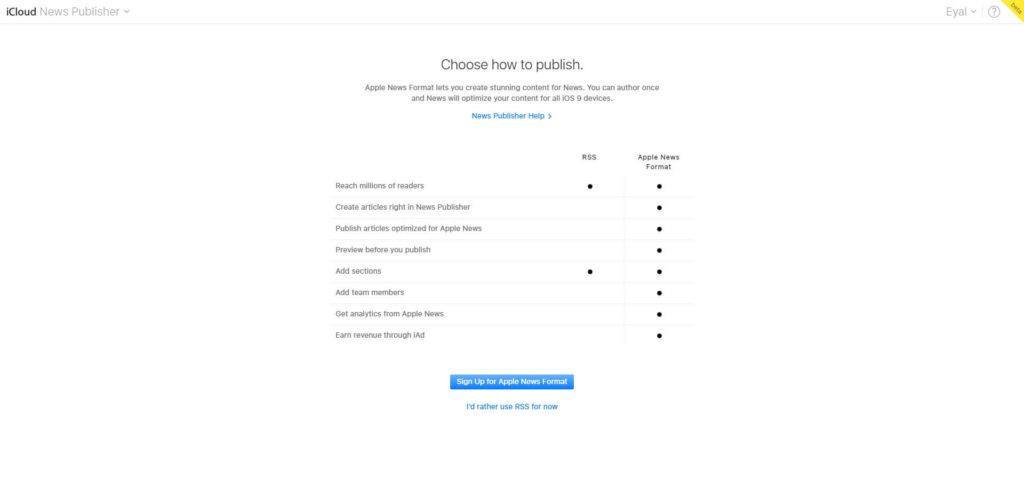 As there are two different ways to publish content here, there are two different workflows for you to follow:
How to publish your WordPress website to Apple News via RSS
Register as a publisher, then add your channel info and a logo (see logo specifications)
Choose RSS as your publishing format
Add your feed that would be later be reviewed and checked by Apple
Submit for approval
How to publish your WordPress website to Apple News via Apple News Format (and a plugin)
If you're committed to fully leveraging the Apple News publishing platform and have a WordPress website, your workflow would be a little different. Let's see how:
Register as a publisher, then add your company's name, channel info and a logo (see logo specifications)
Choose Apple News Format as your publishing format
Submit for approval
Once you've been approved (you should be notified by email), you'll need to submit some articles to be reviewed by either creating them within the News Publisher platform or by leveraging Apple News API via a CMS, like WordPress
Install and activate the Publish To Apple News WordPress plugin
Add your Apple publisher's info into the plugin settings page. Specifically, you'll need to add the following data:

Channel ID > API Channel
Key ID > API Key
Secret > API Secret

Set up other options like your preferred publishing configuration, which type of posts you'll make available, and some formatting too.
Apple News articles and analytics data tracking
Publishing a blog post or an article is just one side of the coin. The other one is getting to see how that performed. Apple News Publisher doesn't allow third-party tracking systems, such as Google analytics, yet it provides data within its analytics dashboard for both your channel and your articles.
Actually, not a long ago Apple found out they've been underestimating the number of readers using the News app due to an error in the app itself and they said they're working to fix that. As usual, they didn't provide any more info about that.
Now that you know all that's important about Facebook Instant Articles, Google AMP pages, and Apple News, the big question pops-up (I know it's been spinning in your head since the very beginning):
Instant Articles, AMP pages, and Apple News: is either one any good for your business?
I'll come clean right away: I don't have an answer. Or better: I don't have an answer that would be perfectly targeted to your business. This doesn't mean I couldn't help you out; in fact, I'll stick to what we know so you could better see the whole picture here.
Facebook Instant Articles
Sounds interesting that: Instant Articles received 20%+ clicks than mobile web articles from the News Feed, they tend to be shared 30%+ and users are 70% less inclined to abandon the instant article before reading than mobile web articles on average.
Not so happy about that: publishers implementing Instant Articles within their strategy are all giving away some assets they previously could grow their brand on and even monetize, i.e. their community (Instant Articles don't allow comments).
Google AMP pages
Sounds interesting that: they upload 4x faster than standard pages, and they get higher rankings because they're shown at the top of results (as a carousel). Because of their higher positioning on SERPs, they're likely to get higher click-through rates (= more visits to your website).
Not so happy about that: you'll need to find new ways to gather new leads since forms aren't allowed for now and will have to accept the design constraints AMP pages have.
Apple News Articles
Sounds interesting that: your content will have the opportunity to be before millions of people using the News app. Enrolling into the Apple News Publisher platform doesn't require that much work on your side.
Not so happy about that: you won't be able to gather analytics in your usual tracking tool (like Google Analytics). Plus, it's not clear yet if mid-sized and small publishers are getting any traffic improvements by delivering content through the News app.
Wrapping things up (plus my take on this)
Whether one solution it's better for your business over the other, it's something you know better than any other else. Yet I can argue that all of them are primarily targeting heavy publishers and websites with lots of new content coming on a daily/weekly basis. If your business doesn't fall into this category, there's no rush into implementing any of these mobile-focused solutions discussed in this series.
Should I, as an entrepreneur with a standard small/medium website for my business that's not doing news, ever had to pick one, all or none among Facebook Instant Articles, Google AMP pages and syndicating to News app, I'd go with Facebook's and here's why.
Google AMP pages and Apple News are too competitive: how can a nobody compete up with big publishers such as ESPN, Wired, USAToday and outrank them? Do you honestly think that? Even if you're successfully getting your AMP-compliant pages featured in the carousel, would people look for that specific news be clicking your domain over the one from Wired? Same story can be told about the News app: do you truly believe users are subscribing to your link when they've never heard of you? Of course, you could work on your branding, the quality of your content, guest posting and stuff to make more people know about you, but that's a whole different story. That's no longer something about News app only, it's a whole new marketing strategy that has to be discussed.
I know we can't state things in advance for any given business, and I know there some bias into this reasoning. My point being I won't feel that comfortable testing my (small) resources for something that even theoretically looks closely to a failure or just something that won't bring me a dime back.
That's why, if you're growing your content efforts and would invest more in that direction, I'd suggest testing Facebook Instant Articles over Apple and Google's solutions: is your community participating not that much with few comments, likes or shares? Welcome to the average status of a Facebook business page. With Instant Articles, even if you're giving away your comments (in your case just a few) you're working to get your content spread around and increase its views. And all has nothing to do with other pages doing the same, as that is all about Facebook algorithms.
Don't forget to learn more about Facebook Instant Articles and how to start with Google AMP pages